High Tea in the Tiffin Room at Raffles Hotel
The Tiffin room at Raffles Hotel in Singapore is where residents have their morning breakfast buffet meal. In the afternoon it is available for residents and nonresidents to have afternoon tea. Now this is high tea in the English fashion.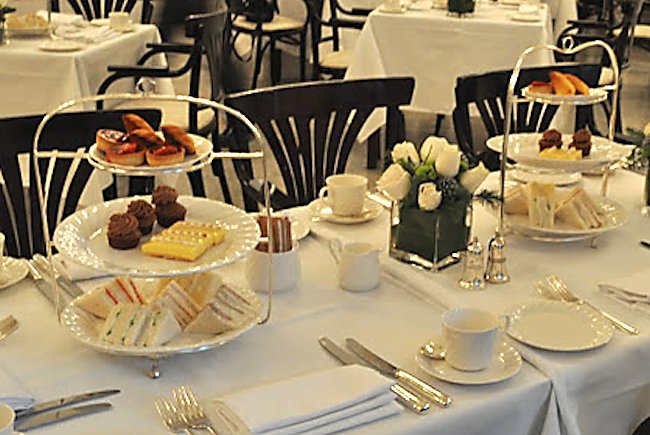 A selection of little cakes, psalteries and sandwiches is delivered to your table on a two or three tier cake stand. The tea you have chosen arrives in a teapot. Loose leaf tea is used not teabags. The tea is served in thin porcelain Raffles china teacups with sources. Cold milk is added to the hot tea. Normally no alcohol is served apart from Champagne for those with a deep pocket.
In London all the posh hotels serve afternoon tea. Raffles hotel in Singapore has taken on this British tradition and maintains it in today's modern world. It is not cheap and there is a dress code. You have to look smart. No shorts or flip-flops allowed.
The aim of the staff is to give you a quintessential English experience in a pleasant formal setting, with lush tropical gardens on view through the windows. There are unlimited cups of tea and coffee, but this is not a place to go if you are travelling on a budget.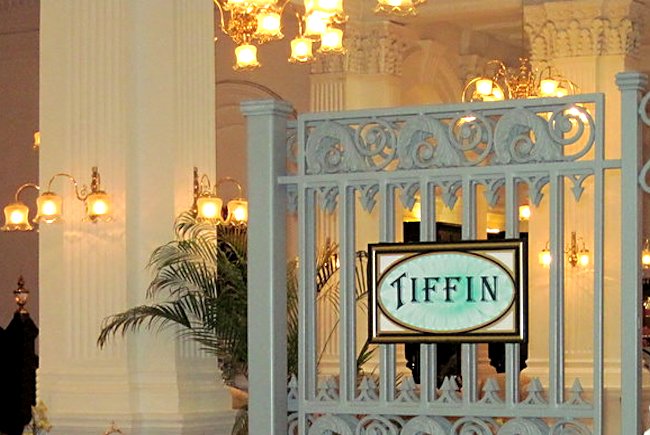 If you are lucky there may be some live chamber music being played for your enjoyment. Other meals are served in the Tiffin room at different times but can I suggest you go here to have high tea. You can now make a reservation online to avoid disappointment of not being able to get a table
High Tea is available in the Tiffin Room from 3:30 pm to 5:30 pm. A good tip is to book a table to say 4 pm, thus avoiding the 3.30pm restaurant queue. You normally get shown immediately to your table if you book a later time.
The word 'Tiffin' originated in British India. It means lunch or a light meal. It is generally used to refer to a between meal snack. In India, there are special stackable metal boxes called 'Tiffin tins'. Housewives prepare small meals and put them in each individual tin. One will have vegetables, another will have rice, another will have curry and another will contain chapattis. The last tin will contain something sweet for desert. They are given to children to eat at school. They are also sent by rail to the husband's office for him to enjoy at lunch time.
Travel books