Courtyard Bar at Raffles Hotel in Singapore
I know this sounds strange, but Raffles Hotel in Singapore is a bit like Dr Who's tardis. It appears bigger on the inside. I was amazed at how many different courtyards there were, high-class shops, different restaurants and bars. Each one had its own theme and different colonial style.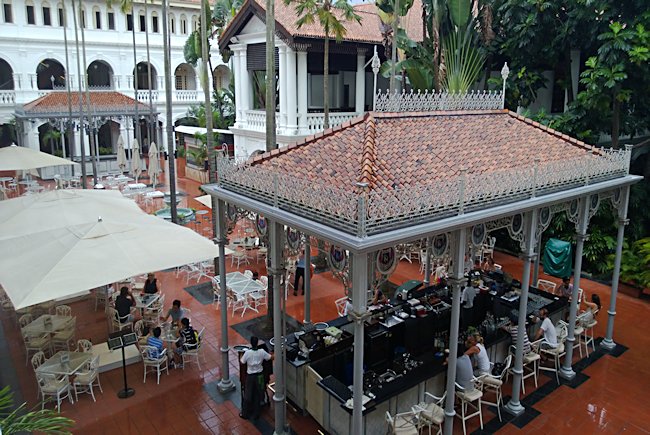 The Raffles courtyard is a wonderful place to spend the afternoon. The red terracotta tiled floor contrasts attractively with the white colonnaded exterior walls of the hotel. The use of tropical plants and trees give a timeless quality to the location. It makes you feel that it has been here for hundreds of years. The use of ornate attractive ironwork to decorate the two large tiled covers adds to the colonial Edwardian feel of the courtyard
There is a large bar under one of these covers. Of course, it sells the famous Singapore Sling but they are more than willing to mix lots of different cocktails for you try. You can sit at the bar on one of the white cushioned bar chairs or find a table under one of the huge umbrellas if you wish to stay out of the sun or take cover from an afternoon monsoon rain storm.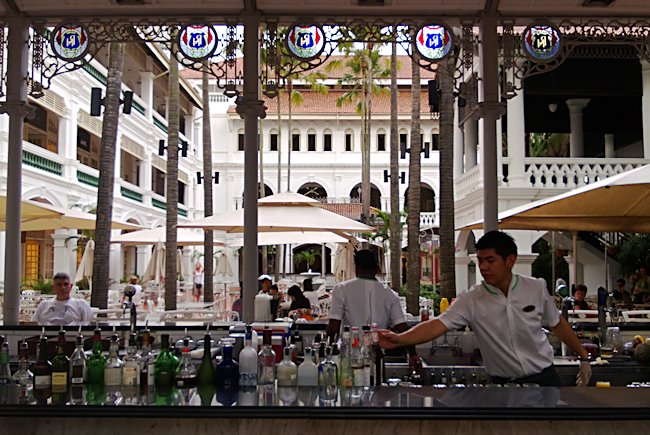 Having quenched your thirst. Now go and explore the surrounding shops. If you want a souvenir to remember your visit to Raffles Hotel go to the Raffles Shop which is nearby. I purchased two glass dishes that were decorated with different Raffles Hotel logos. I now use these to put monkey nuts on when people visit, to remind me of our trip to the long bar and our encounter with the Singapore Sling cocktail.
Travel books