Where is the Raffles Hotel Long Bar?
Unless you know where it is, the long bar, is hard to find. It is not on the ground floor of Raffles Hotel, which is strange because all the other bars are located on the street level of the complex.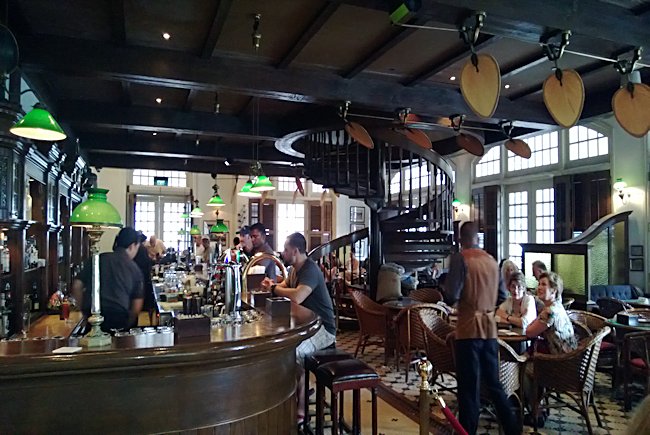 You have to examine the floor plans to work out where the long bar is and then you have to search for the lifts and stairs that will allow you up to the second floor. Many of them are for use of residents only. The long bar is in the south-west corner of the hotel complex at the junction of North Bridge Road with Bras Basah Road.
One of those things that you must do as a visitor to Singapore is go to Raffles Hotel and have a Singapore sling cocktail drink in the long bar whilst eating monkey nuts and throwing the husks onto the floor.
You can order the Singapore sling drink at any of the other bars at Raffles Hotel. You can also order it at any hotel bar in Singapore because it is so famous. But the first time you try it must be at the famous long bar at Raffles hotel. It is the proper thing to do.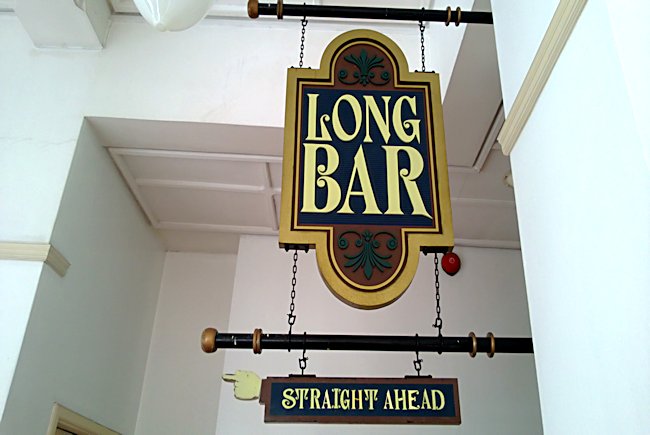 The long bar has light painted walls and lots of dark wood fixtures and fittings. These include the window shutters and the dividing screens. It has a chequered tiled floor like you would find in an old Victorian pub in London. Similarities with a London pub ends when you look up at the ceiling.
Here you will find rows of leaf shaped large fans moving gently back and forwards to move the air, in an attempt to create a cooling breeze. In the old days these would be operated by a punkawalla, an employee who would manually tug on ropes all day. Today they are machine operated. Another good feature that gives the room a period feel, is the use of rattan woven chairs and tables.
You can sit down and relax. You are away from the hustle and bustle of the modern city of Singapore. You have entered a place where you appear to have been transported back 100 years. You can just imaging the Colonial merchants, plantation owners and Government officials relaxing in this room, discussing the days events or conducting business over a cool refreshing Gin based drink.
The exact origins of the long bar are not known. It is believed this was the name given to the original bar in the hotel's main building because of the size of the wooden bar top. Over the years the location of the long bar has moved several times. Each time a long bar was constructed in that room and of course the Singapore sling was offered for sale. During the 1991 restoration of Raffles hotel, the long bar was given its new location on the second floor.
Travel books