Billard Room and Bar at Raffles Hotel
There are a number of different bars to choose from at Raffles Hotel in Singapore. One of these is called the billiard room and bar. It is like walking into a London gentlemen's club. There is a lot of dark brown furniture around the walls and art nouveau lights above the two full-size snooker tables. (also, known as billiard tables)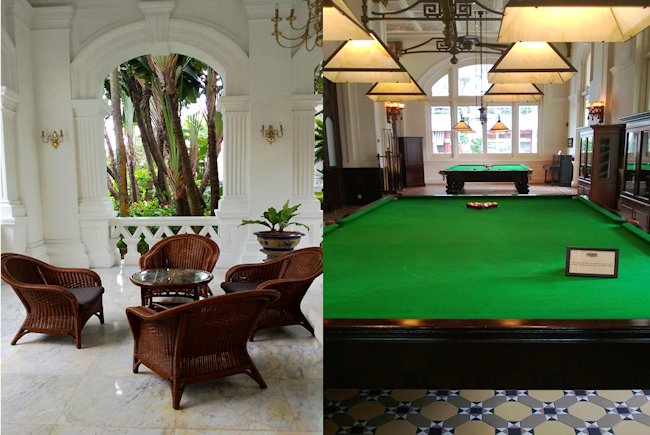 In the corner there is a piano and on the opposite wall you will find a rack full of snooker cues. You can imagine colonial planters, civil servants, army officers, and rich merchants meeting here for a drink and cigar after work.
Outside the bar there are little alcoves along the corridor. There are no windows. They open up onto the lush gardens of Raffles hotel. There is normally a cane table in the middle surrounded by cane arm chairs. If your feet are weary from all that walking around the shops of Orchard Road in Singapore, then this is the place to sit down and have a rest.
Although the public are welcome in most areas of Raffles hotel there are certain places that are for residents only. Raffles is one of the most expensive hotels to stay at, in Singapore. Guests who pay hundreds or thousands of dollars for a room do not want to have to fight their way down the corridor through coach parties of camera clicking tourists. The residential part of Raffles hotel is kept separate and off-limits to day visitors.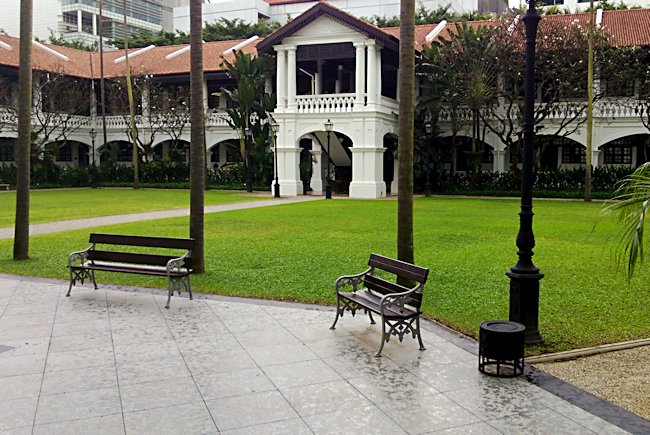 Most of the hotel rooms are set around quadrangles. These ornate squares have a grass lawn in the middle and are surrounded by tropical trees and bushes. Raffles is not a high-rise hotel. Hotel rooms are mainly on two levels. The access corridor is a colonnaded walkway that is open to the elements. It offers shade from the hot tropical sun and provides cover from the afternoon monsoon rains during the wet season.
Travel books