CHIJmes (chimes) of Singapore
The Mediterainian comes to Singapore. On the opposite corner from Raffles hotel in North Bridge Road, sandwiched between Victoria Street, is one of Singapore's hidden gems that rarely features high in many tourist guides.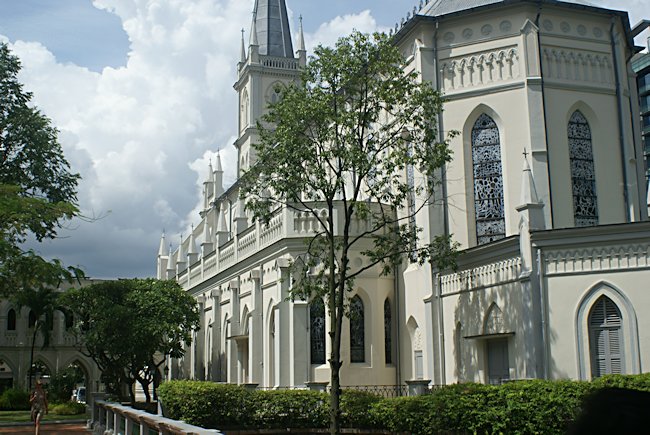 I discovered it by pure chance. It is a complex called Chijmes, which is pronounced chimes. It stands for the Convent of the Holy Infant Jesus. Up until 1983. It used to be a convent run by French nuns and a Roman Catholic school for girls.
After much conservation and restoration work. The complex has been turned into an amazing outdoor dining destination. Near the Victoria Street entrance there is a large Gothic style church that was built in 1904. Being so near to Raffles hotel, it was used by many of its Roman Catholic guests.
The large church spire is flanked by flying buttresses. This marks the entrance to the chapel. Pay particular attention to the top of the columns in and around the church as they have unusual sculptures of tropical plants and birds.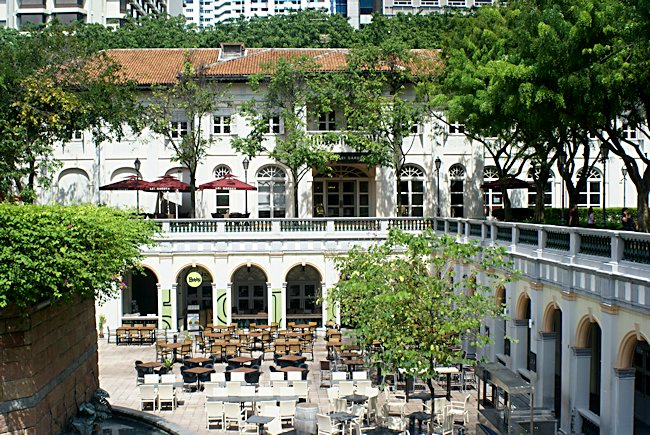 When the convent was built each separate building complex was built in a different architectural style to give the illusion of historical diversity. The whole compound is a recent construction and the architects have tried to make it look like it has been standing for hundreds of years by copying old buildings that could be found in countries around the Mediterranean. They are built around a collection of courtyards at different levels with connecting alleyways and staircases.
Unlike many European churches, there is no sign of pollution on the building material. Although it is over 100 years old, it looks like it has just been built. The nearby neoclassical building called Caldwell house was where the sisters lived. It was the nunnery. The Nuns also ran an orphanage and a refuge for women in need. Like Raffles Hotel the Singapore Government formally recognised it as a national monument and it is now protected from re-development.
Travel books