Singapore Merlion Park in Marina B
The Merlion (sea Lion) statue in Merlion Park at Marina Bay is the symbol of Singapore and should be on all tourists visit list of places to see.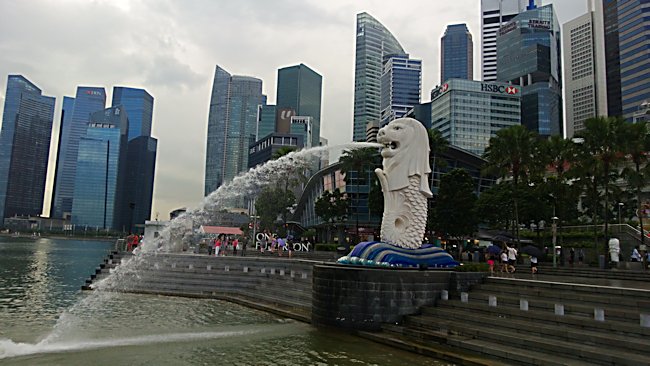 One of the most famous places in Singapore is Marina Bay. It is surrounded by high-rise skyscrapers of the central business district and at the waters edge is the iconic white Merlion statue that gushes a water fountain out of its mouth into the harbour.
Many of the Singapore River boat tours come into the Marina Bay Harbour and circle around to enable you to take photographs of the line statue from the perspective of the water. This is a place you should visit twice. Once, during the daytime and then again at night when all the lights have been turned on.
It is a little difficult to get to on foot as there is a motorway behind it. Make sure you cross at the traffic lights and only when pedestrian light shows green or you may get in trouble with the police. I found getting a taxi to the Fullerton hotel easy and then just crossing over to the Marina Bay Harbour. This is a good place to start a walk back along the Singapore River first going along boat quay and then halfway along crossing to Clark quay.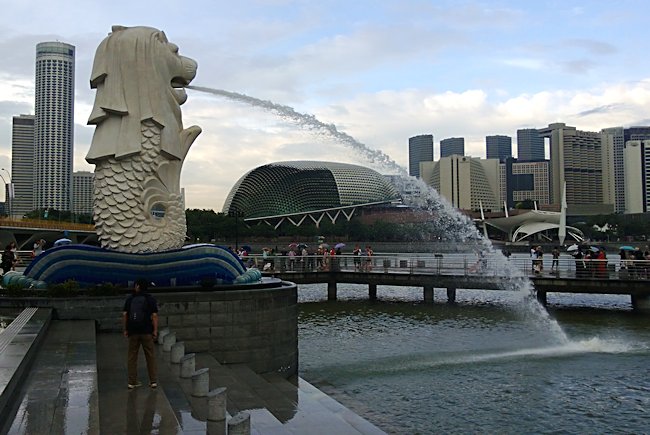 The Merlion statue is now the emblem Singapore. As the body of the fish and head of a lion. Some people say the first part of the name comes from the word mermaid, others the French word the sea. It weighs about 70 tonnes and stands 8.6 m high. The statue was moved to this dominating location in 2002 opposite the Fullerton hotel This area is now called Merlion Park. You will find lots of copies of the Merlion statue throughout Singapore.
It is a fitting symbol for Singapore as the words Singapore means lion city and the islands original economy was based on fishing and trading with other countries using the sea lanes. After independence this new country needed an emblem and the Merlion was designed by Mr Fraser Brunner , who worked for the Singapore tourist board. You will see many tourists posing on the pier juts out into the water to get the classical photograph of the water appearing to go into their mouth or onto their hands.
Travel books