Singapore's Marina Bay harbour comes to life at night as all the tower blocks of the central business district are lit up and also the Marina Bay Sands hotel on the other side of the harbour stands proud with its three towers and surfboard on top.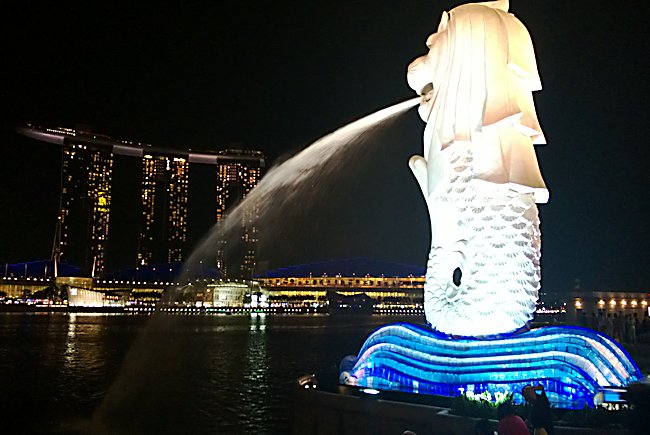 But the main reason to come to see the Marina by harbour at night is for the Merlion statue. In the daytime. It is very impressive as a symbol of Singapore at night time it looks more regal. It is illuminated by floodlights that also catches the jet of water coming out of its mouth.
Apart from taking a Singapore River Cruise to see it from the water level one of the best ways to do this and cheaper ways is to get the underground system to Marina by a station underneath the Marina Bay Sands hotel and catch the harbour water ferry.
It is cheaper than taking a tourist Singapore River Cruise. It is ideal for taking night-time photographs of the harbour. The ticket booth is on the waterfront just by the science Museum building, which is shaped like a great water lily flower.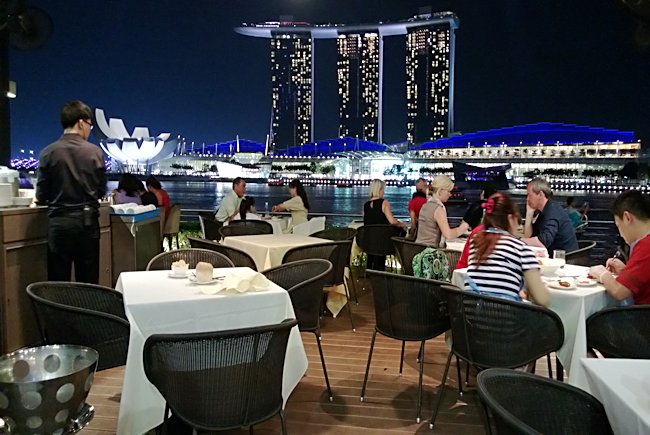 The water ferry lands on a jetty about a five-minute walk away from the Merlion statue. You walk past many good quality bars and restaurants that are often frequented by the city bankers and other office workers. Many of the tables and chairs for these restaurants and bars are situated outside on the edge of the harbour. The views are amazing. Try not to go there on a Friday night or over the weekend as this is the most popular time.
To take a reasonable photograph of the Merlion at night you are going to have to find something to steady your camera. If you do not have a tripod then look for a lamppost or building column to rest your camera against. Do not press camera shutter button. This will cause vibration and your photograph will be blurred. Work out how to do the timer setting on your camera. That way the camera will automatically take a picture whilst you are trying to hold it steady. Hopefully this will give you a sharp in focus night-time photograph.
Travel books