Chijmes Mediterranean restaurants shops and cafes in Singapore
The Chijmes (pronounced) chimes restaurant cafe and shopping complex in Singapore used to be a Convent run by French nuns. When they left the building's were restored to their original condition and developed into an amazing assortment of places to eat amongst charming courtyards, colonnades and lush tree-lined tropical gardens.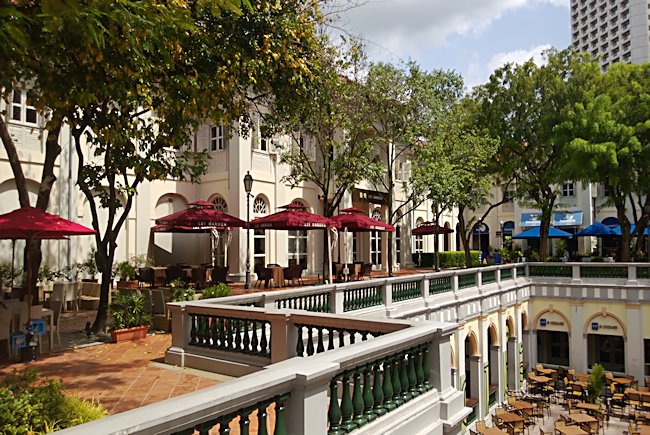 Entering Chijmes is like taking a trip to the Mediterranean. The architecture is the same and so is cafe culture where everybody sits outside to dine, to drink or just enjoy the sunshine, whilst people watching.
I particularly liked the way that form height trees provided shade for those walking on the upper terraces. Each cafe and restaurant had a different colour scheme that they use on their awnings and large table umbrellas. This added a lot of vibrant colour to the white and grey walls of the courtyard buildings and contrast with the natural greens of the bushes lawns and trees.
You could easily be forgiven to thinking that you were walking around Barcelona, Rome, Madrid, or Marseille. Even some of the outer buildings had orange clay tiled Roman roofs supported on columns, just like you would find in the South of France.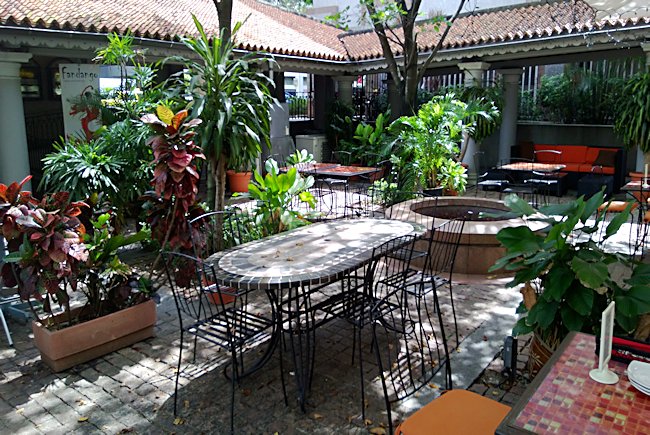 The main courtyard at the bottom level, has tables and chairs placed around a central fountain. It is so strange to be at one moment in British colonial Singapore when walking around nearby Raffles hotel, then just across the road and you are transported to southern Europe.
There is a huge variety of foods available in Chijmes. These range from tapis wine bars, French restaurants to Australian steakhouses. You can come here for lunch or just for an afternoon snack with a drink. In the evening it is much busier as local Singaporean families come out to have dinner in an exotic location. In the daytime. It is really crowded. It is like a peaceful oasis away from the hustle and bustle of Singapore city.
Travel books