Singapore Boat Quay riverside bars & restaurants
Once you have finished looking at the Merlion statue in Marina Bay it is now time to walk up the Singapore River on the south bank along Boat Quay.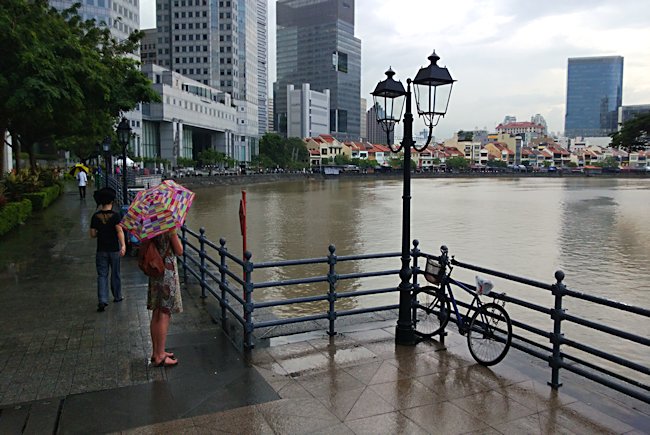 The word 'Quay' is pronounced 'key'. On my last trip to Singapore I heard some tourists pronouncing the location as Boat Qway. There some very confused taxi drivers. Boat Quay is the name of the pedestranised road that follows the southern most bend in the Singapore River before it reaches the main harbour of Marina Bay.
This is where trading ships used to tie up to take on and unload goods. Hence the name. Today, large ships do not come down the Singapore River and modern bridges cross the entrance. Do not go here in the morning as not much is open. This is a place to explore from midday onwards.
What I like about this stretch of river is that the old colonial shop houses have been preserved and as a contrast behind them stands very tall modern glass and metal skyscrapers belonging to multinational companies and banks.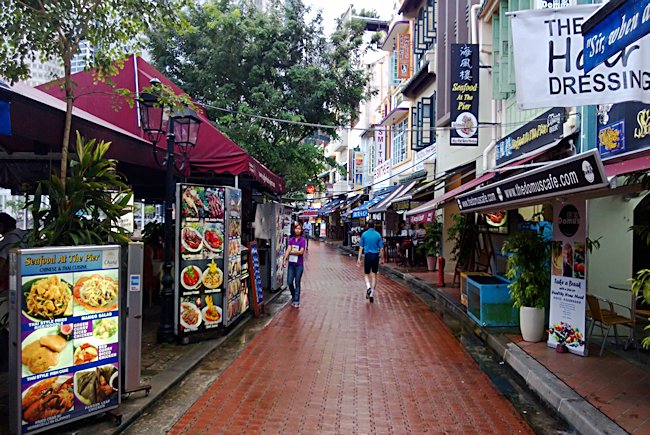 Most of these hundred-year-old waterfront shop houses would have been used as wholesale merchant warehouse. Now they are nearly all restaurants and bars. Just like Marina Bay this is a place you should visit twice, once in the daylight and later at night when it is attractively illuminated by hundreds of coloured light bulbs and lanterns.
During the day it is a good place to come for lunch. Because of the amount of eating establishments there is a lot of competition so the prices are good. The view is excellent as nearly all the tables come with a free river view where you can watch all the brightly painted tourist sight seeing boats going up and down the Singapore River.
The area has a slight scruffy feel to it which some say enhances the character of Boat Quay. You feel like you are getting genuine authentic local 'street food' when you know that it has been designed and presented to appeal to visiting tourists. If you want to sample the real Singaporean local dishes then find a Hawker Food Centre away from the central business district.
One thing I did not like seeing was the large fish tanks in some of the seafood restaurant. Here they kept live fish, large lobsters and giant crabs in cramped conditions that were waiting for a passing customer to point to then and order their death. Maybe it is just my Western delicate senses that finds this distasteful. What do you think?
Travel books