Sampan Boat Rides at Marina Bay Sands Hotel
One of the biggest draws to the Marina Bay Sands hotel shopping centre complex is the unusual sight of seeing Sampan boats being paddled along a central indoor canal.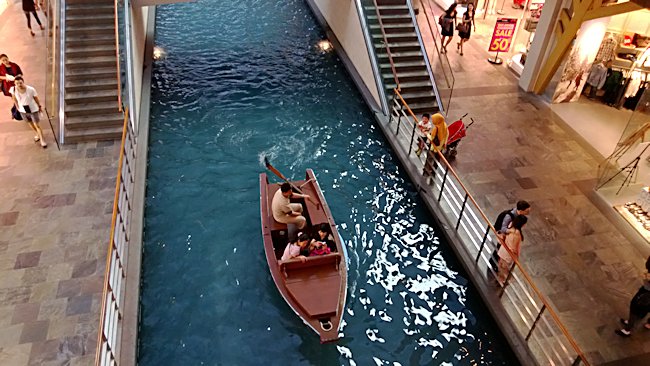 Yes, it is a tourist attraction but it's a very good one. There are hundreds shopping centres in Singapore. Designing in a tourist attraction like this in the middle of your shopping now make your retail outlets stand out from all the rest. It provides a reason for tourists and locals to visit your shops rather than your competitors.
The sampan boat is a Chinese design used to transport goods around the Singapore waterways for over 150 years. Unusually, it is propelled by just one big or over the back of the boat. You board the boat after paying for your ticket at the far end of the central corridor on the ground floor, near to the Marina Bay Sands hotel.
Halfway down a man make now you will see a number of attractive footbridges spanned the waterway. So the wider bridges have cafes perched on top of them. It's a strange feeling sitting back relaxing as you are being rowed along the river way passing shops and other visitors walking past you.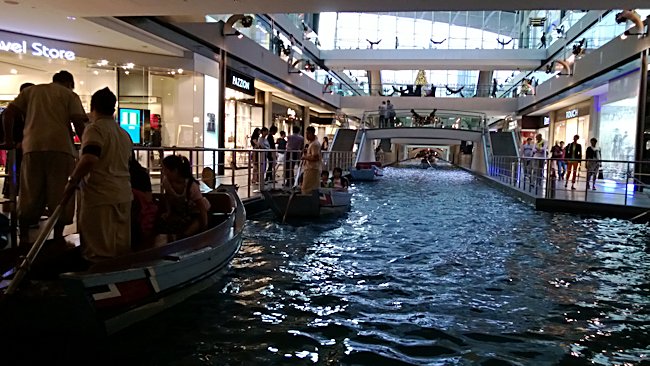 At the opposite end of the canal. There is a large circular pond. This is where the boats changed direction for the return trip. Above the pond has been engineered a rain oculus. This suspended contraption collects rainwater and once an hour it cascades its contents into the pond. The 90 ton steel structure can release more than 22,000 liters of rainwater per minute. Lecture or your boat is not under it at the time.
Set around the outside of the pond are a number of tables and chairs where you can sit, enjoy a drink or a meal, and watch the boats go past. Whole concept of having a can now in the middle of the shopping centre is marvelous. So relaxing and the noise the water makes make you feel cool and refreshed. The only other place I've seen this idea in action has been in the Venetian hotel in Las Vegas, where they have recreated a section of the canals of Venice, complete with gondolas.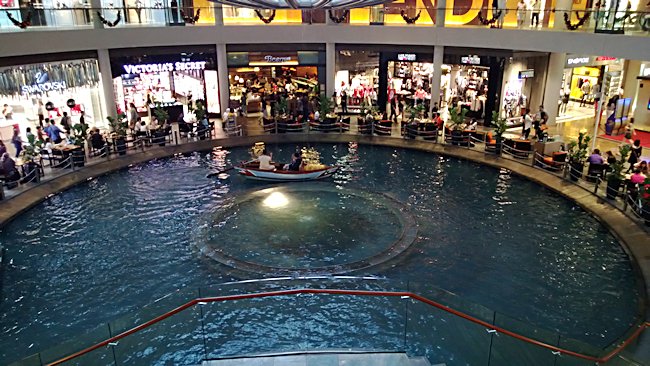 Travel books