Public Viewing Gallery Marina Bay Sands Hotel
Compared with other capital city's public viewing galleries, the cost of going up the Marina Bay Sands Hotel, 57th floor, Singapore city panoramic lookout point is not expensive.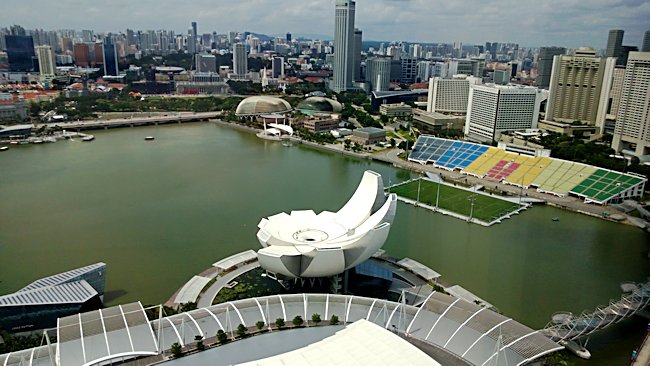 You cannot use the infinity pool, but you do get a wonderful view of the city from the tip of the surfboard roof. The Singapore Marine base Sands hotel is open today visitors. The express lift will take you up to the viewing platform. Go in the morning, especially during the monsoon season as clouds build up in this tropical climate by 12 o'clock.
There is a great view of Marina bay. You can see the iconic Merlion statue squirting it's just water into the harbour. There is also the right-hand side a great view of the floating stadium. The white building that looks like a lotus flower is the science Museum. The two dome shaped glass houses near the floating stadium that look like the Duran fruit are in fact the Esplanade theatres on the Bay.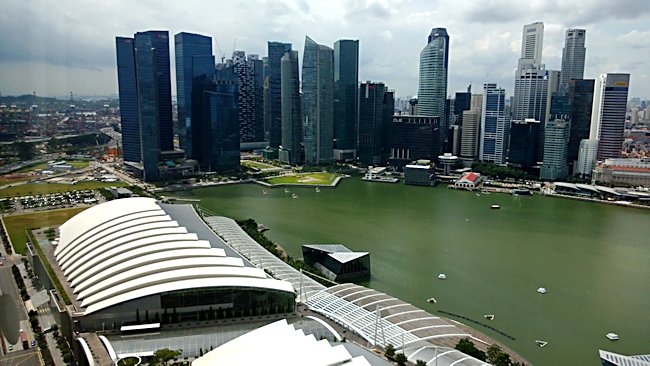 The most identifiable thing you see the top of Marina Bay Sands hotel public viewing platform is Singapore's central business district skyscrapers. They are very imposing glass and steel monoliths, but it is nice to see traces of Singapore's colonial past still visible. The Fullerton Hotel, which used to be Singapore's main post office takes pride of place in Marina Bay and has the old world charm. If you look hard, you can see the colonial shop houses that used to belong to the merchants of Boat Quay.
At night the view is very different. It is worthwhile getting a ticket in the very late afternoon to take photographs of the few during the daytime and then wait until darkness falls, so you can see the transformation. It is a very attractive view. On the water of Marina Bay. You can see the very criss-crossing between the terminal for Marina Bay Sands hotel and the central business district.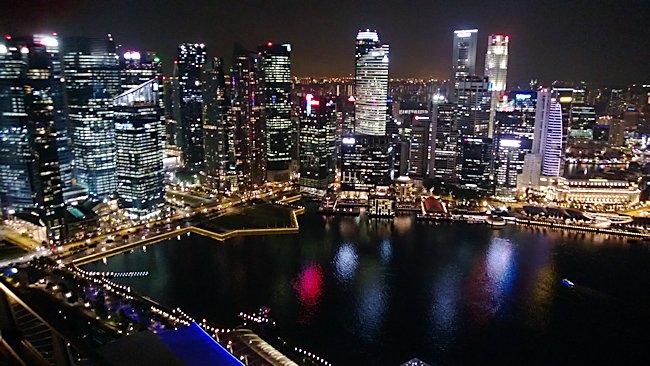 Travel books