Infinity Pool Marina Bay Sands Hotel
This is Singapore's highest open-air swimming pool. To get to the infinity pool on the top of Singapore's Marina Bay Sands hotel, residents have to take the lift up to the 57th floor.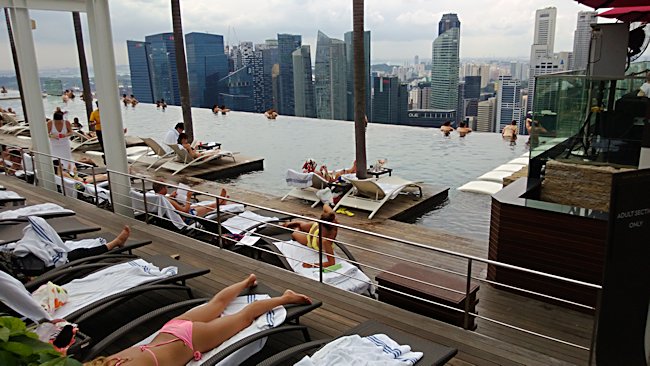 Put your swimming costumes on in your room and use the large long white toweling dressing gown to cover yourself up. You do not have to take extra towels as these are provided on the poolside from the towel concierge desk. There are three tiers of recliners on the decking. busy times during the year, it may be difficult to find vacant chairs.
Because of Singapore's tropical climate, the best time to guarantee sunshine is in the morning. As the day progresses the clouds build up and in the monsoon season, it normally rains in the late afternoon for a couple of hours.
As you come out of the lift hotel staff will give you coloured armbands to wear. This allows you to use all the facilities on the Marine Bay Sands hotel roof complex. The hotel provides lifeguards who keep an eye on everyone swimming in the pool. Members of staff will come around and take your orders for cocktails, beers, soft drinks and food.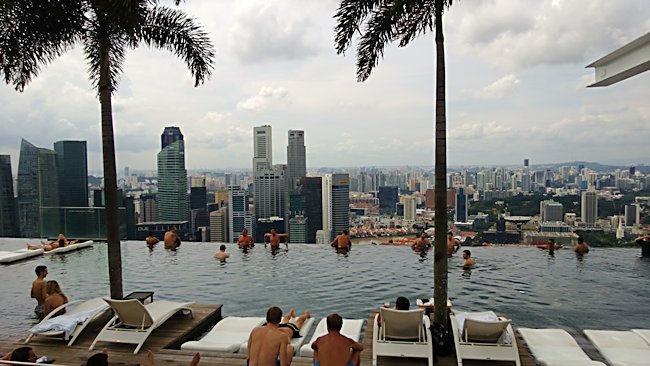 Drinks prices are not cheap, so you might want to bring some drinks with you in your bag. There is a restaurant at the end of the surfboard roof. You can also have breakfast or a midday snack in the central cafe.
Remember to wear lots of suntan cream even if the sky is cloudy. I saw too many people come away from the deck with some burn, looking like red lobsters. On the Ocean view side of the roof surfboard there are bubbling hot tubs. They are wonderfully relaxing. You can spend your time watching the large ships go through the Singapore Straits past the Indonesian coast.
One of the things I found amazing about the infinity pool complex is the amount of full grown mature palm trees that have been planted. We are on top of a large skyscraper. The effort to get these trees up this high must have been immense. Although you feel like you could swim off the edge of the affinity pool, there is no danger of you doing that.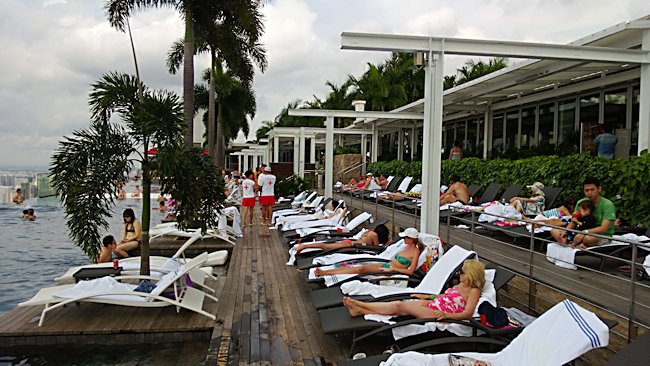 There is a gully and a large ledge on the other side, but you cannot see. The view of the city encompasses the whole of the central business district skyscrapers. In the far distance you can see the coast of Malaysia. Down below, you get a good view of Marina Bay, the Merlion statue, Boat Quay, the floating stadium and the Esplanade theatres on the Bay.
Travel books