Marina Bay Sands Hotel Infinity Pool at Night
The Marina Bay Sands hotel infinity pool complex on top of the surfboard roof is very different at night. If you're lucky, the weather will be just right for taking an evening dip in the swimming pool.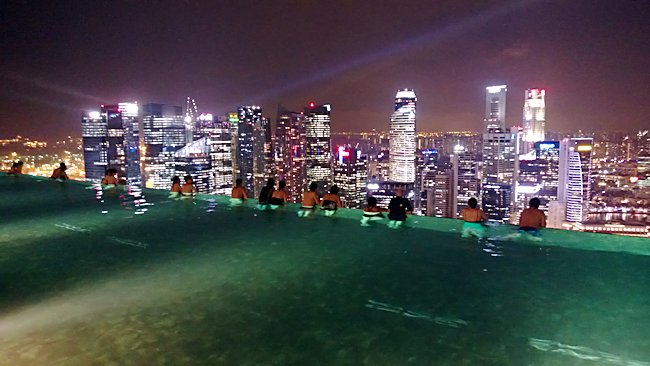 It is an amazing experience just floating in the water on the edge of the affinity for looking out at the illuminated Singapore city central business district skyscrapers. Some have floodlights and laser light shows on their tops.
If you look hard in the distance you can see the lights of the Malaysians southern coast. To the left you will see the international port that never sleeps. The giant cranes handle cargo containers 24 hours each day, seven days a week.
As well as the white toweling dressing jacket, take some warm clothing with you for when you get out of the swimming pool as being up so high on the 57th floor it can get breezy. On certain nights of the week the poolside bar has live music.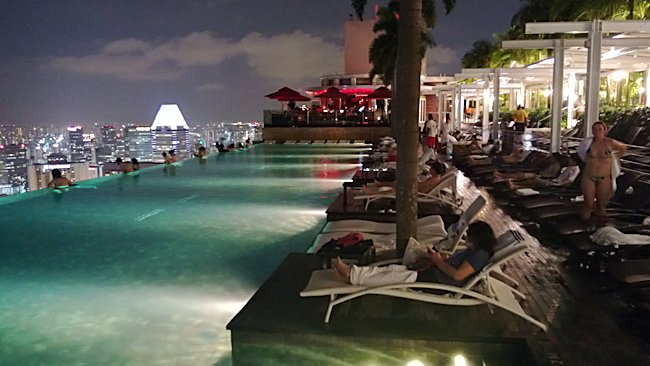 Failing that, the residents DJ plays popular songs over the speakers. Staff are always on duty, even at night to bring you food and drinks to your sun lounge by the pool.
If you wish to take photographs of the hotel infinity pool at night it is best to bring a tripod. Failing that, find a level surface, and set your camera to take a photograph using the inbuilt timing mechanism. That way you avoid getting a blurred photograph.
You may have to set the automatic focusing setting to manual. If you have a very good lowlight camera on your mobile phone, like the Nikon Lumia 920 Windows 8 Phone then hold it steady. By the side of one of the palm trees or on top of the wall.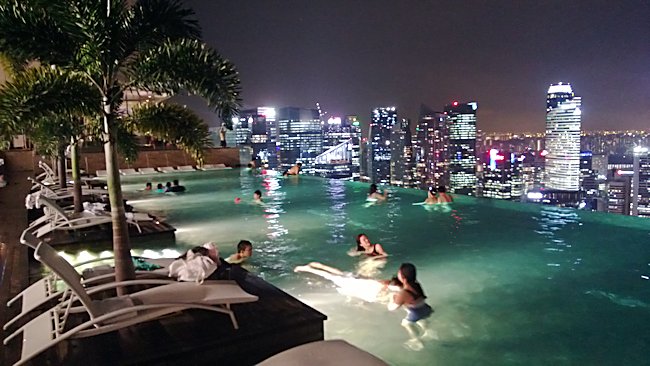 Travel books