Singapore's China town is just the South of the Singapore River Just look for the Chinatown Underground station on a map. The Chinese are the main ethnic group of Singapore. If you like Chinese food, then this is the place to come.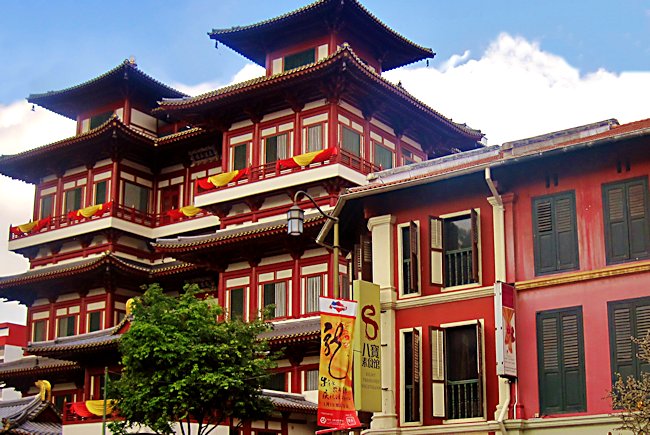 The area is comprised of brightly coloured restored historic shop houses with covered entrances and wooden shutters Windows on the second and third floors above the shop. Look above the shops to appreciate the old architecture. There are lots of different food establishments to choose from.
Don't come to Chinatown too early. Most of the shops do not open until after 10 o'clock. This is because they stay open late for the Chinatown night market. In the centre Chinatown. There is a large crossroads that has now become an open-air market. These four streets, that meet in the middle, share the same roof covering.
This gives protection from the hot tropical Singapore Sun and also the monsoon rains. Chinatown was part of Sir Stamford Raffles town plan that he formulated over hundred and fifty years ago. Different areas of the new fledgling trading port of Singapore was set aside for different ethnic groups. These were not ghettos like you find in other cities. These were to promote harmony and better business trading facilities.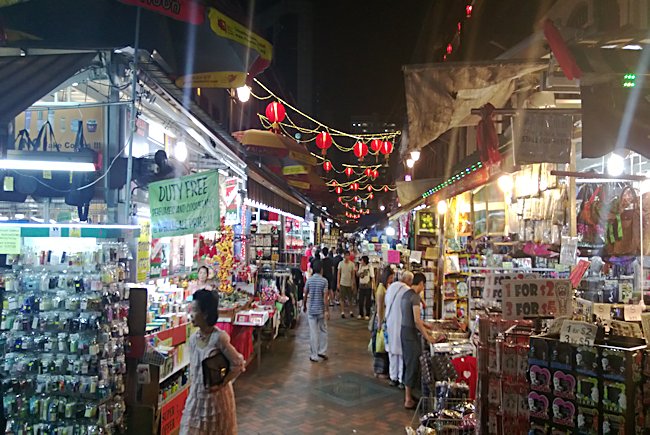 There are a number of attractive Chinese temples, such as the Fukien Thian Hock Keng Chinese Temple, scattered around Chinatown but surprisingly, there is a beautiful Hindu temple covered in painted sculptures. This is the Sri Mariamman Hindu Tamil Temple. There is also a Pakistani Mosque, Al-Abrar Mosque at Telok Ayer Street and the Jamae Mosque at Mosque Street.
There is a dress code for visiting these temples, mosques. Do not expose too much skin. If you are wearing shorts you can normally borrow a sarong. Ladies pack a light scarf in your bag that you can put across your shoulders. You will be expected to remove your shoes before entering the places of worship. They are free to enter, but donations are welcome.
Chinese merchant who loved Cantonese opera built The Majestic as an opera house. You will find it on the street named after him. Eu Tong Sen Street. It has a 1920s exterior design, but it has Jade coloured leaded glass and in the centre characters in traditional dress from Chinese operas. It became a theatre and then shopping centre, but it is worth a visit to see the architectural design.
Travel books