The Sultan Mosque near Arab Street
The mosque near Arab street was named after Sultan Hussein Shah. Over 5,000 Muslim worshippers can be accommodated in this gold domed mosque. With the aid of a financial grant from Sir Stamford Raffles, and the East India Company, the mosque was built in 1825.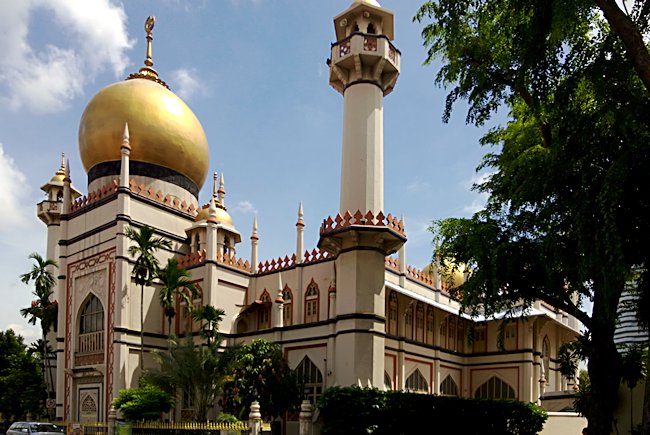 This was a result of the treaty Raffles arranged with the Sultan of Johor. Under the Raffles 'Plan of Singapore', this area was set aside for the Sultan of Singapore and the Malay and Arab communities as one of the new formal 'ethnic neighbourhoods'. In 1824. The population of Singapore was only 10,000 and Arab community was tiny but Raffles anticipated a big increase in Arab immigration because he had seen how they played a dominant role in international trade in south-east Asia.
This is why he instructed the Singapore housing committee to give the Arab population "every consideration". He was right. More Arabs did arrive and settle in Singapore. They eventually dominated trade during the British colonial period. Their hard work helped Singapore prosper.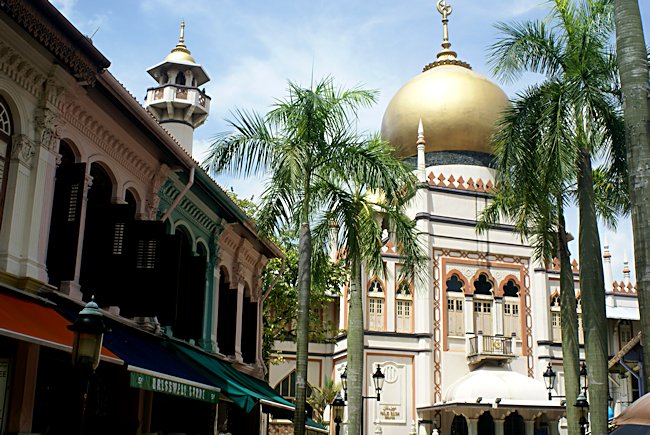 After 100 years, the original mosque was replaced with the present-day magnificent golden domed building. The contract for the new design was given to the British architectural firm of Swan and McLaren. The main architect was Dennis Santry . The mosque is open to visitors 5 am to 8:30 pm daily, except Friday prayers when it is only open between 2.30pm and 4.30pm. Visitors are welcome to view but not enter the grand prayer hall. You will have to wear modest clothing but does not show too much flesh and take your shoes off.
The large red modern digital clock in the main hall seemed to be out of place in this very ornate building, but at least everyone will know it is time to pray. When the call to prayer comes out over the minaret, you will see conservatively dressed local Muslims walking quickly towards the Sultan Mosque. Some are traditionally dressed in long, flowing robes..
Travel books