Singapore's Arabian Bussorah Street
Bussorah Street in Singapore's Arab Quarter offers wonderful palm tree lined views of the splend golden Sultan Mosque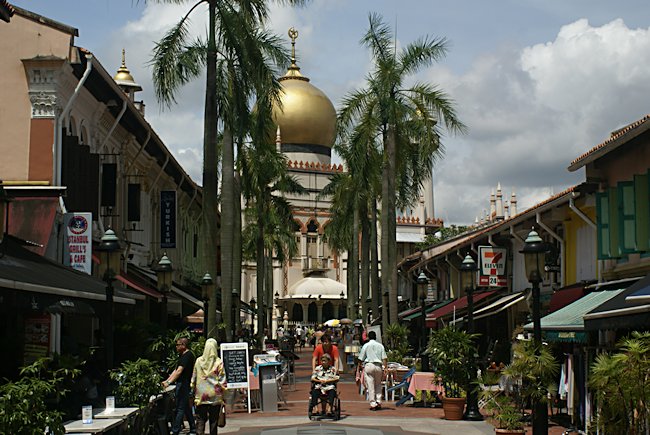 To take the best photograph of the Sultan Mosque walk down Bussorah Street and look back. Large palm trees have been planted to produce an avenue. They give the road an exotic, in keeping, oasis look. The Sultan Mosque is the focus of Singapore's Muslim community.
It is the largest mosque in Singapore and the busiest. In the surrounding streets you will find good food from many different Arabic countries on sale. Bussorah Street was originally called Sultan Road but renamed after a place in present-day Iraq in 1910.
It still has the nickname 'Sultan Road'. Before the street was redeveloped in the early 1990s it was mainly a residential area with small businesses. The community was largely from Java. This influenced the food that was on sale. The road was turned into a pedestrian precinct in 1993. This was a very good decision by the Singapore City Council.
The Mosque has huge golden onion shaped domes. It is very picturesque and gives you a feeling that you are in Arabia. Aladdin would be at home here. It is the sort of place where the next Indiana Jones movie could be filmed. Many of the surrounding streets are named after Arabian cities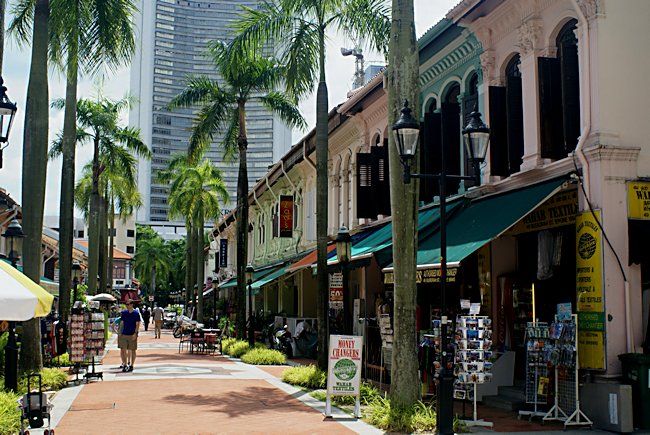 It was Arab street that was the original focus of the Muslim quarter of Singapore. Sir Stamford Raffles approved the town planning in 1822 making Arab street, the main road for the area. Construction work finished in 1824, and Muslims from different parts of the world started businesses and set up homes here. They were not just Arabs that settled in this location.
They came from places like India, Malay and Java. Many of the original houses can still be found. These are shop houses where the merchants lived above the business. Because of the competition for land in Singapore, these small retail premises sell millions of US dollars. In 1989, this area obtain protection and became a conservation area under the urban redevelopment authority.
During Ramadan, the Muslim faithful abstain from eating and drinking and sunrise to sunset. The Arab Street area comes alive with many food stalls just before dusk. The faithful come to the area to break their fast with friends and family will stop. There are lots of different types of foods to try, of course there are the middle eastern Arabic cuisines like kebabs, couscous and tagine hot pot Mike of, but there is also local Malay foods available as well as Indian and Chinese food.
Travel books