Cathedrale de la Major in Marseille
The Cathedrale de la Major in Marseille is worth the 20 minute walk from the Vieux Port, the old port. It is in the area of Gare Maritime where the ferries dock and take customers and their vehicles to places like Corsica.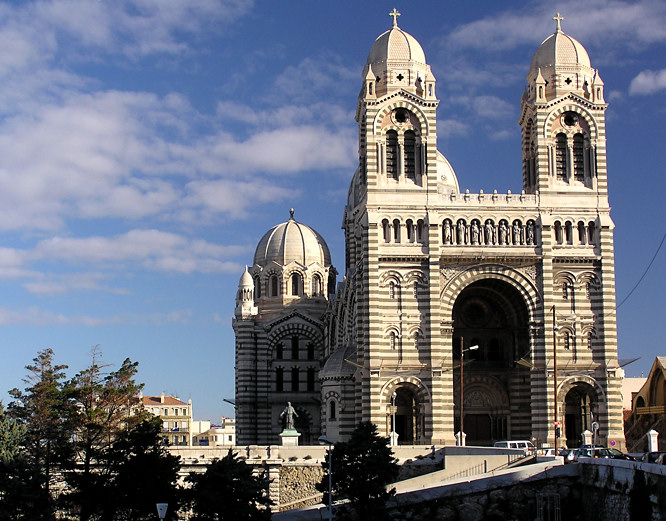 The full name is Cathedral de Sainte-Marie-Majeure dite la Major. Walking around the corner and suddenly seeing this imposing building is quite breathtaking. The different contrasting colored marble and stones make it distinctive.
Marseille Cathedrale de la Major is open in the summer 8.30am to 6.30pm. In winter it is open 9am to 12 noon and then 2pm to 5.30pm. Beware it is closed on Mondays. You can get there by Bus number 61 and 57. Metro station Joliette is the nearest. Like the Basilique Notre Dame de la Garde it is a place of worship not only for the citizens of Marseille but for all the mariners that visit the port of Marseille. They give thanks for a safe voyage or pray for a blessing on their next seagoing trip.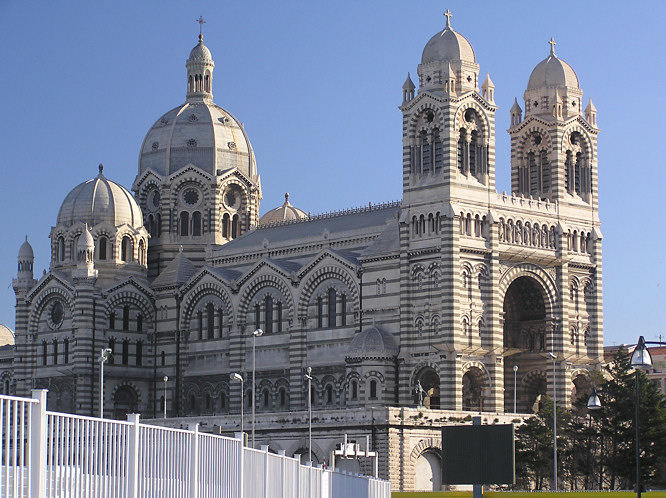 This neo-Romano-Byzantine style church looks really very impressive and inside has mosaic floors. The cathedral was built between 1852 and 1893. The Cathedral of Sainte-Marie-Majeure is considered as one of the biggest cathedrals of its time. It's dimensions are comparable to those of the church of Saint Peters in Rome. It is 142 meters long (469 ft), the towers on the front are 60 meters high(198 ft), the nave rises 20 meters (66 ft), the central dome reaches 70 meters (231 ft) for a diameter of 17,70 meters (58.4 ft) making it the 6th in the world. With a capacity of 3000 seats, it is the largest cathedral in France.
It is the work of architects Vaudoyer and Esperandieu. It is built from a variety of materials; calissane and gard stone, green stone from Florence, white marble from Carrare, onyx from Italy and mosaics from Venice. The new building has almost swallowed its 12th-century Romanesque predecessor. It was originally a baptistery that was built on the ruins of a Temple of Diana.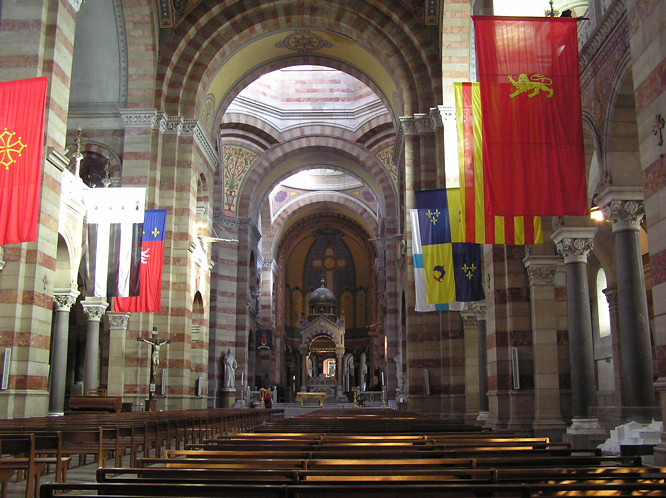 Travel books