Basilique Notre Dame de la Garde - the Mariners church
This is a Church with a view. It crowns a limestone rock overlooking the southern side of the Vieux-Port, and the whole city of Marseille. The front terrace offers some of the best views of the city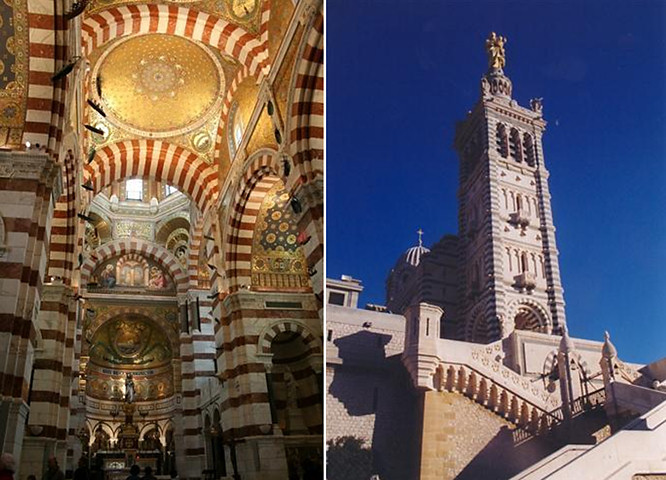 It is situated on top of the high ground looking over the port of Marseille. The church itself consists of two chapels, one built in Neo-Romanic style and the other one in Neo-Byzantine style. The stripped interior design is unusual. It is a sailor's church. In the basilica, there is an extraordinary collection of small-scale models of boats donated by those sailors who were lucky to come back after a dangerous voyage or given as an offering to 'Notre-Dame' Our Lady, to help bring them back safely. There is also a collection of paintings of ships for the same reason.
The inside of the church will make you go 'wow'. There are highly decorated ornate domes and arches that support the roof built in contrasting white and red stone to match the decoration on the outside of the church. Above the alter is a mosaic showing the strong links to the sea as Marseille has always been a seafarers city.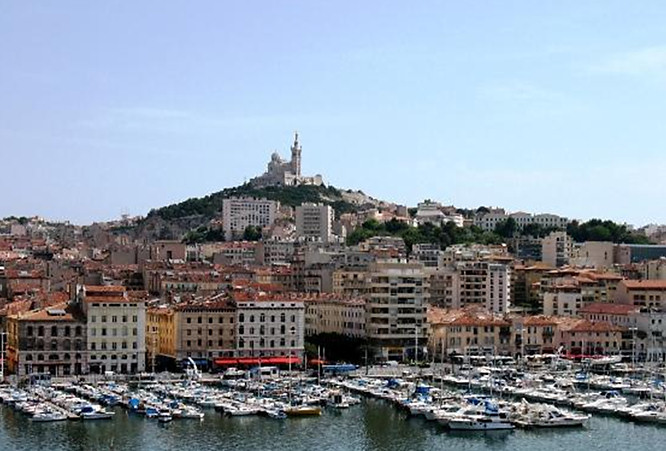 In 1214, the abbot of St. Victor allowed a hermit, Master Peter, to construct a chapel on this hill. He called it the Chapel de la Garde after the name of a hill. There was already watch tower on the hill. Francois I had a fort built on the Garde mountain. The Chapel was built in the mid 14th century.
On top of the basilica sits a 60m (197ft) belfry topped by a gold statue of the Madonna, which the locals refer to as "la bonne mere" (good mother). Construction of the basilica began in 1853 and completed in 1864. The view from the top gives you a great panorama of the sea and islands on the one side. On the landward side of the city of Marseilles harbour you see how it is encircled by mountains on the other side.
The crypt of the basilica is worth a visit to inspect the vaulted ceilings. It is open daily from 7 AM to 7:30 PM (9 PM in July and August). In the crypt, there is a wounded Christ on the cross. Pilgrims rub the wounds of the Christ which are deeply carved by the rubbing of millions of pilgrims. Bus number 60 from the old port or Quaie des Belges goes there for those that do not want to walk up the very steep hill.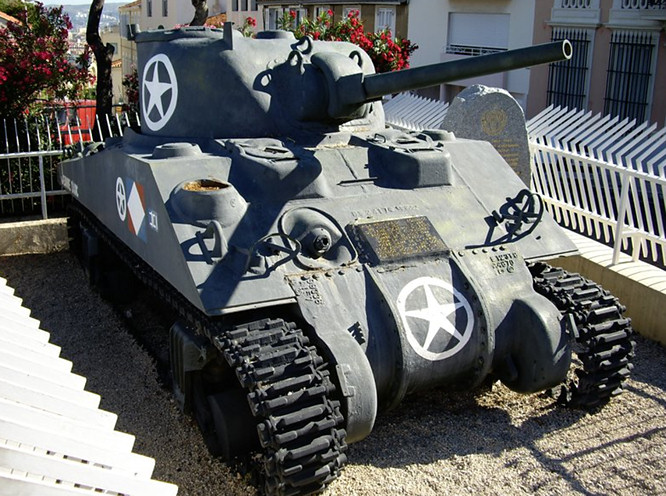 The M4A4 WW2 Sherman Tank 'Jeanne d'Arc' at Marseille
Not far from the top of the hill an American tank that dates from WWII and the liberation of the city by the allied troops is on display. Original tank from the 2nd Cuirassiers Regiment, knocked out near the Basilique de Notre-Dame de la Garde in Marseille on 25 August 1944. It is now surrounded by high fences to prevent kids of the district climbing on the tank.
Travel books