Chateau d'If Count of Monte Cristo island prison
From Marseille's Vieux-Port (old harbor), you can catch a tour boat out to the Frioul Islands (Archipel Des Iles Du Frioul), just off the coastline. It leaves from the Quai des Belges (dock of the Belgians). Departures are hourly, from 9:00 to 5:00 (last return boat is at 6:50 pm).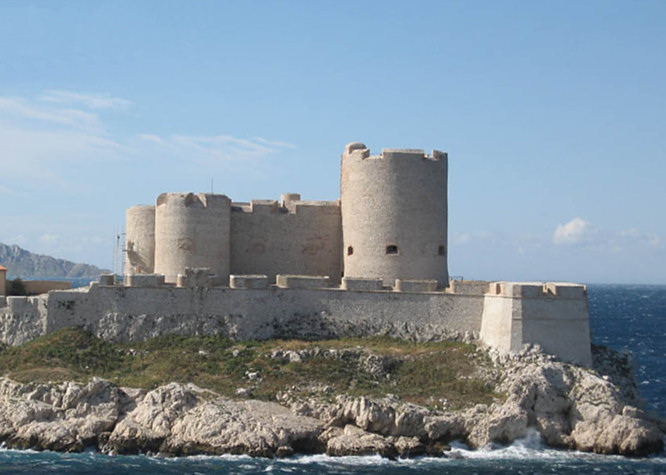 It is not a long boat trip. The island of If is the smallest of the three Frioul Island. Children will like it as this rocky fortress looks like a proper castle. The sort of castle you will make on the beach with your bucket and spade. The incoming tide will not knock down this construction
Marseille's Chateau d'If was built in the early part of the 16th century. Originally intended to be a fortress, storing artillery, but it was mainly used as a prison, for criminals and political prisoners. It was this political use that was immortalized in author Alexandre Dumas 'The Count of Monte Cristo' Edmond Dantes.
It is the most visited French military monument. You can spend a few hours exploring the prison. Visit the cell where the captain of the ship that brought the Plague to Europe was kept. You can put yourself behind the bars of the Count of Monte Cristo Edmond Dantes' cell. This is strange because the Count of Monte Cristo Edmond Dantes never existed. He was a fictitious character.

In the novel the Count manages to escape from the island, but in reality no escape have ever been reported. Try and visit the tops of the towers. At the center of one of the towers there is a good echo. Rebels, villains and recalcitrant galley slaves were imprisoned here for varying lengths of time. Starting in the 17th Century, during the religious wars large numbers of Protestants were thrown into the dungeons where many of them perished. The prison was closed in the late 19th century and opened to the public in 1890.
When you land you can visit the prison, the museum, and other parts of the island. If you get hungry or thirsty there here is a snack bar on the island. When you arrive it is very important that you make a note of the time of the last boat from the island at the end of the day. Take your swimming costume and camera as there are some sandy beaches and excellent views of Marseille city form the sea. Be very careful when walking around the island as it is a nesting place for a breed of large seagulls. They can be aggressive when protecting their nests.
Travel books