Helsinki Esplanadipuisto - Esplanadi Boulevard and The Esplanade Park
The Esplanadi Boulevard is a pleasant, green area right in the city centre of Helsinki. It is one of the main streets in Helsinki and leads right up to the harbour. Esplanadi is the boulevard that connects the main street Mannerheimintie and the Market-Square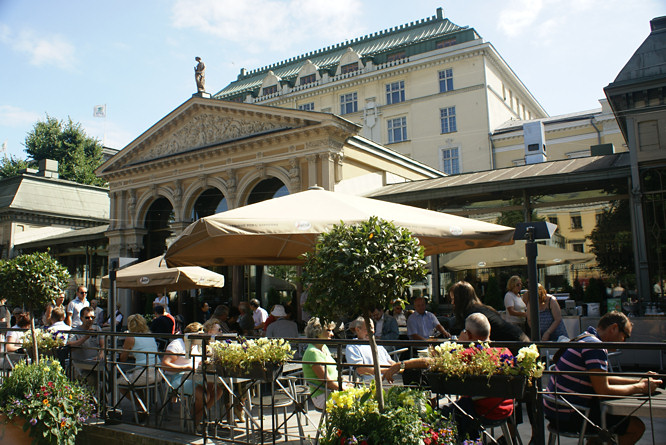 The park is divided into three parts by streets crossing through it - Runeberginesplanadi is the central part, with a 8-metre high monument to the Finnish national poet, Johan Ludvig Runeberg. A great place to relax and enjoy an ice cream, beer or a cup of coffee before doing some serious shopping on Pohjois-Esplanadi
This is the place to go if you're after luxury shopping, people watching or just going for a leisurely stroll. The Esplanade park stretches from Kauppatori westwards to the busy Mannerheimintie street and is flanked by two streets with expensive shops, restaurants and cafes. In summer concerts are frequently held in the park.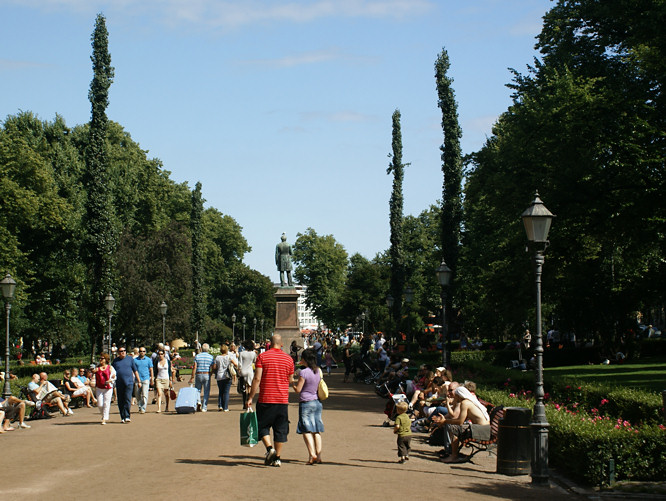 The Esplanade itself is a very wide pea-gravel walkway lined with trees, foliage and flowers and seating areas. At night elegant street lamps illuminate the walk way and statuary in this beautiful area. In the Summer there are free jazz concerts and in December the traditional Christmas Market appears.
It is said that the Esplanade, constructed in the 1800's, served as a political dividing line of sorts when certain inhabitants of the country could not decide whether the Finnish or Swedish language should dominate. Proponents of the Finnish viewpoint ambled on the south side (Etelaesplanadi) while the Swedish-speaking Finns did so on the north side (Pohjoisesplanadi). Happily, this is no longer the case. This beautiful park runs between the north and south sides of the boulevard, beginning at the harbour and ending at the Swedish Theatre and today the park is a joy to those fortunate enough to visit it.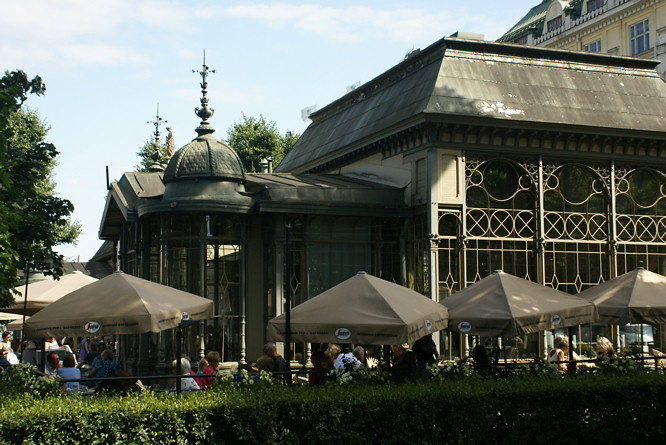 The Esplanade is not only a grand place for a beautiful afternoon stroll but also an area hosting some of the finest hotels, restaurants and shops in Helsinki. Marimekko alone has 3 shops on the boulevard and Scandinavia's largest department store, Stockmann's will more than delight all true shoppers.
You'll also find the upscale Savoy restaurant, and the historic 'Kappeli' restaurant which is famous for its 'Sibelius' menu featuring smoked arctic char and beetroot mousse. For a little nightlife, try the hip Teatteri restaurant, bar and nightclub occupying the same building as the Swedish Theatre. Don't forget the upscale Finnish souvenir shops along the way, but bring plenty of Euros for any shop you might slip into.
Esplanadi Park (Esplanadipuisto) is located to the West from the Kauppatori square. The park is framed with streets Pohjoisesplanadi and Etalasesplanadi, built up with buildings in style of the neo-Renaissance in the second half of the XIX century. K.Engel and J.Erenstryom were the authors of a lay-out of the park in 1812.
The park accepted the modern view in 1831. The oldest lindens were planted in 1840. The park is a favourite place of walks of the townspeople and tourists. The restaurant 'Chapel' (ravintola Kapeli) with a summer terrace is located in the east part of the park. There are many small ponds decorated by figures of boys of fishers and nymphs.
Travel books