Kauppatori square - Helsinki Harbour Market and Market Hall
Kauppatori square means 'market square'. Look for the brightly colored tent tops and you can't miss the market. This charming outdoor Finnish market just near Helsinki harbour is an excellent place to find the fresh fruits and vegetables, fish and baked goods offered for sale by the friendly Finns.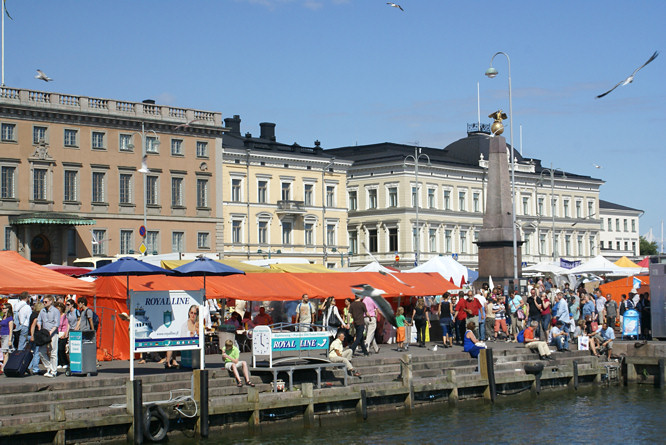 Smoked herring is one of the many Helsinki favourites. At the market you'll also find crafts and souvenirs from the far north of Finland, Lappland. The square was formed on this place in the beginning of the XIX century. Kauppatori is the brightest and the brisk city square.
The market rustles there, thousand of tourists from nearby port arrive there. It was authorized to arrange the markets on this place in 1639, and in 1743 the first fish fair took place there. The market is open from 6.30 till 18.00 in the summer every day except for Sunday. Fish products, products of local national crafts are on sale there: unusual hats, dolls, souvenirs, knitted and wooden products. The square is surrounded by buildings of the XIX century - unfortunately only a few survived the second world war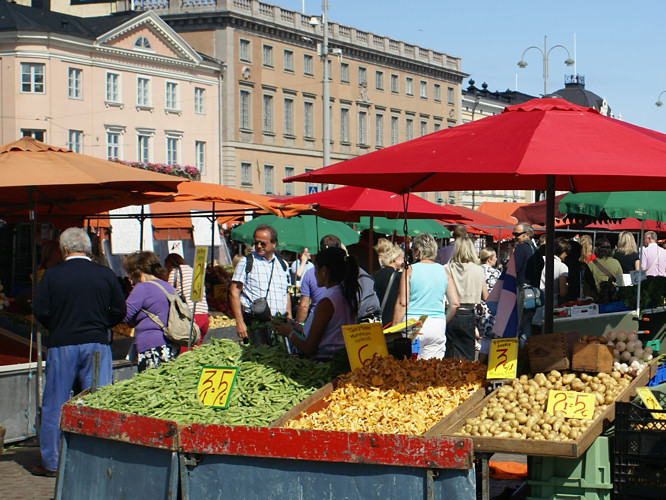 The granite obelisk 'the Stone of Empress' (Keisarinnan kivi) is located in the middle of the Kauppatori square. This monument was created by K.Engel in 1835. The obelisk was installed in honour of Nikolay's I and Aleksandra Fedorovna visit on that place where they put ashore during the visit to Helsinki.
The gilt two-headed eagle on the bronze globe crowns the obelisk. The gold eagle was dumped on the ground in 1917. Long time it was kept in a museum. It was returned on a former place in 1972. There is one of the main symbols of Helsinki-fountain Havis Amanda (Suihkukavio) in the western part of the Kauppatori square with a sculpture of the naked woman of the mermaid.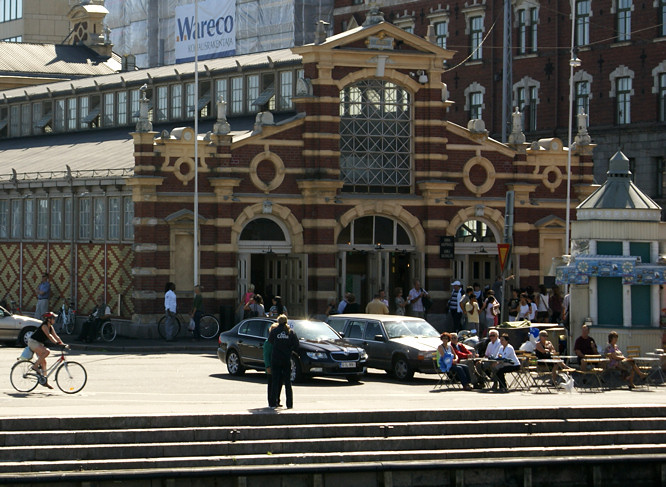 The fountain was installed in 1908 under the project of architect I.Valgren. Amanda personifies the city of Helsinki rising from the sea. Four sea lions surround a statue. Jets of water fall from mouths of lions. Amanda's bronze sensual statue made a true furore at the time.
If you're hungry there are plenty of stalls in the market selling drinks and food and tables to sit at and eat. Look out anyway for the sea-gulls flying around, they can snatch your food, you want to eat, from your hand. If it is raining have a look in the Market Hall where you will also find an excellent collection of produce and other goods as well as crafts/souvenirs and a nice atmosphere. Harbor cruise boats dock next to the market. You will find the market at the east end of Esplanadi Boulevard
Travel books