Chiang Mai's Wat Pan Toa Temple in Thailand
In the center of Chiang Mai is the huge ancient Wat Chedi Luang temple complex. Wat Pan Tao is part of the temple grounds. What is very distinctive about this temple compared with the others in Chiang mai that makes it stand out as some thing different is the dark wooden sermon long hall that looks like something out of Lord of the Rings.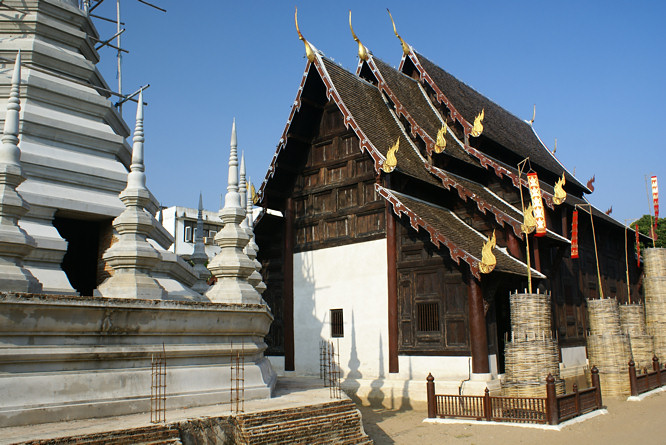 The entrance can be found along Phra Pok Klao road just south of the junction with the west east Rachadamnoen road and not within the Wat Chedi Luang temple complex. Wat Pan Tao Buddhist Temple is worth a detour because of its unique architectural character.
It seems to come from a different period of time to all the other temples. It is not covered in all the 'bling' like most of the other Thai temples. It does have elegant wood carvings and a decorative roof. Prayer flags and a row of large bells are used to send messages, wishes and hopes. The pray flag poles are secured by being placed inside a column of bamboo wicker baskets filled with sand. This stops the flag poles being blown over in the wind.
Pan Tao, means 'to increase 1,000 times.' The temple was built around the same time as the large Royal Wat Chedi Luang, in the late fourteenth century. It was one of four monastic temples serving the royal temple. The majestic wooden viharn, is a chapel for lay people to pray in. The teak building was moved to the temple grounds in 1875 by King Inthawichayanon. It is today one of the few remaining all-wood buildings in Chiang Mai.
It was formerly a royal residence for king Chao Mahawong who ruled from 1846 to 1854, but the practice in Northern Tailand was for each new Lanna king to build a new palace. The old palaces were often 'recycled' into other uses, especially in temples. The peacock was the symbol of the Lanna kings of Chiang Mai. Over the main entry door on the east end of the chapel is a large gilded wood carving depicting a peacock flanked by several other animals including a curled up dog.
The dog is featured here because it happens to be the zodiacal animal representing the year that King Chao Mahawong was born. The front entrance is guarded by Burmese-style lions, or singha in Thai, or chinthe in Burmese. On the ridge of the roof look for the lines of small 'swimming ducks'.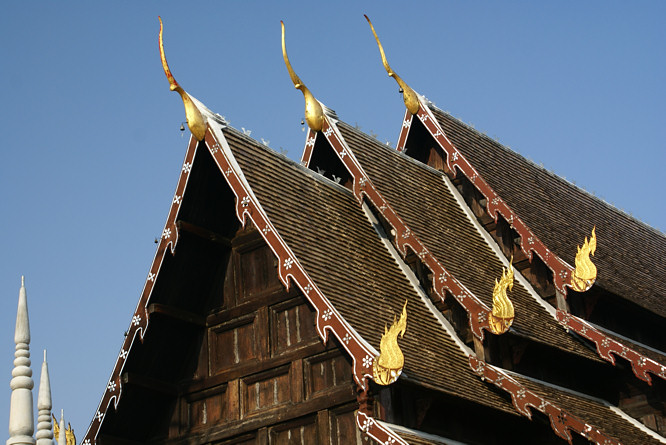 Travel books