Chiang Mai's Wat Pan On Temple
The Wat Pan On Temple in the middle of Chiang Mai Thailand is located at Ratchadamnoen Road, 300 meters westward away from the old city wall's Tha Pae Gate. You will find Wat Pan On temple on the left as you walk down the street from that gate.
On a hot day it is a welcome sight as the temple court yard is shaded by large trees under which are picnic benches where families and monks sit to eat and talk. There is a small kiosk where you can purchase drinks and snacks. I enjoyed watching the antics of the small Thai squirrels scampering around the benches and then up into the trees.
The dark green foliage of the trees makes an attractive setting for the colourful temple. The large golden chedi is impressive. All the Buddhist temples have Viharas (great prayer halls) and Chedi (monolithic stupas, shaped like giant bells, each of which houses a relic of Buddha, such as one of his bones or the ashes of an important monk or king).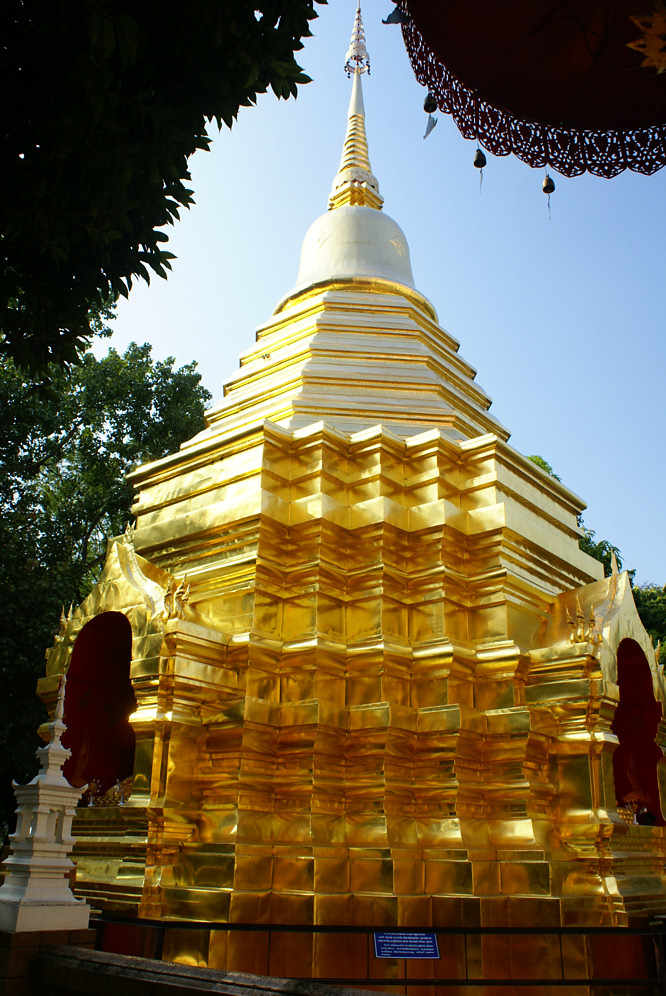 Wat Pan On is a beautiful temple built by King Phra Muang Kaeo's in 1501. According to ancient records there was another minor temple called Wat Chedi Khwan located nearby on the western side of Wat Pan On. The two small temple grounds and buildings were combined into one temple. Wat Pan On has a number of exquisite wooden sculptures and lots of traditional Thai art. Have a look at the side of the Wat Pan On Viharas prayer hall. The ornate windows are worth up close study as they are intricately carved and decorated. Children love looking at the carved mythical Naga serpent head and body that forms the arch of the window.
The Naga is a deity, a king cobra hooded snake, found in Buddhism as well as Hinduism. A notable Naga in the Buddhist tradition is called Mucalinda, protector of the Buddha. In many paintings, carvings and sculptures the Naga is seen covering the head of the Buddha shielding him from the rain whilst he meditated under a Bodhi tree. For seven days the heavens opened up and continually rained. The mighty king of serpents, Mucalinda, came from beneath the earth and protected with his hood, Buddha, the one who is the source of all protection. When the great storm had cleared, the serpent king assumed his human form, bowed before the Buddha, and returned in joy to his palace.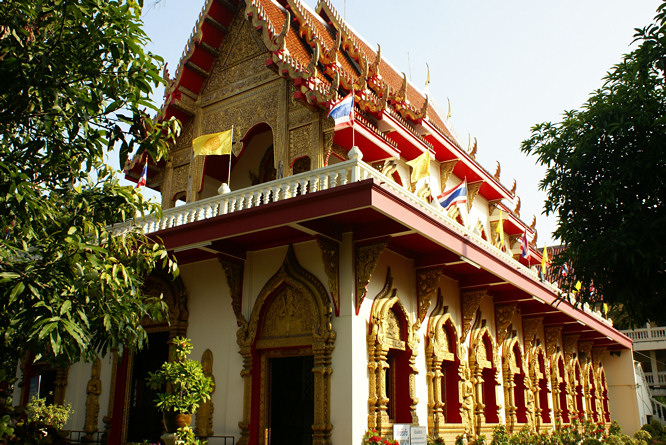 Travel books