Riga Ratslaukums - The House of Blackheads
Address: Ratslaukums 7 The quite striking, very colourful building called the House of Blackheads is in the southwestern part of the Old Town - a few seconds walk to the west of St. Peter's Church. It's an easily recognised building, popular with tourists - but definitely not my favourite one among all the lovely buildings of Riga. (It looks so *new* - and it actually is, it was (re)built from scratch in 2001!) Still worth a quick look, though.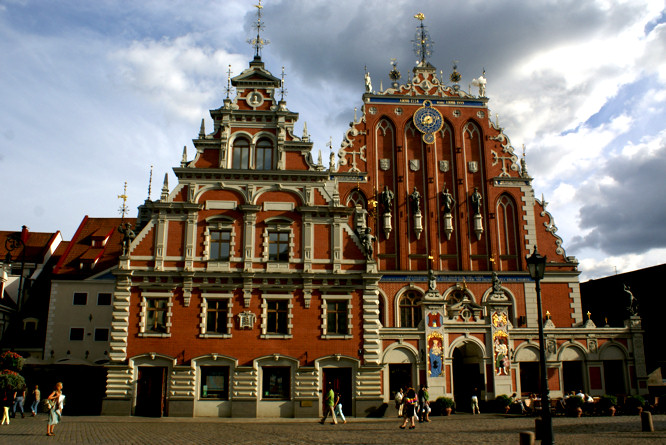 The Blackheads was an organisation of unmarried foreign merchants - the rather unusual name of the guild comes from their patron saint, the black st. Maurice. The building was first mentioned in 1344, it was then owned by the Great Guild. The Blackheads rented this building from the 15th century, and bought it in 1713.
The building was partly ruined during World War II, and the ruins were completely destroyed by the Soviets in 1948. The House of Blackheads was rebuilt in Gothic style for Riga's 800th anniversary in 2001. Open to the public daily, 10 - 17, except Mondays. Admission: 1,50 Ls
The Riga Three brothers
The tradition that members of one handicraft live on one street was in full force and effect in medieval Riga, too. So we can find three dwelling-houses surviving from the former Backer Street side by side to each other, perhaps this is the reason why these houses are called Three Brothers. The oldest brother was built at the end of the 15th century,
It is the only premise that survived originally from that time, the next house is dated from 1646, but the last building is from the end of the 17th century. With the pediments facing the street these houses present the main principles of medieval building manner. Reconstruction carried out by P.Saulitis and G.Jansons. Museum of Architecture is settled in 2 of these buildings.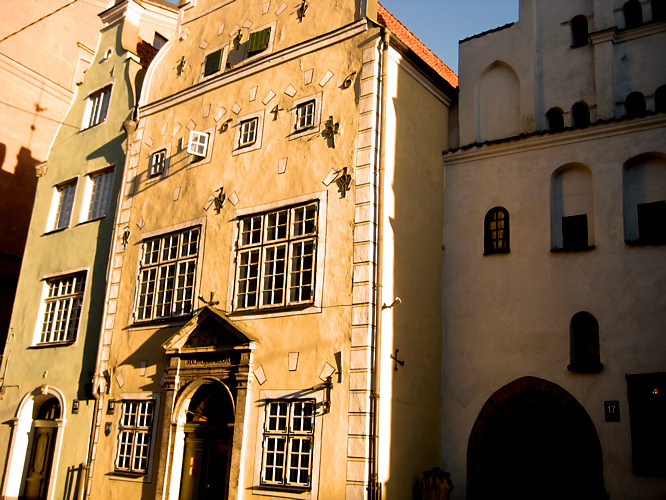 Travel books