Chez Ali Arabian Dining experience in Marrakech
The Chez Ali experience is a must. Yes it is for tourist but it is very well done and worth every cent of the entrance price. Just ask your Hotel reception to book you a place. They will arrange transport that will pick you up from your hotel and bring you back.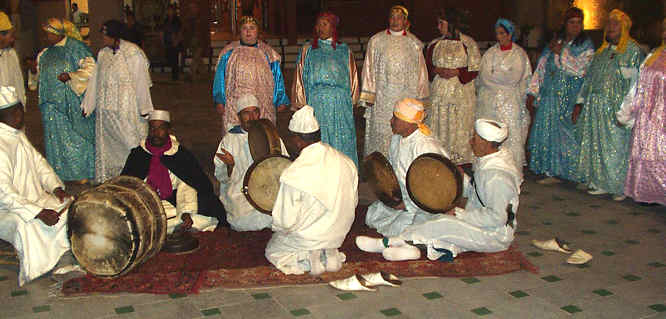 The venue is out of town on the Safi road. It has been established for over 25 years and is on a purpose built 11 hectare sight. They have built a make believe Arabian walled city centred around an arena. This is your chance to experience the sights and sounds of Morocco while eating a 5 course meal.
Disney style grand Arabic buildings surround the arena. In front of them are large colourful tents. As you enter the city gates your are greeted by mounted Arab traditional horsemen. Inside your photograph is taken with traditionally dressed Moroccans. If you like the photograph you can purchase a copy as you leave.
There is no pressure so smile for the camera. You are then directed to one of the giant Bedouin tents. You sit around a large table with others from your group. Great tasting soup is served first with Moroccan bread followed by half a barbequed lamb. Make sure you come to Chez Ali hungry as there is lots of food to eat.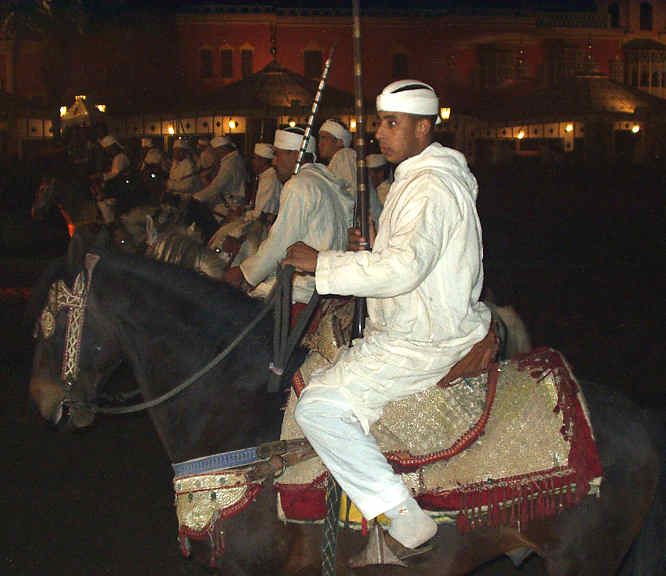 After you have finished with the lamb, great bowls of chicken covered with couscous (cooked plumped semolina grains) and vegetables are brought to your table. Pudding is a bisteeya, wonderful vanilla custard covered pancake pie and then a large plate of fruit is put on the table. The cost of the drinks are not included in the price of the ticket. You can buy alcohol. Whilst you are eating musicians and dancers visit each tent and entertain the dinners.
When everyone is finished the tents are emptied and the seats around the arena are filled. The evening show starts off with acrobatic horsemen charging around the ring at high speed jumping on and off their mounts. Next it is the turn of the Lawrence of Arabia period desert horsemen to put on a show. They carry ancient long breach muskets that make a very very loud noise when fired in unison. If you have young children cover their ears.
The next show is put on by a group of dancers that finishes with a belly dancer being transported to the central stage on the back of camel. She strips off to her dancing outfit and starts strutting her stuff. The end of the show is heralded by a loud fireworks display. You now realise why Chez Ali is situated in the middle of nowhere. If your visiting Chez Ali in winter wear a very warm jacket as the show takes place outside at night and it gets very cold. Gloves, warm socks and a hat are very useful.
travel books