High Atlas Mountains Day Trip
Speak to your hotel reception desk about arranging a day trip into the High Atlas Mountains. They will pick you up from outside your hotel at about 9.30am and return you around 4.30pm. The trip takes you into the Vallee de l'Ourika which is part of the Toubkal National Park.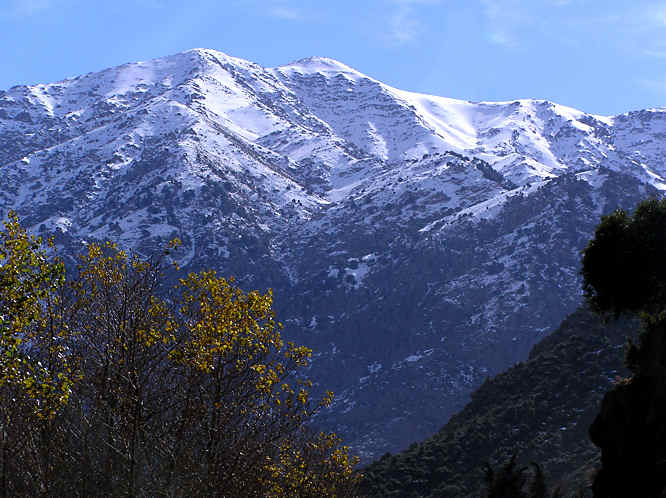 The central attraction is Mount Toubkal standing at 13,665 feet 4,165m. It is Morocco's highest mountain and is situated 40 miles (60KM) south of Marrakech. The coach keeps stopping for you take photos of the magnificent views of the snow capped mountains. The scenery keeps changing, as you get nearer to the mountains. The flat rocky desert scrubland changes to farm land in the foothills with deep brown soil then suddenly the land turns deep red.
The buildings of the local hill villages are also red as they use the local building materials. Nearer the mountains the landscape changes yet again to a lime green coloured rock. The coach will stop at a Berber house. This is an opportunity to see how the locals live. An enterprising farmer realised that he could make money out of letting tourist walk around his farmstead for cash and it was more profitable then ploughing rocky fields.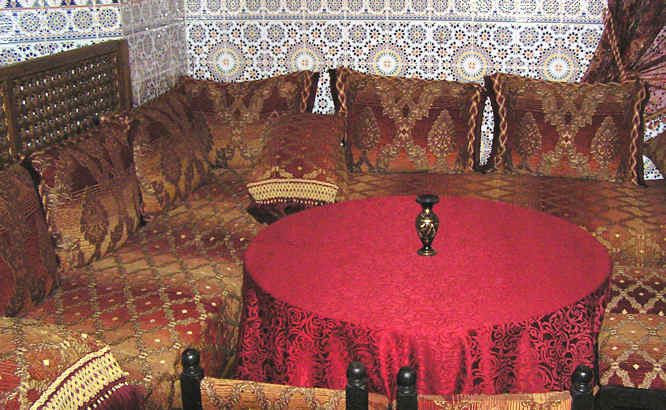 There are lots of rope bridges spanning across the river linking both sides of the valley. The rope has been changed to thick wire but the planking is still very rickety. You coach will stop to allow you to have a go at crossing to the other side and taking photographs. The trip takes you to the last village in the valley, Setti Fatma. This is where the road ends. Disappointingly it is not very high and there is not a lot to see.
On the way back to Marrakech you stop at a newly constructed Moroccan restaurant set in valley at the bend of the river. The views of the Mountains are magnificent form the terrace where you eat a wonderful lunch (The cost of the lunch is not included in the price of the trip) They serve alcohol. The Flag Special Marrakech beer is good. The restaurant is traditionally decorated and the toilets are clean.
travel books