The traffic is mad. Driving standards in Marrakech are very poor. Don't do it hire a taxi. The Marrakech Moroccans are the worst drivers I have ever seen. They do not abide by the normal rules of the road.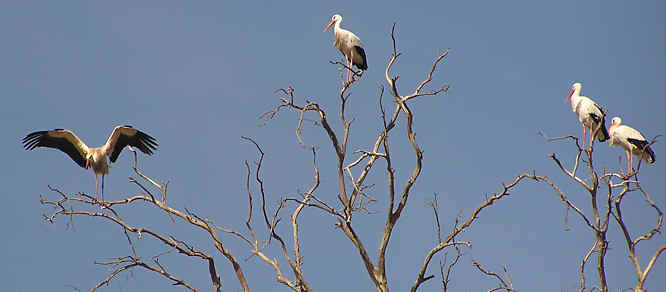 They barge their way into the smallest gap and intimidate other drivers by the constant sounding of their horns. They cut people up and overtake on the wrong side of the road even when there is traffic in the other carriageway. They do not give way at traffic junctions or roundabouts.
Storks
When you are walking around Marrakech look up. You may see storks nesting on the city walls or flying around in circles catching the thermals. They also hang around in groups in trees on the outskirts of the city. Other bird life is not so exotic. Being in North Africa you would think that the place would be swarming with different unusual birds. Wrong, most of the birds you see are exactly the same as those you find in your back garden like sparrows, pigeons, starlings and blackbirds.
Pollution and Smells
It is the smells of Marrakech that assault your senses. Donkey pooh and urine mixed with the airborne sent of spices and food. Around the edge of town the exhaust from the main older diesel cars, lorries and taxis get down your throat. It is a third world country. You will find litter and rotting food in the gutters and on the streets. Look out for the stray cats with strange long legs eating the rubbish
Flowers
Do not pick any of the exotic looking beautiful, flowers growing in Marrakech. You will find them mainly in public gardens. It is strictly forbidden and punishable with a jail sentence. Moroccan police cells are not a nice place to spend any time. Leave the plants and flowers alone and have a great holiday.
Guide Tours of Marrakech and beyond
If you feel happier hiring a guide or going on a guided tour, double check what you are going to see before you go. Some guides have a habit of directing you towards shops that they get a back hand payment from. Tell them that you do not want to go to shops. You want to only see the sights this trip. Your hotel can arrange a personal guide or a tour.
Insist that your guide can speak good English. Guides can help give you a historic background to the places you visit and keep the beggars away. You do not really need a guide as you can walk to and around all the main tourist sites on your own.
When you enter the old town you will be pestered by people asking you if you want a guide. Some will say that it is dangerous to go around the Medina (old town) on your own. This is not true. Once you are in the souks this type of pestering calms down and is replaced by shop keepers trying to get you into their shops.
Don't believe anyone who approaches you and says they work at your hotel. It is just a trick to get into your confidence. Another trick is telling you that they can take you to the difficult to find 'Berber market' that only opens one day a week. The market is open every day. If you say you do not want to go with them as you are going to a specific location they will tell you that that place is closed today.
Red Double decker open air bus guided tours
You buy a 24 hour ticket on the bus and you can hop on and off when you like. There is commentary in Spanish, English, French, German, Italian, Portuguese, Japanese and Russian. You can join the tour at various points: Office du tourisme, Hotel Agda, Hotel Royal Mirage, La Menara, Casino de Marrakech, Place de la Liberte, Palace El Badi, Place Jemaa El Fna, Hotel Le Marrakech, La Poste, Palais des Congres, Hotel Andalous, Theatre Royal, Hotel N'Fis Meridien, Hotel de Ville, La Koutoubia, La Mamounia and Tombeaux saadiens
Mint Tea
The local popular drink is mint tea. You either love it or hate it. You may find shop keepers offering you a glass whilst your are conducting business.
Coconut Macaroon Cookies
When you see a women walking around with trays of circular cookies stop her and buy some. They are amazing. They cost next to nothing.
travel books