Marrakech guide to Shopping and Haggling
You have to haggle. There are no fixed prices. Most of the stall holders speak some English as well as French. First work out what you want to pay for the item and how much that is in the local currency. When you ask how much, they will quote you some ridiculous price. They will start at say 400 you have to come back with a very low price like 50 You should be able to get it for 100 to 125.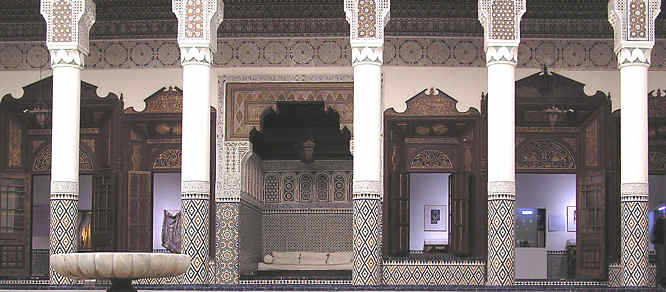 If they still say it is too low walk away. They will beg you to come back and will take the 125. They will appear all hurt that they are having to accept such a low price but remember they are still making an 200 to 400% profit. Do not ask the price unless you're prepared to bargain. Remember that all you see in the Marrakech shops that glitters is not gold and all that is black is not ebony. Some of the things on sale you can get cheaper at home. Remember the walk away trick it works every time.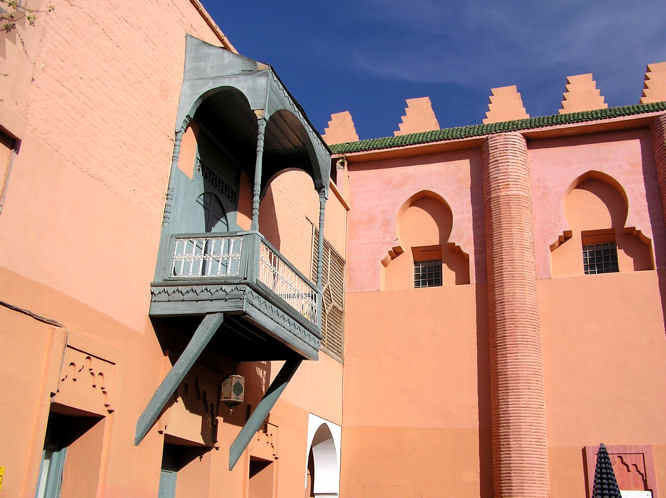 The Marrakech Museum
After doing battle with all the souk traders in the alleys of the kasbah it a pleasant relief to find the peace and tranquillity of the Marrakech Museum court yard cafe. The toilets are clean and the food is okay. One of the simple snacks served was boiled eggs and bead. Nothing strange and startling there but what was different was that it was served with a sprinkling of cumin spice. What a lovely combination.
Make sure you buy a three in one ticket that covers the Marrakech Museum, The Medersa Ben Youssef Koran School and Qobba Almoravide the old Ben Youssef Mosque wash room. The are all next to each other. Non Muslims are not allowed in any of Marrakech's Mosques. This is your opportunity to see some splendid Moorish architecture with splendid inner courtyards and richly decorated internal walls. They are a pleasure for the eye to see.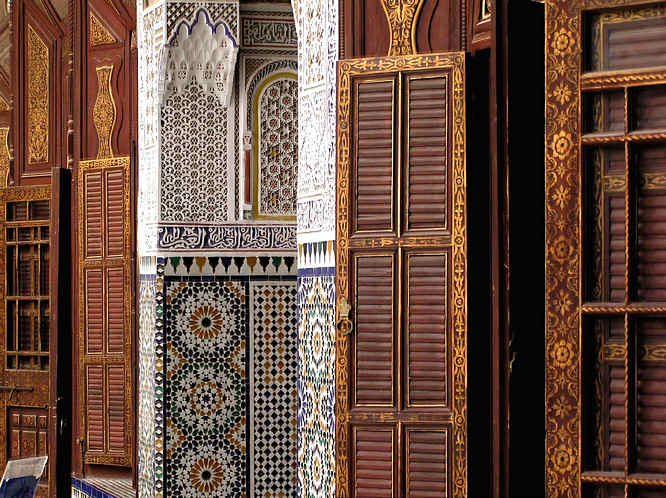 The Local Police
The Marrakech authorities realise that the city greatly benefits form the money tourist bring to the city. They have taken great steps to try and clamp down on crime and the continual harassment of visitors by beggars. Apart from the pick pockets.
Marrakech is normally a safe city. You can go anywhere except the old medina during night time. The Police will protect foreigners first before they would help a local. The police station in the main square Place Jemaa-el-fna is easy to find. Look for the big bank building. It is just to the left hand side of the banks main entrance.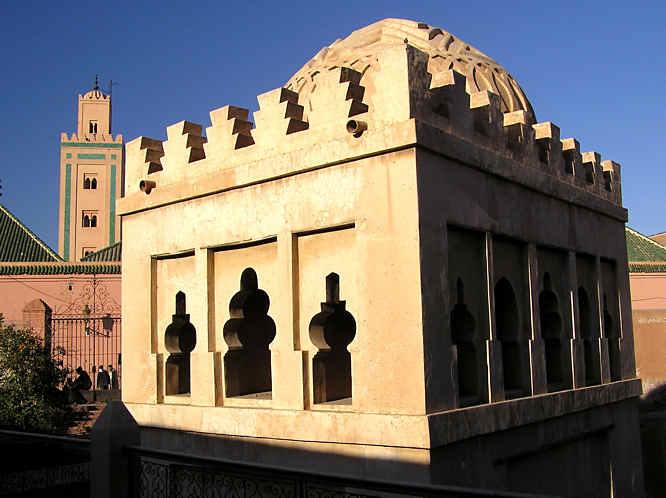 Old Ben Youssef Mosque wash room
travel books