Barcelona City Break Travel Guide
My name is Craig Moore and my hobby is travelling. Here are a few tips to help you plan your next adventure. Barcelona in the North East corner of Spain on the Mediterranean coast is an ideal vacation city break holiday destination.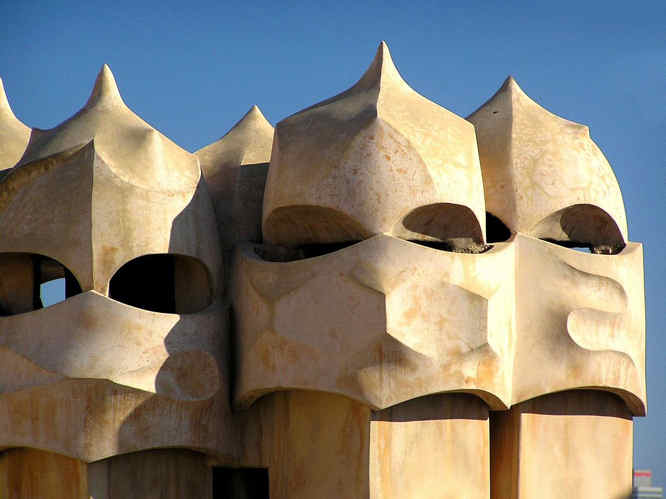 There are lots of cheap flights and hotel, bed and breakfast, motel plus villa accommodation. Renting a car is cheap and easy. It is a delightful Spanish city. It has elegant boulevards and attractive side streets, A visit to Gaudi's architectural gems is a must.
The Christopher Columbus waterfront has to be visited. Make sure you go to the Maritime Museum even if you do not like boats you have to see the splendid richly decorated Mediterranean giant oared galley warship. The Olympic village and the fort on top of the hill are an ideal place to spend an afternoon and take in the fantastic vista of Barcelona in font of you. To cool off try one of Barcelona's long sandy beaches.
Barcelona and Gaudi
I had heard of the name Antoni Gaudi but did not know much about him. My trip to Barcelona changed that. I am now a fan of his work. In my opinion the two most important tourist sites in Barcelona are Gaudi's Casa Batllo and then on the other side of the road Gaudi's Casa Mila, La Pedrera.
Get there early to try and beat the queues. If the queues are already formed it is still worth the wait. When you visit Gaudi's Casa Batllo make sure you use the hand held audio guide so you understand and know what you are looking at and how it works.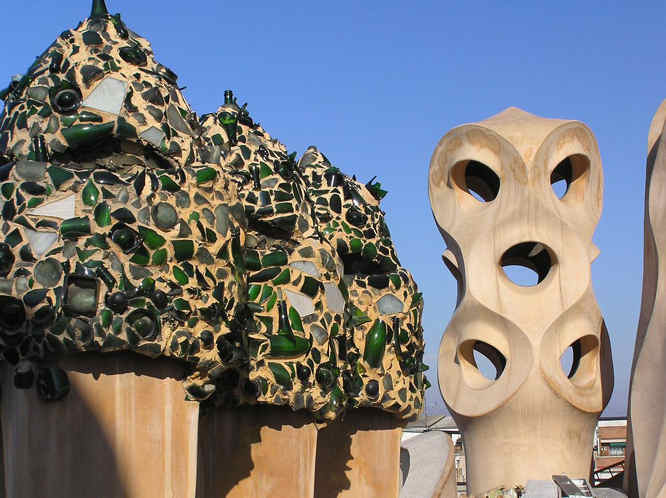 How to get to the city from Barcelona Airport - Taxi
There are three ways to reach Barcelona City centre from the airport. The expensive method is to take a taxi. It will cost about 25 Euros, plus about 1 Euro per item of luggage. All official Barcelona taxis are black and yellow and are required to charge you only the value on the meter plus any surcharge. All surcharge rates are displayed in the back of the taxi. The Barcelona taxi service is generally very good, clean and reliable.
How to get to the city from Barcelona Airport - Airport shuttle bus
The airport shuttle bus called AEROBUS is a lot cheaper at around 4 Euros. It is a shuttle bus that links Barcelona airport to the city centre. It normally runs every 15 minutes. You will find an Aerobus bus stop outside all three airport terminals. In the city get off at Placa Espana or Placa de Catalunya. From there you can catch the metro underground.
Ticket price is just over 4 euros for a single and 7 Euros for a round trip. Tickets can only be purchased on the bus. Watch out luggage thieves at the bus station. They will try to distract you whilst their accomplice grabs you bag and runs off. It takes about 30 minutes to get to the city centre.
How to get to the city from Barcelona Airport - Train
The RENFE over ground train service runs approximately every 30 mins to and from Barcelona airport to the city centre. Travel time is about 25 minutes. Get off at either railway station Barcelona Sants or Passeig de Gracia as they both have connections to the Barcelona metro underground system to enable you to get to your final destination. Coming back the airport train station is called Aeropuerto. Buy a train ticket called the T10 ticket as it is valid on the metro as well. You can purchase a T10 ticket from any metro stop or at the entrance to the RENFE train platform at Barcelona Airport.
If you just purchase a normal 3 Euro RENFE ticket to railway station Barcelona Sants or Passeig de Gracia then you will have to buy another ticket to use the Metro. A T10 ticket will give you ten, Zone 1, journeys on the metro, FGC (FGC run train lines similar to the metro around the city centre) buses, tram and RENFE trains. The main city centre areas are all in Zone 1. A T10 ticket costs about 8 Euros. It saves you having to buy individual tickets for each journey. It also saves you money. A normal metro single journey ticket costs you 1.35 Euros. A T10 ticket will save you 5.80 Euros for 10 journeys.
The T10 ticket can be used for more than one person at a time. Each person must put the card in the machine and then pull it out completely from the ticket validation machine to release the turnstile. They must leave the card on the machine for the next member of the group to use. The T10 ticket is valid on the RENFE train to and from the airport but not valid on the Aerobus airport express bus service. You can see how many journeys you have left on your T10 ticket by looking at the LCD display of the ticket validation machine.
If you need to travel outside of Zone 1 you can buy a different T10 zone ticket that will cover you for other zones. When you use the T10 ticket on a TMB bus you must validate the ticket by putting it in and out of the small validation box inside the bus. Keep the tickets flat. If you damage and crease them in a pocket or bag they will not work as they become unreadable. Say to a member of staff 'Esta tarjeta no funciona' (this card does not work). They should then issue you with a new T10 ticket free of charge with the same amount of journeys left on it as the old card.
When buying tickets make sure you have change. Some of the automated ticket machines will only accept coins. If you arrive on the very early plane the ticket booth may be closed. Buy a coffee or can of drink with a 20 Euro note to get some change before you go to the train station. If the ticket booth is open ask them for a free metro map 'mapa por favour?'
Reus Airport transfers to Barcelona
Some budget airlines fly to Reus Airport rather than Barcelona Airport. Because of the distance to Barcelona a Taxi is very expensive. You can take the bus or train.
Reus Airport - Bus to Barcelona
The airport bus to Barcelona costs about 10 Euros for a single ticket and 18 Euros for a return ticket.
Reus Airport - Train to Barcelona
There is no train station at Reus Airport. To take the train into Barcelona it is a bit more involved but cheaper. You have to take the airport bus to Reus railway station and then the train to Barcelona. The trains leave once an hour. The cost of the Airport bus ticket is about 3 Euros and the train ticket costs about 6 Euros.
Barcelona Accommodation Tip
There are many hotels in Barcelona. Many of them are very expensive. Try searching on the internet for Barcelona Apartments. I have found the prices are normally cheaper than hotels and the room space a lot bigger. You also normally have access to a small kitchen so you have the fun of preparing and eating your own food you purchased in local shops. This is ideal for people on a budget or have certain dietary needs that are not catered for in Spanish restaurants
Travel books