The most noticeable feature in Tissamaharama is the giant man made lake, a tank, called Tissa Wewa built about 2,300 years ago by Yatalatissa, the founder of the ancient Sri Lankan Kingdom of Ruhuna.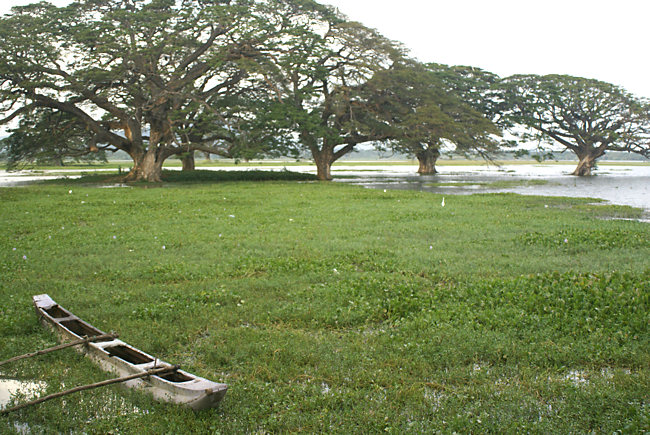 Fisherman's outrigger canoe in Tissamaharama Lake flooded trees in Sri Lanka
This was his capital. There are smaller but still impressive tanks nearby. You can hire boats for wildlife viewing trips. Remember to haggle for the best price and confirm that the final price is for the hire of the boat and not per person. If you are only doing a morning Safari then this could be a pleasant way to spend the afternoon.
The rest of the land is comprised of rice paddy fields and coconut plantations. Aquatic bird life is abundant. In the evening huge flocks of egrets come back to the lake to roost in the trees around its edge. There are a number of rivers that feed the different lakes and paddy fields. In the Evening you will see van loads of locals swimming and washing in the rivers. They do not have running water in their own houses. This is how they keep clean. They wash their clothes at the same time.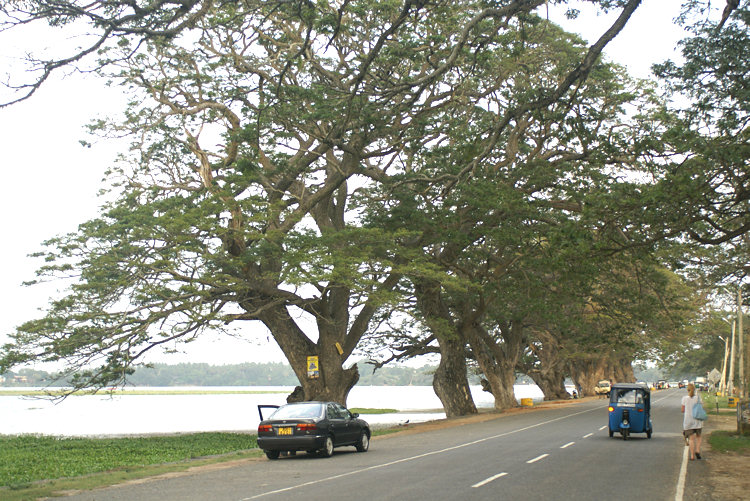 Main beach road by Tissamaharama Lake in Sri Lanka
Tissamaharama Accommodation
Most of the better class tourist hotel accommodation is found near the eastern lake shore of the Tissa Wewa. Some even back onto the lake. It is about 1.5km north of the centre of town. You don't really want to stay in the city centre. It is not very pleasant.
Take the time for a walk around the countryside outside Tissamaharama town. There are a number of large white bell shaped Buddhist Dagoba to have a look at and a walk along the lake side is worth the effort. You can hire a boat and the guide will take you to areas where you can inspect the water birds at a closer distance.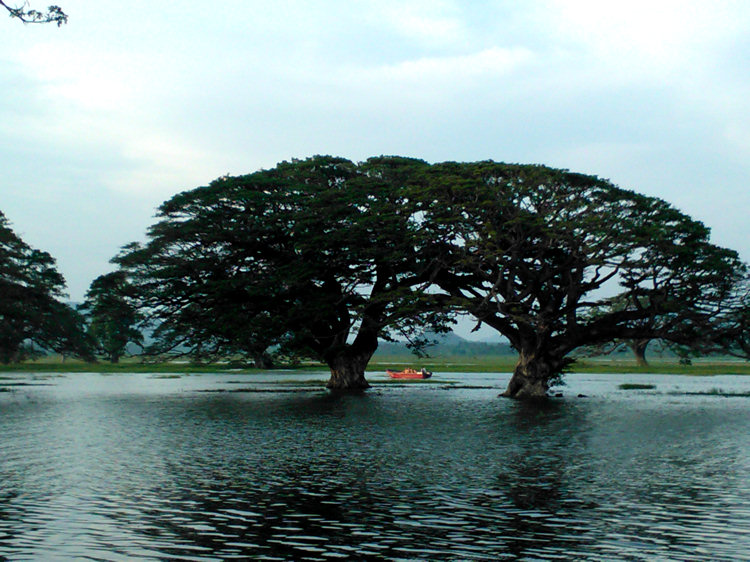 Boat trips on Fisherman's outrigger canoe in Tissamaharama Lake amongst the flooded trees in Sri Lanka
Travel books