Roadside Waterfall with monkeys
The best waterfall is on a bend in the road by a bridge. The water fall was huge and close to the road. Tourists can walk down to the water and even stand under it. A number of the locals use it as a shower. The do not have running water at home so this is an ideal opportunity to get a thorough clean.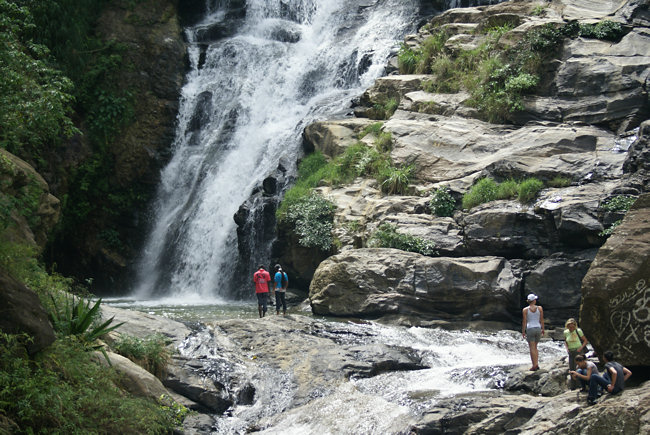 Waterfalls on the Nuwara Eliya Journey to Tissamaharama
Look around you whilst staring at the water fall. In the bushes you may catch glimpses of monkeys who try to steal food from visitors. Because it is a big attraction there are a number of stalls selling street food. The corn on the cob was yummy and the coconut milk was refreshing. You will be plagued by hawkers trying to sell you different coloured quarts rocks. Just say no politely. By the fourth time they may get the hint.
Taxi Tips
The hotels add a lot of extra money on the hire of an air conditioned taxi or taxi van. Go direct. I would recommend the people we went with. Misty Mountains Tours & travel who are based in Nuwara Eliya. They were 50% cheaper than what the hotel wanted to charge us for a trip from Nuwara Eliya to Tissa. Give them a call on 0776943530 or 0726150228 leoecotours@yahoo.com. Taxi vans are cheaper than Limo cars. If there is a group of you they are even cheaper as the cost of the fare will be divided.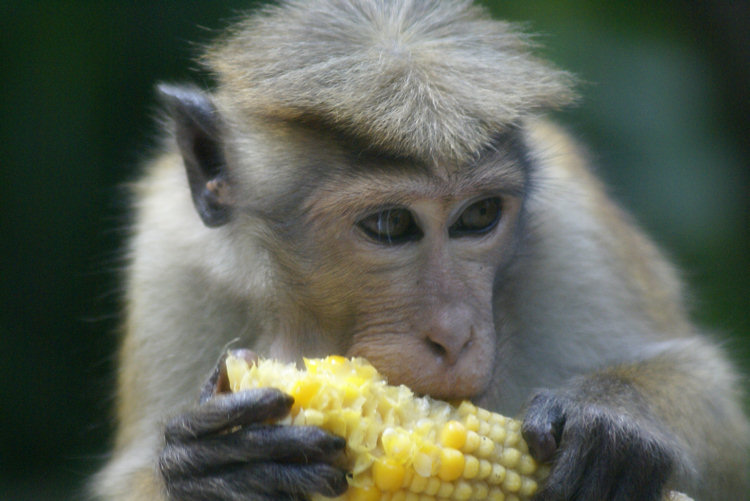 Bonnet Macaque Monkeys at the waterfall on the Nuwara Eliya Journey to Tissamaharama in Sri Lanka
Bonnet Macaque
You will see a lot of monkeys near the road side traders at the Waterfalls. Over the years the monkeys have worked out that tourists are a good source of free food, either given or stolen. These cheeky monkeys are called Bonnet Macaque Monkeys and are common in Southern India and Sri Lanka. They are named after the tuft of hair on the top of their head that looks like a flat hat. Personally I think there is a monkey hairdresser in the jungle with a sense of humour.
They eat fruit and nuts found in the top of trees. Insects and flowers are also popular snacks. The farmers think they are a pest as they will also gorge themselves on corn, cereals and other cash crops. If you leave your hotel room open you may get an unexpected visitor. These Bonnet Macaque Monkeys are good burglars. If there are a group of monkeys you will notice that one is the dominate 'Alpha' male who gives the orders and takes the best food. They can live for over 30 years.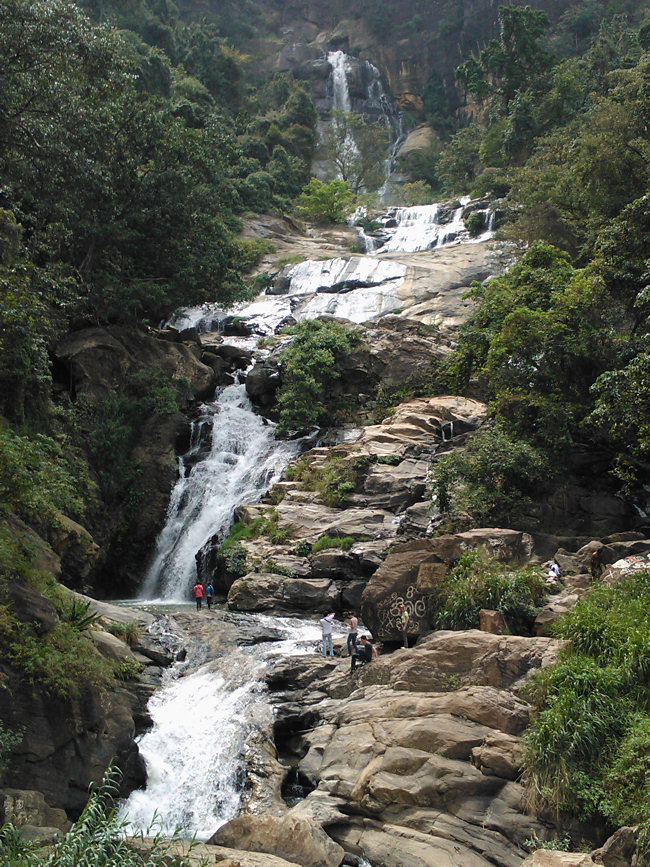 big waterfalls by the roadside on the Nuwara Eliya Journey to Tissamaharama in Sri Lanka
Travel books