Nuwara Eliya Horse Racing Course
You can see the entrance to the race course from the steps of the Post Office. It is at the end of Victoria Park. It is rather run down in the middle. The track is maintained but the central area looks like a building site. You will see horses tethered eating what grass there is.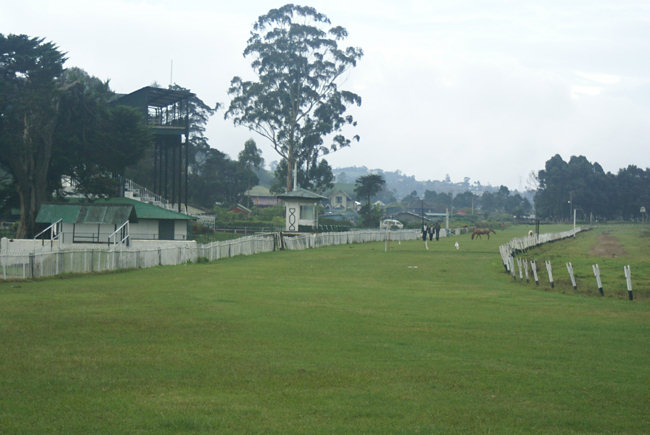 Nuwara Eliya Horse Racing Course
Stable hands offer horse rides to tourists. Don't panic these are not the Arabian thoroughbred racing horses of western Europe. These look more like ponies. There have been plans to turn the central area into an international cricket ground which I think is a great idea but apparently these plans have been under discussion for years.
At 6,128 feet the Sri Lankan race course at Nuwara Eliya is one of the highest in the World. The Sri Lanka Turf Club known as the SLTC holds its annual race meet on 9th and 23rd or April. The Governor's Cup is held on 16th of April. It is interesting how some of the old traditions and names are still kept. The Race Course in south of Nuwara Eliya city centre and at the bottom of Victoria Park.
The main entrance is along the Badulla Road. John Baker imported thoroughbred racing horses to Sri Lanka. He built a race course around a small hill on his land. He bred and trained racing horses that he could enter into the horse races held in Colombo and Kandy. Gradually over the years racing developed in the cooler climate of Nuwara Eilya.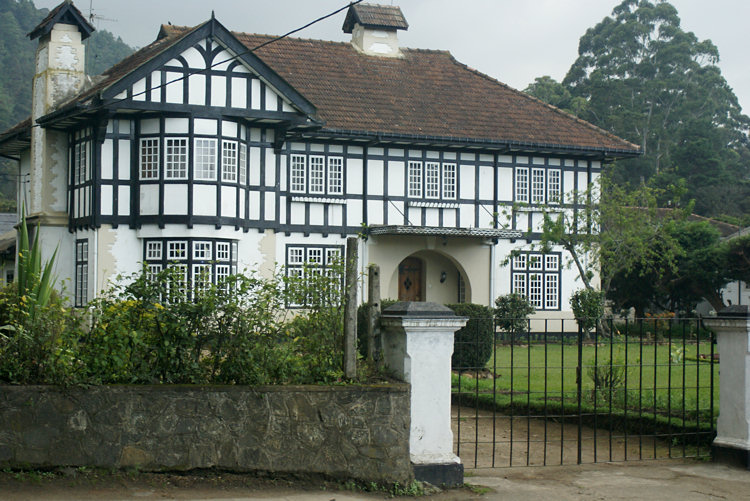 Opposite Nuwara Eliya Race Course is this Little England mock-tudor English style home
What is interesting is the British Colonial style grand houses that surround the Race course. They would look at home in Surrey or Hampshire in England. Mock-Tudor black and white faced buildings appear alien in this temperate climatic landscape. The rich colonial plantation owners wanted a little bit of England in Town.
These extravagant houses had enough rooms to stage house parties for visiting guests from the Capital. Servants would look after them and provide lavish meals and parties. Hunting parties would go up in the hills for a days shooting and these buildings provided ideal locations for visitors coming for a days racing. This is why Nuwara Eliya is known as 'little England'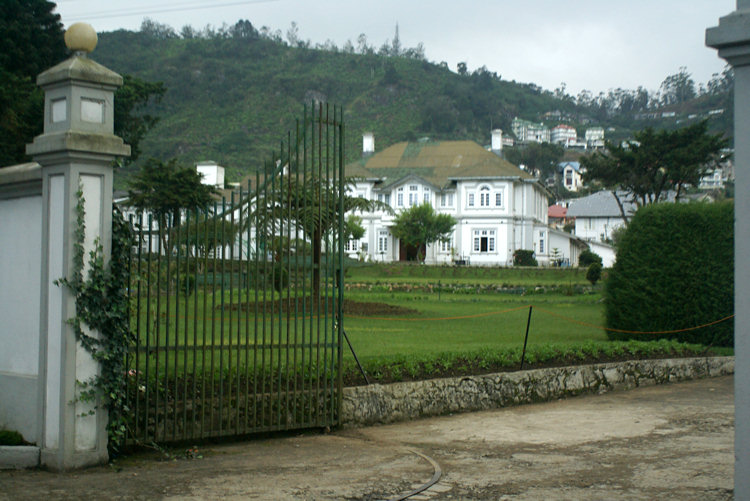 Opposite Nuwara Eliya Race Course is this Little England stately home English style building
Travel books