The Grand Hotel in Nuwara Eliya - Little England
The Grand Hotel - A taste of Colonial Ceylon in Sri Lanka. In certain cities around the world Hotels have become tourist destinations in their own right. Raffles in Singapore, The Ritz and Savoy Hotels in London, Galle Face Hotel in Colombo.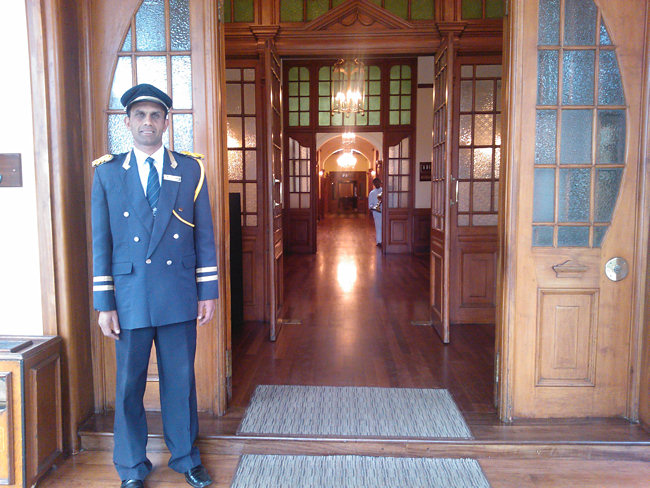 Nuwara Eliya Grand Hotel front door
If you visit the tea plantation capital Nuwara Eliya in the central highlands of Sri Lanka then you mush make time to have 'afternoon tea' at the Grand Hotel (You don't actually have to have tea, you could have coffee, a beer or a Gin and Tonic)
The outside facade is of an English black and white mock-Tudor country house. Inside there is a lot of elegant wood woodwork used to enhance the charm and warmth of each room. You will find lots of sofas to rest your weary legs whilst the waiter brings your drinks order.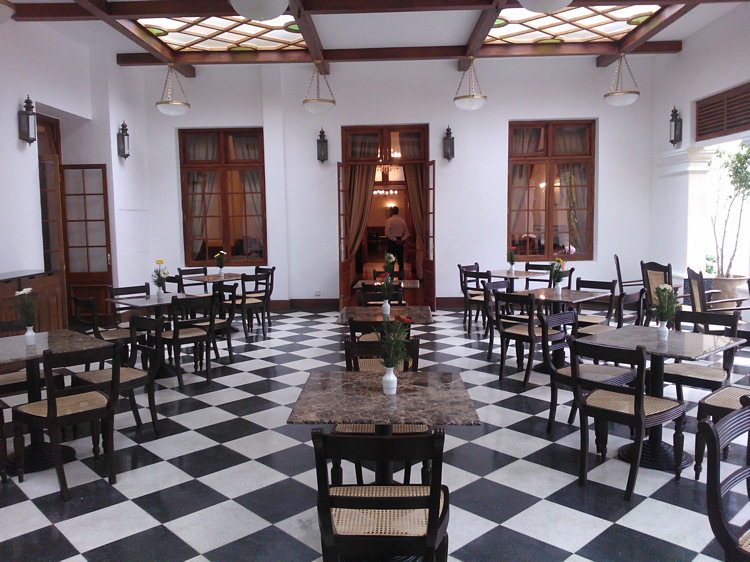 Nuwara Eliya Grand Hotel cafe in Sri Lanka
I particularly liked the covered patio cafe with its black and white tiled floor. If you fancy a game there is an excellent Billard room with three standard pool tables available as well. After your tea and cake make sure you go for a walk around the manicured hotel gardens and admire the flowers.
Nuwara Eliya was a 'hill station'. A town with a cool climate chosen by the colonial government as a place where staff could escape the hot humid tropical heat of the plains. The British Governor of Ceylon Sir Edward Barnes used the Grand Hotel as his official residence in the mid 1800's. He built it for 8,000 British Pounds and called it Barnes Hall.
The name was later changed to the Grand when it became a hotel. If you want to stay in Nuwara Eliya city then this is the place to book a room but for a more exotic Sri Lankan experience I would recommend staying in middle of the Tea Plantations in the recently renovated 5 star hotel that used to be a tea factory. It is called the Heritance Tea Factory Hotel in Kandapola. It is a few miles outside Nuwara Eliya. You can then have the best of both worlds. When you are exploring the city The Grand Hotel is the place to choose for refreshments. You do not have to be a resident of the Hotel.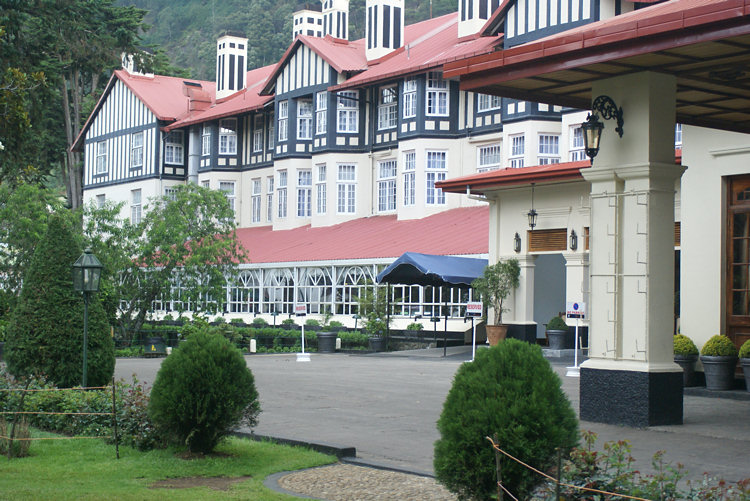 Nuwara Eliya Grand Hotel mock tudor exterior in Sri Lanka
Travel books