Negombo Town and Beach Resort
Negombo is a large fishing town north of Colombo. It has beach hotels to the north of the main shopping area. Because many international long haul flights start very early it has been popular with tourists who want to spend their last night in Sri Lanka on the beach and near the airport. It only takes about 15 minutes to get to the departure hall from most Negombo beach hotels.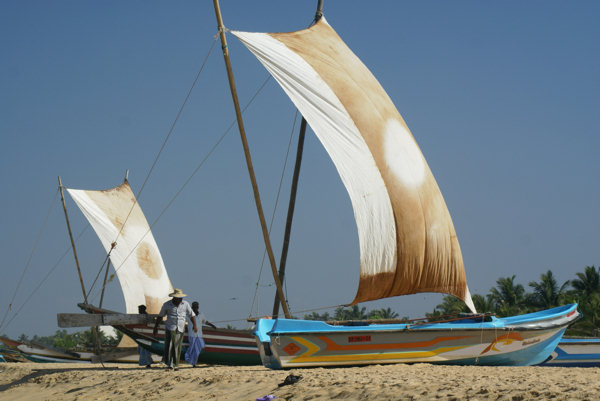 Negombo beach resort traditional fishing boats
After a long flight from London I didn't really want to face a long hotel transfer taxi ride to one of the beach resorts south of Colombo or even the commute into the capital. I chose to stay, upon arrival in Sri Lanka, at a beach hotel in north of Negombo. It was a good choice.
It enabled me to get my feet in the Indian Ocean quicker and start to relax in a laidback location rather than the hustle and bustle of a big city. The coastal road is called Lewis Place. It is north of Negombo city and this is where most of the tourist beach hotels can be found. If you are on the coast ask for rooms up a couple of floors just in case of a Tsunami. The Boxing day Tsunami waves reached 20 feet high.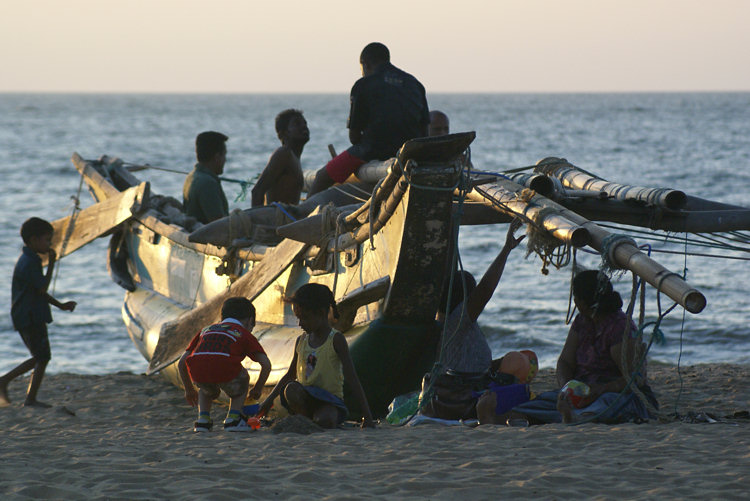 Local families come out to watch the sunset on Negombo Beach
Negombo Dutch canals
You can go for a trip on Negombo's old Dutch Canals but they are not that attractive. The Dutch Canal was a supply route to the Dutch administration, old churches and fishing vilLargers. The 100km long canal running through the town is still being used and is an attraction for those who want to see the country from a different perspective. Old Dutch fort gate built in 1672 now a part of the prison
The Negombo Fish Market
The fish market is open at 5am every day except Sunday. Most tourists find it very interesting to visit the local fish market. It is absolutely authentic working industrial fish market: all natural, not a tourist spot but that's why a really local experience (provided that you can endure the smell and walking on muddy ground) if you will go in Negombo.
Don't forget to visit fishing villages and to eat some seafoods. Negombo ladies are so great in cooking. You have to go there around early morning and before noon to see arriving of boats with fish. Shock the locals and pull up a seat in a fishermans cafe and have a tea and one of their fried pasties. We had to laugh when an old lady came into the cafe and shrieked with shock and exclaimed "good God White people" Everyone laughed. Our TukTuk driver did the translating for us.
I would recommend Mr Nimal Fernando, Phone number 0775112460 or 0719494504 nimalfernando24@yahoo.com. He was a lovely guy with a good sense of humour. He would stop on route and show you the best places. If you wanted to take a photograph then all you had to do was ask. He was reliable and did not try to rip us off. He turned up very early in the morning before dawn twice. He remembered and was not late. As normal always agree a price before you start a journey with a Tuk-tuk driver.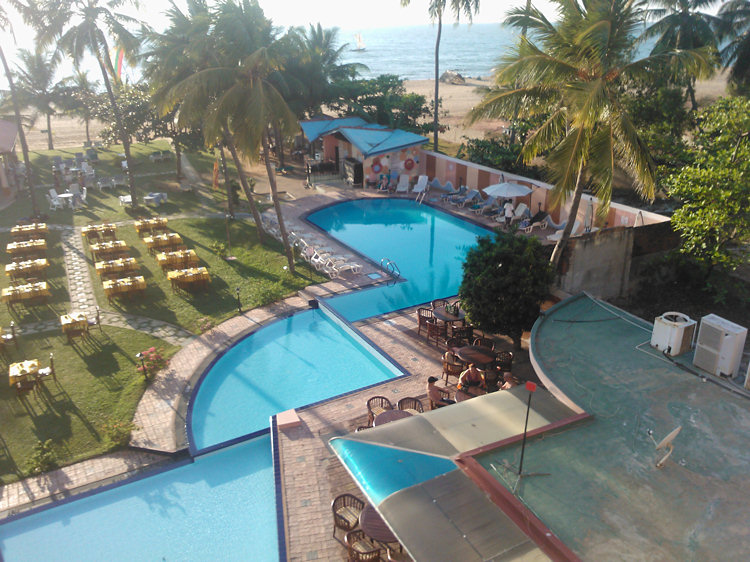 Paradise Beach Hotel swimming pools
Angurukaaramulla Temple
There is nice big Buddhist temple call Angurukaamulla in Negombo. There is a giant Buddha statue and some of very old paintings and murals. Specialty of this temple. you can see some information of all the kings in Sri Lanka in front of Harischandra College and near Hospital. It is worth visit if you will go in Negombo.
The Negombo to Colombo Train
From Negombo you can take a train to Colombo Fort central Railway Station. It takes about 70 minutes but costs about nothing and is safe. There is pleasant tropical scenery to admire and local life to observe. Negombo railway station is situated in the middle of the city. You can find the TRAIN TIME TABLE at http://www.railway.gov.lk/index.php. Your other option is to hire a TukTuk or a Taxi. Depending on the time of day it is about an hour's drive into the city centre. It is congestion all the way. The train is the cheapest but during rush hour they can be crowded. When coming back by train look for the train going to Puttalam. That is the station at the end of the line.
Traditional Fishing Boat rental
Going on a trip in a traditional wooden sailing boat is one of the fun activities you can partake whilst in Negombo. The fishermen normally go fishing in the evening and early morning. To supplement their income they offer boat rides to groups of tourist. They will take you fishing or go on a tour of the Negombo Lagoon. They have learnt reasonable English and will normally approach you by asking where are you from.
Their opening price to me was 40 British Pounds but that soon dropped down to 20 British Pounds. They were open to more haggling depending on what you wanted to do and where you wanted to go. These boats do look impressive. They are very colourful. They are unusual in that they do not have an open interior. There is only enough room to stick your legs in. Some will go on fishing trips, Overnight trips including fish barbeque.
Trips to the Negombo Fish Market, Negombo Lagoon and mangroves that normally includes a coconut picking show. Some will take you to a nearby farm where the farmer has a by-line in making Arak, the local vodka, which of course you can try and purchase. It was very rough. Treat with caution. It is strong. Mixed with fruit juice it is just about drinkable.
These boats are not what you probably would picture as a catamaran. They have a very narrow hull and an outrigger, with a bench perhaps three feet wide suspended next to the hull. The enormous sail doesn't swing left to right, rather front to back. There is a rudder, but it appeared that ropes connecting the sail to the outrigger were involved in steering too. The average sized catamarans appeared to seat about four guests comfortably
Travel books