Sri Lanka Travel Guide and Tips
Since 2012 most visitors need to buy a tourist visa on line before you go. It is a way for the Sri Lankan Government can help pay for things like new roads and facilities that you will use. It is also enables them to check if you are on any terrorist list.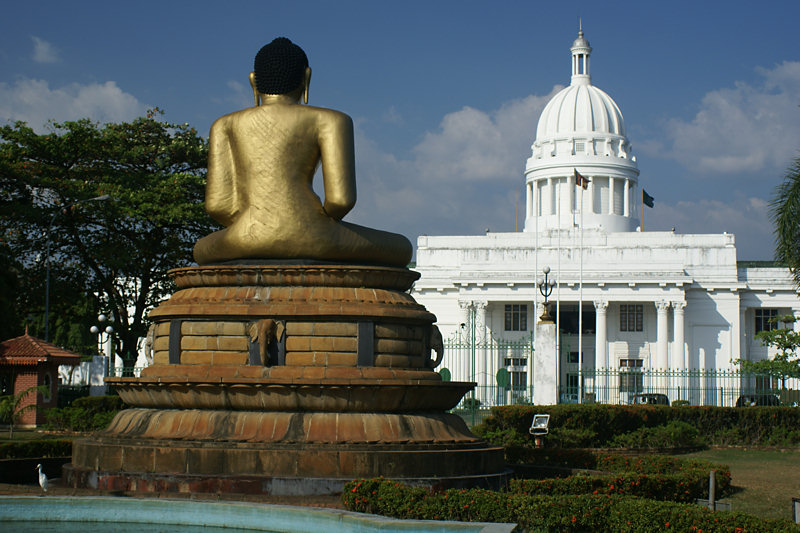 Colombo Town Hall under the watchful eye of a Budda Statue
Immunization injections - protect yourself
Sri Lanka is a tropical 3rd world economy island. It is recommended that you have immunization injections against hepatitis A, Polio and typhoid. Malaria and cholera are present especially in the north of the island. It is worse in the wet season. Seek advice from your doctor before you go as to what preventative medication you should have before you go and take with you. Always take a jungle mosquito bite prevention spray or roll on with a high percentage of Deet in it. This is the active ingredient.
Fruit Drinks - Danger
Sri Lanka is a major producer of tropical fruit. There is a wide variety of fruit drinks available but be careful. Many drinks sold in smaller local restaurants are watered down with tap water which may be contaminated. Fruit drinks provided by large good quality hotels should be okay. It is the small operators that may cause you problems. Avoid roadside stalls except those selling coconut milk that is still in the coconut.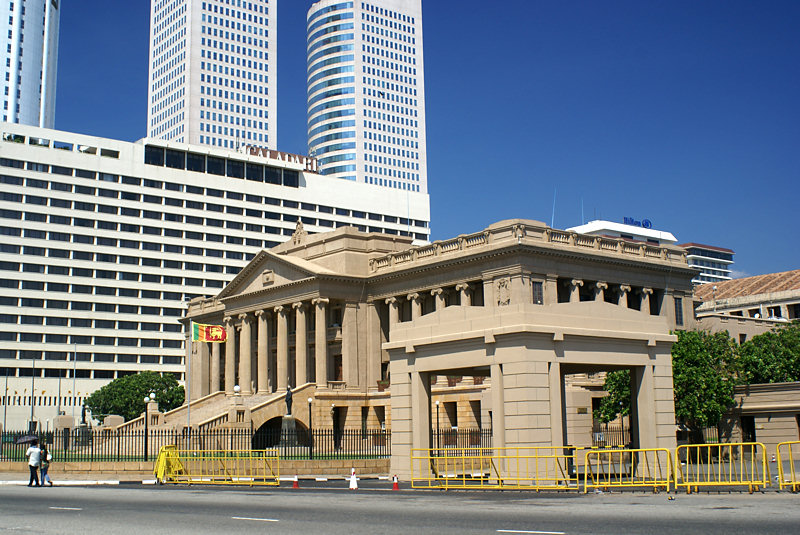 The Presidential Secretariat in Colombo
When to travel - Sri Lanka's Weather patterns
Although Sri Lanka is a relatively small island it has a complex weather pattern that changes with location and altitude. Sri Lanka's East and West coast have different rainy seasons caused by the change in direction of the prevailing winds depending on what month it is. The North and East coast are affected by the Monsoon rains from November to February. The best weather is normally between May and September. The South and West Coast Monsoon arrives May to September.
This is totally opposite to the weather in on the North and East Coast. During the Monsoon wet season you may experience days of rain with localised flooding. At other times it may just manifest as an afternoon rain storm for a few hours. At night there may be loud thunderstorms. The central highlands have a cooler climate the higher you travel. The mountains also give rise to cloud formation and showers at any time of the year, so pack an umbrella and rain coat. It can be very cool in the evening and you will need to wear a jumper, cardigan or jacket.
Money and tipping
You cannot order Sri Lankan Rupees outside the country before you go. Just before you get a taxi to your hotel from the airport there are some bank money exchange counters inside the Airport complex just outside the customs hall that I found competitive on rates. A good tip is insist on small denomination notes even if it upsets the bank clerk. Many taxi drivers, tuktuk drivers and shop owners mysteriously find themselves unable to give change hoping that you will say 'oh keep it' so making a bigger profit. You will need small notes for tipping the hotel porter who carries up your bags to your room.
Don't be stingy with your tipping. Most people in Sri Lanka are on very poor wages, even the hotel staff. What you make in an hour in your job is sometimes what they make in a week. Even if the entrance to a museum or temple is free and staff act as a guide it is expected that you give a tip. If someone has given you an exceptional service reward him well. He hopefully will give the next high quality of service to the next tourist. If you receive bad service then don' tip.
Sri Lankan Food
Sri Lankan food has a different taste to Indian and Pakistan. It is mainly vegetarian and uses more coconut and fruit in its curries. It is a bit like a Thai version of Curry. Because of the cooler climate in the highlands a wider variety of vegetables are available to Sri Lankan cooks. They are transported to the hot tropical coastal areas over night for the morning markets in the capital Colombo. We found that the portions of food that you receive are huge compared with the Curry houses in Europe.
Always choose food that is freshly cooked rather than food from a buffet. As you travel around Sri Lanka you will see lots of rice paddy fields. Sri Lanka is a major producer of Rice and it is natural that rice is a major component of most Sri Lankan meals. As well as normal rice they grow red rice that when cooked has red edges. It tastes just the same as normal rice but makes the food look more appetising. Sri Lanka has a long coast line and community's that live near the sea cook a high proportion of fish curries.
Fruit
Do try some of the more exotic fruits on sale. The giant round yellow ball shaped fruit with studs on the outside that grown on the side of tree trunks are called Jack Fruit. It is the lush yellow flesh around the central seeds that you eat. You do not eat the surrounding husk. Some people are put off by the unusual look and smell. They taste a bit like a banana. Mangosteens are a purple tropical fruit. Again like Jack fruit you do not eat the outer flesh. You break open the fruit and eat the white flesh in the middle. They are incredibly sweet and taste like lychees.
Best Sri Lankan Beaches
I am not a beach bum. I love to travel around a country to see all the sights. If I am on a beach for more than half a day I get the fidgets for exploring. Lonely Planet's guide to the best beaches in Sri Lank short listed the top six as being Tangalla, Mirissa, Arugam Bay, Uppuveli Beach, Bentota and Unawatuna.
Sri Lankan electrical plugs.
You want to buy a plug converter before you go. Buy one for India. They work in Sri Lanka. They look like British plugs but the prongs are round, not rectangular. The top lug is bigger than the pair of smaller round lugs at the bottom. South African plugs will not work in Sri Lankan plug sockets. Most hotel desk clerks will rent you an electrical plug convertor. I found it hard to locate an electrical shop locally that stocked conversion plugs. Plan ahead.
Swim wear problems
Only wear bikinis and swimming trunks at Beach resorts. Sri Lankans as a group find the display of too much flesh offensive, uncomfortable and embarrassing. They are generally very modest in their dress. It is completely unacceptable in temples mosques and some of the ancient cities that have religious significance.
Topless and nude sunbathing are illegal. Light cotton clothing is best but up in the foothills around Kandy and the highlands of Nwara Elyia you may want a long sleeved shirt, trousers and a light jumper or jacket, especially in the evening when it can get very cool.
Upset Tummy
You will have a Dodgy tummy on a trip to Sri Lanka. It might not be from contaminated food because of poor hygiene. It could just be from a change in diet. Strangely it could be because you are eating healthy by having more fruit and vegetables than you normally consume. Add to that the extra spices used in Sri Lankan cooking it is no wonder your stomach is having a wakeup call.
Make sure you pack medication that stops diarrhoea and also a packet of laxative pills as the change in diet can effect some people the other way. If you have the right medication then you can stop stomach upsets spoiling your holiday.
The food you eat can help you recover. Eat bread, toast, eggs and rice if you have had diarrhoea. Avoid onions and fruit. The reverse is true if you are bloated and cannot go to toilet. In both cases drink lots of bottled water. Even though you may not eat salt at home you must eat salty foods in this hot humid climate to replace the salt you lose through perspiration.
Crisps are one of the best ways to ingest salt. Try some of the locally grown nuts that have been roasted and salted. If you don't you will be in agony with cramp.
Follow the normal safe food rules on holiday in Sri Lanka. Avoid foods that may have been washed in contaminated tap water. Yes in this hot climate that means salads. Always choose fruit that has to be peeled rather than washed. Never eat rice that has been left out and reheated. Food that has been freshly cooked is the best choice.
When buying bottled water always check that the bottle lid has not been opened and that it is sealed. Buy smaller bottles at different shops throughout the day rather than one big bottle which will get warm quickly in the 32o heat of the coastal plains. Coconut milk is another good option for getting fluid into your body. Most places have a road side shack with lots of coconuts outside.
Don't touch the Dogs
There is rabies in Sri Lanka. Do not touch of feed the street dogs. You heart strings will go out to them. You may be thinking of the furry friendly pet you left at home with friends or relatives. Be strong. You can die from a dog bite. If you are travelling with young children this is a lifesaving discussion you must have with them. Do not touch the cute street dogs.
Travel books