Kandy to Nuwara Eliya A5 Road Waterfalls
If you are adventurous and want to take a Tuk-tuk from Kandy to Nuwara Eliya than I would recommend Mr Raju Salaldeen, Phone number 0777-653580 or 072-2111670. He was a lovely guy with a good sense of humour.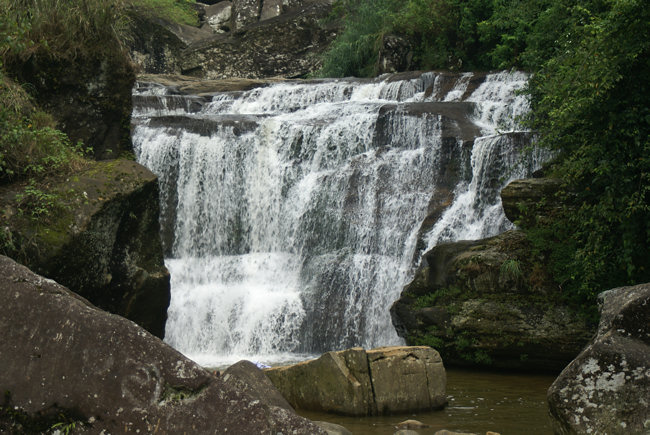 There are pretty water falls by the side of the road when you journey from Kandy to Nuwara Eliya in Sri Lanka
He would stop on route and show you the best places. If you wanted to take a photograph of the lush landscape then all you had to do was ask. He was reliable and did not try to rip us off. As normal always agree a price before you start a journey with a Tuk-tuk driver.
The A5 road gradually climbs higher and higher as you drive from Kandy to Nuwara Eliya. The trees thin out with the increase of altitude. You will start to see pine trees and eucalyptus gum trees. The difference in height from Kandy's 1,629 feet above sea level to Nuwara Eliya's 6,128 feet is 4,449 feet.
That is about the height of Ben Nevis, the big mountain in Britain. You will see rice paddy fields on route and half way through the journey you will start to see tea plantations.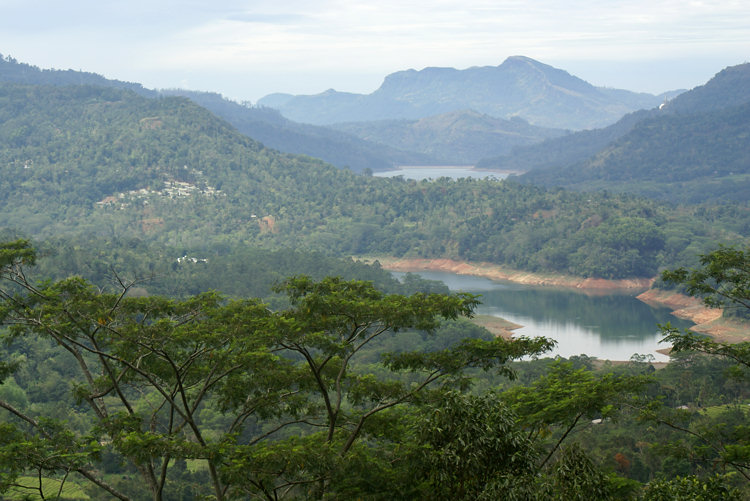 As you gain in height on your journey from Kandy to Nuwara Eliya the views of the lake country get better and better.
With the increase in height there is more regular rainfall. This has resulted in a number of waterfalls being visible from the A5 roadside. We had read about them in our guide books prior to going and looking forward to stopping near them. The first was disappointing; a trickle of water cascading down some 15 foot high rocks on the bend in the road near a bridge. There was a shack on one side and lots of rubbish in the parking area.
The second set of waterfalls were much more dramatic. One larger waterfall gushing over a mountain cliff then divided into three smaller waterfalls. You cannot get very close from the main A5 road. To the right you can see two large reservoir set attractively within the smaller rolling hills. If you look over on the far bank you will see terraced rice paddy fields.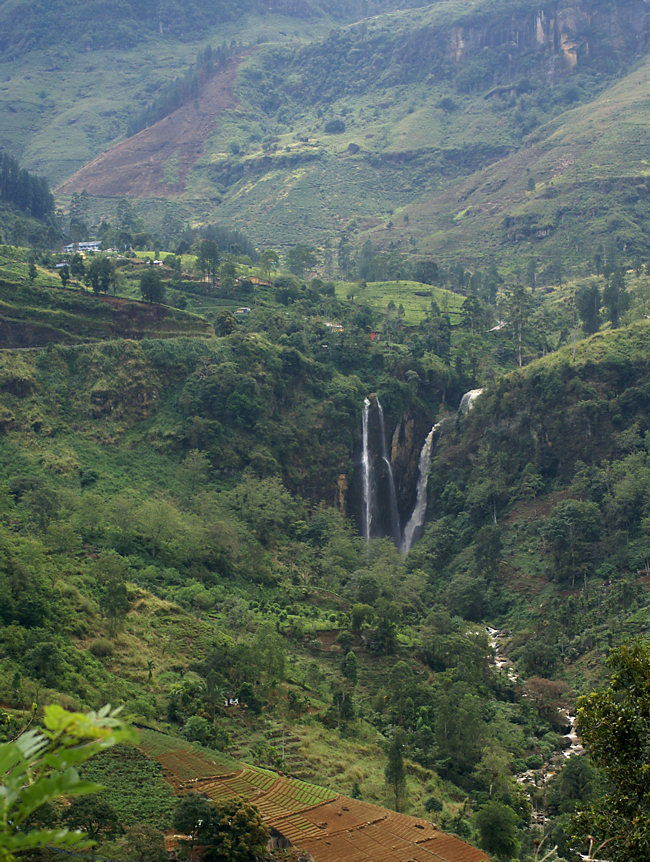 This double waterfall can be seen on your journey from Kandy to Nuwara Eliya in Sri Lanka
Travel books