Pedlar's Inn Cafe in Galle
There are times when you do not want to eat in your hotel. Some of the hotels do not offer evening meals. If you are in Galle Fort and looking for some good food at a place with charm and character then find Pedlar Street on the map and head for the western ramparts.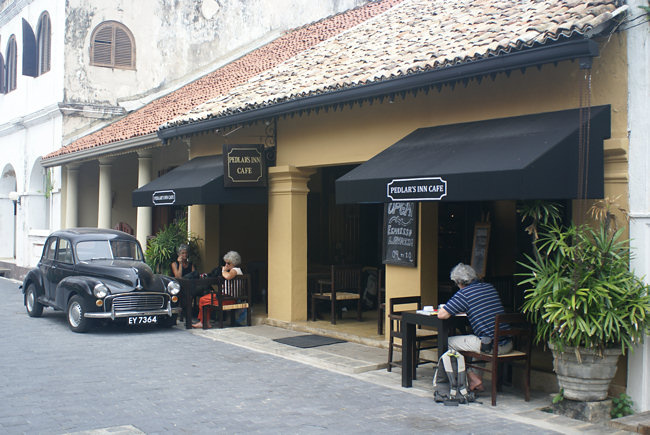 Pedlar's Inn Cafe in Galle Sri Lanka
On the right you will find the Pedlar's Inn Cafe at 92 Pedlar Street. You can sit inside and have a meal or at any of the tables outside in the street or under the Dutch colonial colonnade. The building was built in the 1700s during the occupation of the city by the Dutch East Indies Company VOC.
It has the typical half rounded clay tile roof that extends past the building line and is supported on columns. The roof provided protection from the monsoon rains but also meant that the windows could be kept open and in the heat, provide shade to keep the house cool. To add character to the cafe there is a black Morris minor classic car parked out side. This provides protection for customers sitting at the tables in the street from passing traffic.
A Morris Minor classic car outside the Pedlar's Inn Cafe in Galle Sri Lanka
The Pedlars inn cafe used to be the Royal Mail Post Office for Galle Fort during the British Colonial period. In 1838 it acted as a ticket office for the regular Royal mail coach service. The coach was pulled by two horses and left Pedlar Street for Colombo every day at 6am.
It arrived in the capital about 4.30pm. That was very good going for the road conditions in that time period. A Night mail coach was introduced and that left at 6pm. You can stay in one of the two restored air conditioned rooms at the back of the property.
The food is good but you do not have to have a large meal. They are happy to serve just coffee, tea or beer with a small savoury snack or why not have an ice cream. Wifi is available so you can catch up with your friends and relatives at home. www.pedlarsinn.com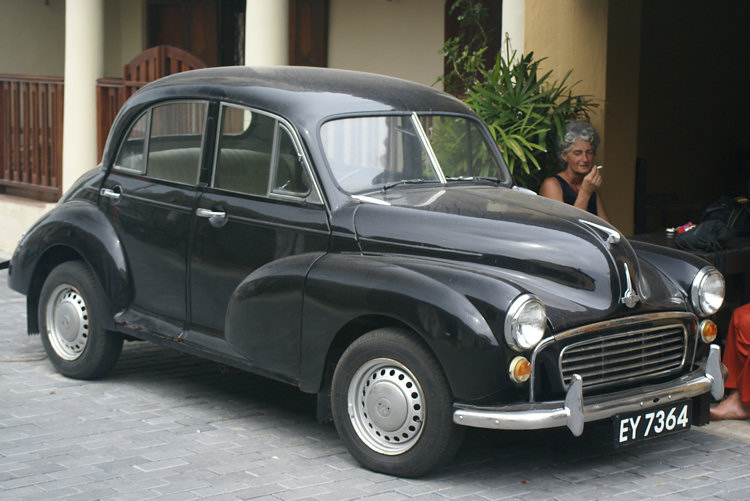 Galle Pedlar's Inn Cafe's Morris Minor vintage car
Travel books