Galle Merchant Navy Seamen Training School
In the North East corner of the Galle Fort in Sri Lanka, just out side the city walls, you will find the Merchant Seamen School. It's full name is the Mercantile Seamen Training institute (MSTI).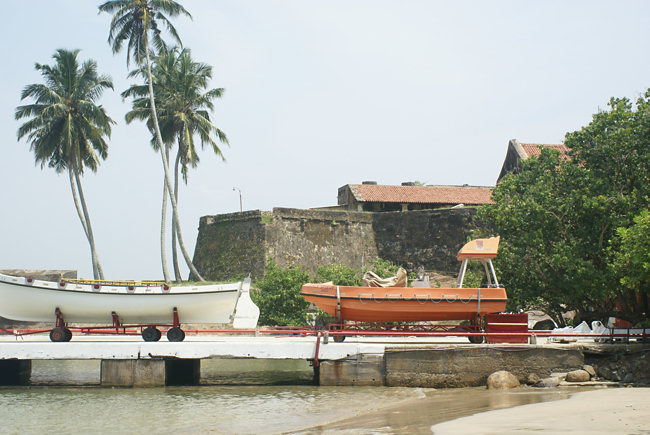 Mercantile Seamen Training institute boats outside the Galle Fort rampart walls near Zwart Bastion
It is base on the shorefront looking into Galle harbour, under the shadow of the Zwart Bastion and near the old Gale Fort entrance gate. You can easily recognise the complex because they have a large jetty on which there is suspended a mock up of an ocean going container ship's escape boat. It is here that students get to practice emergency drills before they are placed on real merchant ship.
Many Sri Lankans go to sea. You will find them employed in various different roles on oil tankers and container vessels around the world. It is great to sea that there is a professional place of learning where new recruits can obtain qualifications that will help them find work. There is a little gravel courtyard with a small food and drink stall under the shade of some trees. It is a good place to watch the students going through their paces and also the local fishermen.
Mercantile Seamen Training institutel lifeboat Drill station Galle Fort in Sri Lanka
In the picture above you can see the high rampart walls of Galle Fort at Zwart Bastion. The two different boats belong to the Mercantile Seamen Training institute. They are used to teach students small boat skills. If you are visiting Galle with children the white sand beach here is an ideal place for them to go paddling. There is lots for them to see. It is safe and you can sit down and have a drink whilst keeping an eye on them.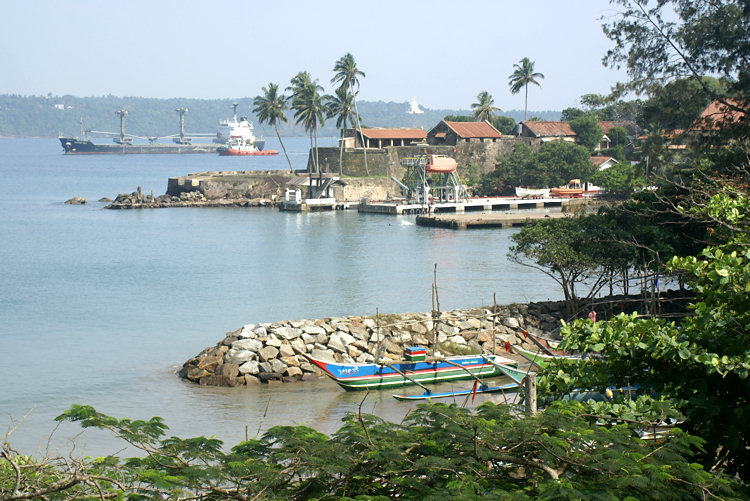 Mercantile Seamen Training institute outside the Galle Fort rampart walls
Travel books