Colombo International Container Port
At the most northern point of Colombo Fort you will find the modern international container port that handles most of Sri Lanka's trade with the outside world. It is closed to visitors but can be observed from a number of high rise buildings and Hotels in the Fort area of Colombo.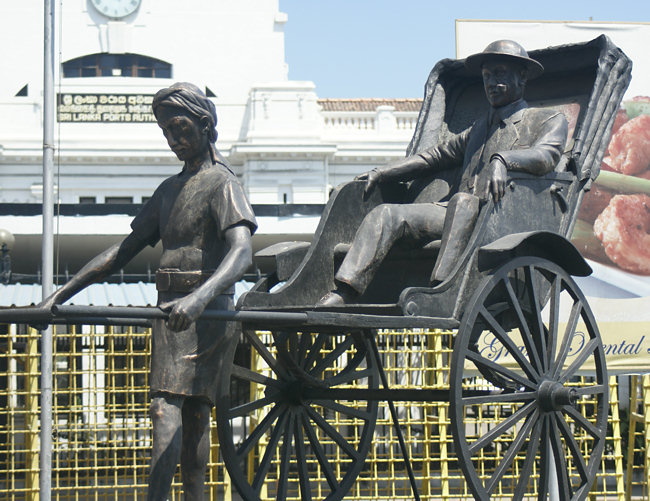 Statue of a colonial planter in a rickshaw near the Police HQ and Port in Colombo Fort area in Sri Lanka
The Portuguese were the first to build a fortress to protect the harbour. The fort and harbour was taken over by the Dutch but when the British arrived they demolished the old fort and constructed a more modern structure that could handle the advances in artillery and better protect the shipping tied up in the port.
In 1870 with the British Navy ruling the waves the decision was made to demolish the fort walls to enable further commercial development. Nothing is left for the modern tourist to see of the old fortifications apart from the layout of the old walls that is now followed by new roads and the grid pattern of the streets inside the old fort. Most of the old Portuguese and Dutch buildings were torn down and replaced with Georgian and Victorian colonial style public buildings, shops, housing and warehouses.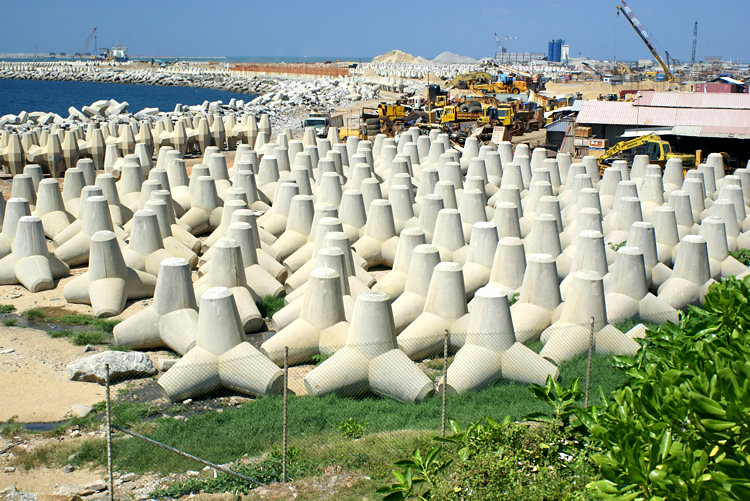 Colombo Port extention sea defenses in Sri Lanka
The harbour of Colombo provided shelter from storms. The nearby fort, a walled city, provided security. It was an administrative centre that contained mills, warehouses, customs offices, tea stores and auction room, cinnamon storehouse, military barracks, parade ground, religious buildings for worship and stables for horses and elephants.
To cope with the heat of the dry season many of the streets were planted with trees to provide shade. The early houses were built on Dutch designs but adapted for life in a tropical climate. Roofs were extended to cover a veranda and keep the open windows in shade. The roof was normally held up by large masonry columns.
The Colombo Police Station Headquarters was built on the site of the old Dutch Hospital. Outside the main gate is an attractive statue of a rickshaw that commemorates the visitors to the Grand Oriental Hotel coming off the passenger boats in the Harbour. A site that used to be common in Colombo in times gone by.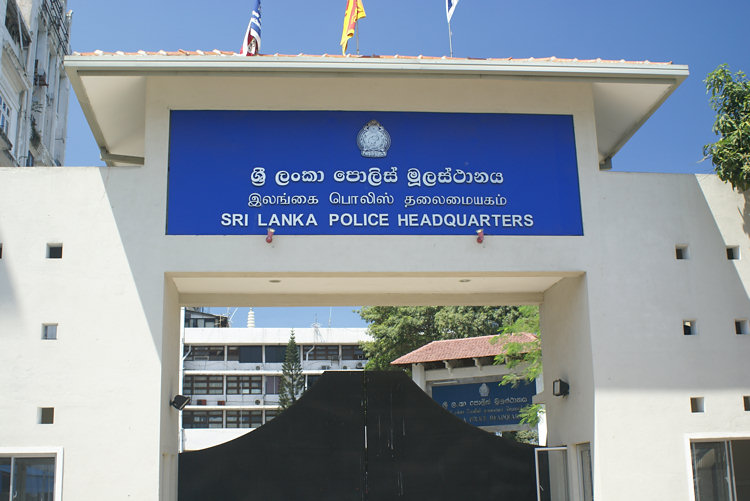 Sri Lanka Police Headquarters near Colombo international Port
Travel books