The Old Ceylon Colonial Parliament Building
This attractive neo-classical grand building can be found in the south west corner of Colombo Fort facing the sea. Be careful when taking photographs as apparently it is not allowed due to security issues. This is a bit silly as any potential terrorist just has to look on Google to find hundreds of photographs.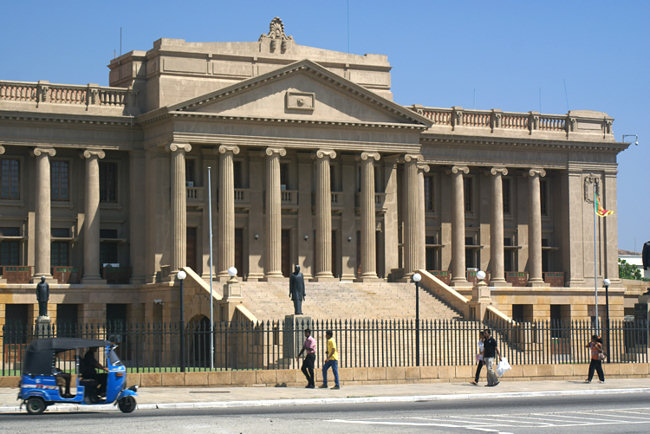 Colombo Fort Presidential Secretariat Building in Sri Lanka
For 53 years it housed Sri Lanka's parliament. In 1983 the legislature was moved to the new Sri Lankan parliament building at Sri Jayawardenepura Kotte which is an unimpressive modern square black office block set in a landscaped garden on the outskirts of the city.
The British built it to house the Legislative Council of Ceylon during the islands colonial period. It looks older than it really is. The building was opened on 29th January 1930. I was expecting it to be over 200 years old. The statues at the front of the building are of former Prime Ministers.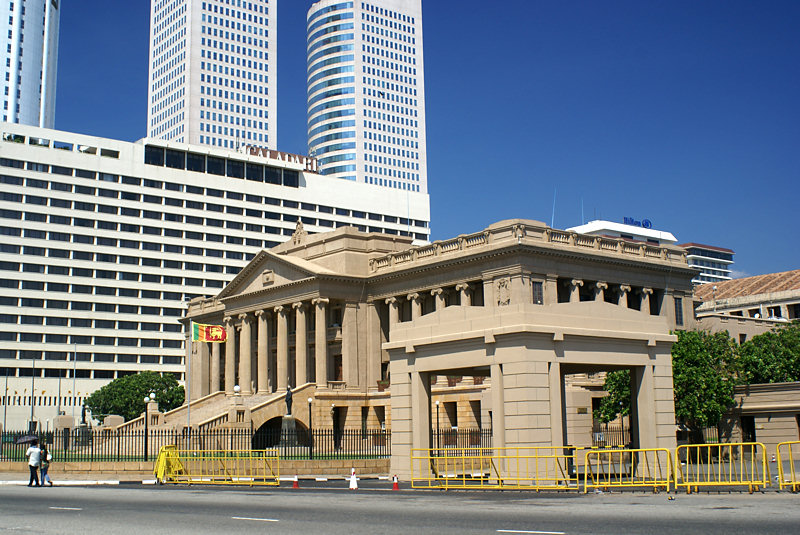 The Old Ceylon Colonial Parliament Building
What does the Presidential Secretariat do? It is a bit like the British Home Office or the American State Department. It puts into practice and monitors policies of the Sri Lankan Government. There are a number of national sub departments run from the building; Presidential Media Division: Alcohol tobacco and illicit drug policy unit: Parliamentary affairs and public relations division: Social sector development division: policy research and information unit: personal division: development and monitoring division: Administration and Finance division and the Secretary's Office.
Walk south past the Colombo Presidential Secretariat building towards the pedestrian crossing and the green open area of Galle Face. Turn around and take a photo of the building against the backdrop of modern skyscrapers that appear to dwarf it. When it was first built in the 1930's it was considered a tall building. Now it looks small. The modern buildings you can see are the Bank of Ceylon tower and the twin towers of the Sri Lankan World Trade Centre building.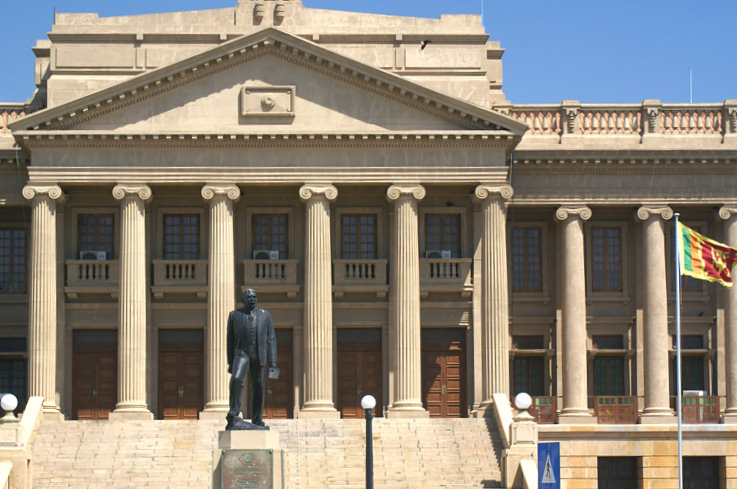 Colombo Fort Presidential Secretariat Building in Sri Lanka
Travel books