Colombo ODEL Shopping Centre Mall in Sri Lanka
In the middle of Colombo there is a Western style shopping Mall called ODEL. You will find it at 5 Alexandra Place, not far from the large white American style Colombo Town Hall. All the taxi and Tuk-Tuk drivers know where it is.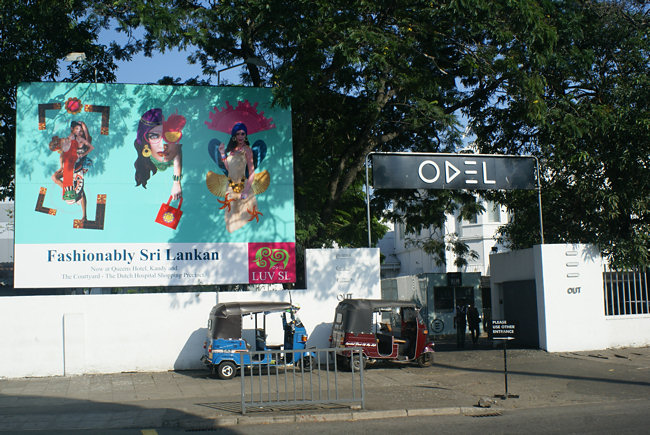 ODEL Colombo's first western style Shopping Centre Mall in Sri Lanka
Odel does not have a grand modern frontage. It is hidden behind trees and a white wall with two gates. One marked 'in' and the other marked 'out'. it appears that the shopping Mall owners do not expect their clientele to arrive on foot. It has been designed for customers to be dropped off by chauffer driven limousines, taxi or tuk-tuk.
One of the best things about this shopping experience is that the whole complex is air conditioned. If you have been walking around Colombo all day in the heat the coolness of the ODEL shops in the late afternoon is a welcome break.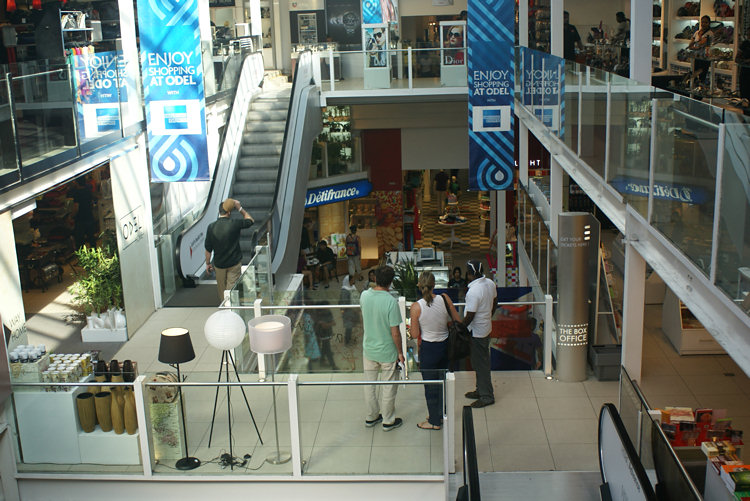 Inside the ODEL shopping Centre Mall in Colombo Sri Lanka
The owner started her career in retail by selling products from the boot of her car. People liked what she was selling and business expanded. Her name is Otara Gunewardene. With the help of some loans she opened her first store in Dickman's Road. Her company is now listed on the stock exchange and has over ten stores including ODEL. She wanted to make her flagship store ODEL a shopping icon in Colombo.
She had noted that some shops in other capitals like Maces in New York, Harrods in London, had managed to become tourist destinations as well as places to shop. This is what she hopes ODEL will become. It has an iconic CMC clock tower outside the entrance gates. The top is bell shaped and it is supported on eight white columns. The original store in Dickman's Road is now a retail warehouse open to the public who can buy items at discounted rates.
ODEL is not a place to find very cheap bargains in Colombo, but the prices are good. It is an upmarket store that sells quality genuine designer labelled clothing. It is open Monday to Saturday 10am to 5pm and between 10am and 6pm on Sunday. There are a number different food and drinking outlets. For the children there are toy and sweet shops.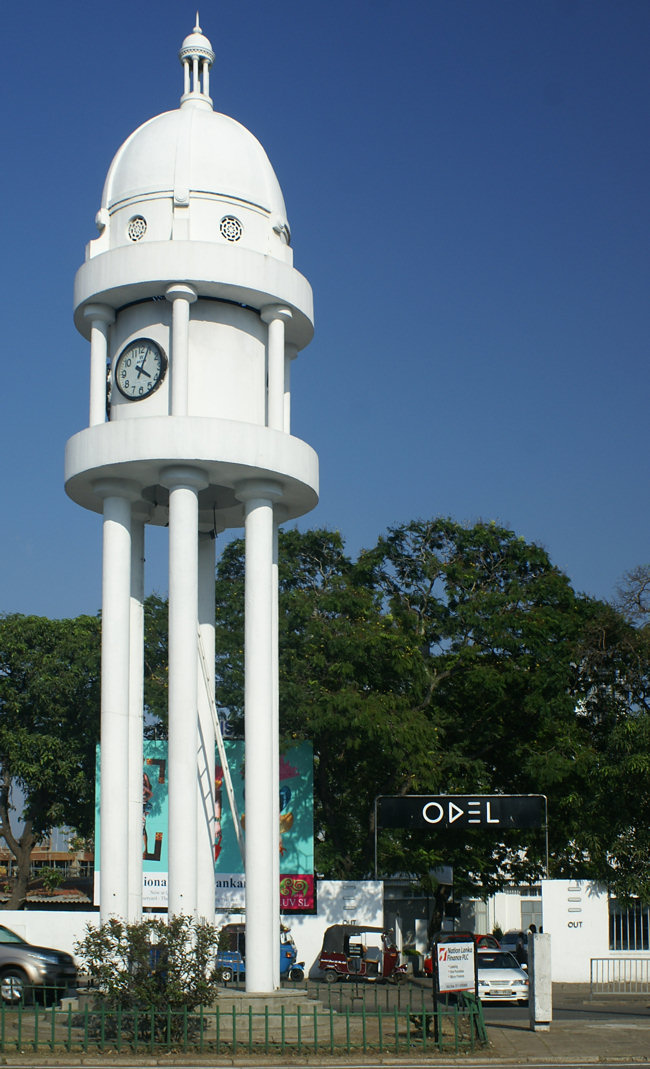 ODEL Shopping Mall CMC Clock Tower in Colombo Sri Lanka
As well as fashionable clothes you can buy perfumes, cosmetics, sunglasses, plantation teas, shoes, sporting equipment, stationary, bags, suitcases, home accessories, lights, music, books and interesting souvenirs. It is also one of the few places you can buy chocolate.
The problem comes when you try to take it outside the air-conditioned building. In the heat of Colombo it soon starts to melt. Oh well you will just have to eat it in the shop whilst you enjoy a cup of coffee or tea. If you still have not had enough sweet things you can always buy an Italian ice cream cone.
The Tuk-tuk drivers who wait outside ODEL will not haggle. They charge some of the most expensive rates on the island of Sri Lanka. They know that if they refuse you, they can still get a fare who is laden down with shopping who will pay the asking rate. My tip is to walk away from the ODEL shopping centre and hail a passing tuk-tuk in the next road. You will find them asking more sensible prices.
Travel books