Colombo City Council Town Hall
No you are not in Washington. This gleaming white neo classical building that looks like the iconic US Capitol Building is in fact in Sri Lanka and is Colombo's City Municipal Council town hall. I love the way that a giant golden statue of a sitting Buddha facing the building has been placed opposite the main entrance in Viharamahadevi Park (Victoria Park). Buddha is always keeping an eye on the activities of the Council. The building is just called the Town Hall. It is such an understated name for a very impressive building.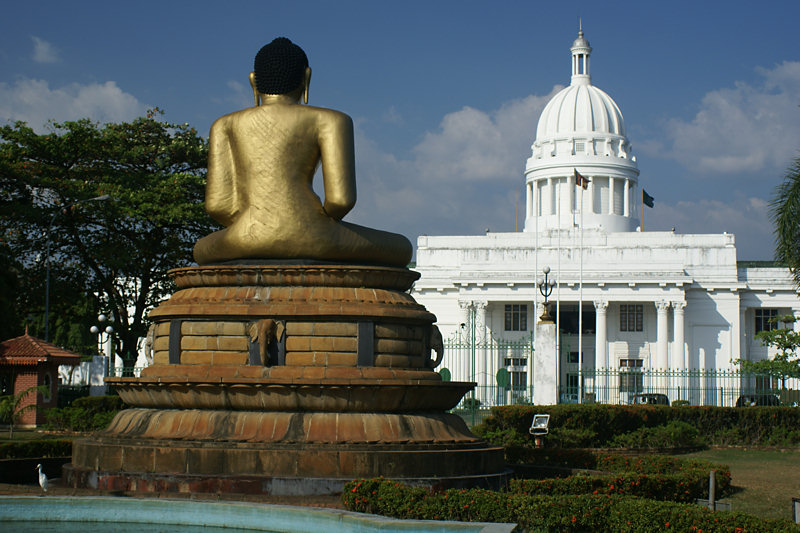 The Buddha statue is keeping an eye on what is going on in the Colombo city council Town Hall meetings
Construction was started in 1924. The British were still Colonial rulers of Ceylon. It was finished in 1927. This grand building was meant to be the venue of grand balls and state functions. It was to be the official residence of the Mayor of Colombo and the City Council. After independence it still kept this roll and provides office space for the Colombo Municipal Council administrative workers and elected councillors.
It was designed by British architect S.J.Edwards. Unfortunately at present you cannot visit the building. Hopefully in the future this will change. It is still worth making the effort to have a walk around the outside. The vast lawned area is used for rallies and festivals.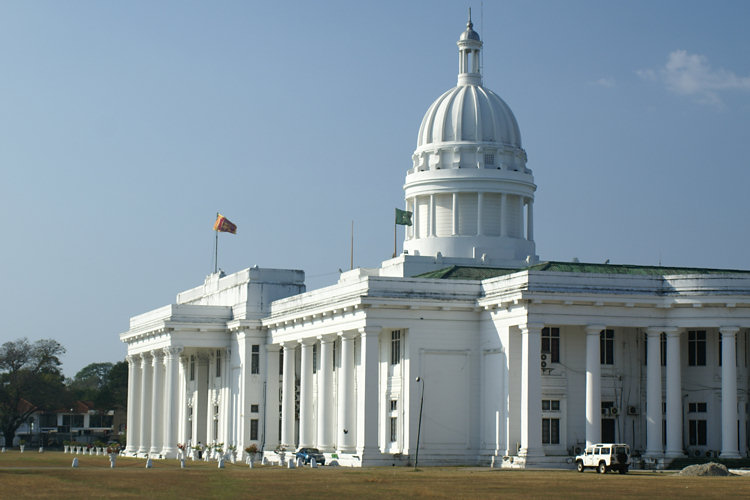 Colombo City Town Hall sometimes called the White House
You can combine a visit to see Colombo's Town hall with some shopping in the air conditioned ODEL department store behind the building by the Lipton Circus roundabout. Just look out for the large white CMC clock tower. You must also explore the Viharamahadevi Park and its fruit bats. At the end of the park you can walk to the nearby National Museum of Sri Lanka. The front of the Colombo Town Hall is on a road called F.R.Senanayake Mawatha.
If you see any large black birds circling the white dome of the Town Hall building look again. They are not birds. They are giant fruit bats that roost in the tops of trees in the near by Viharamahadevi Park.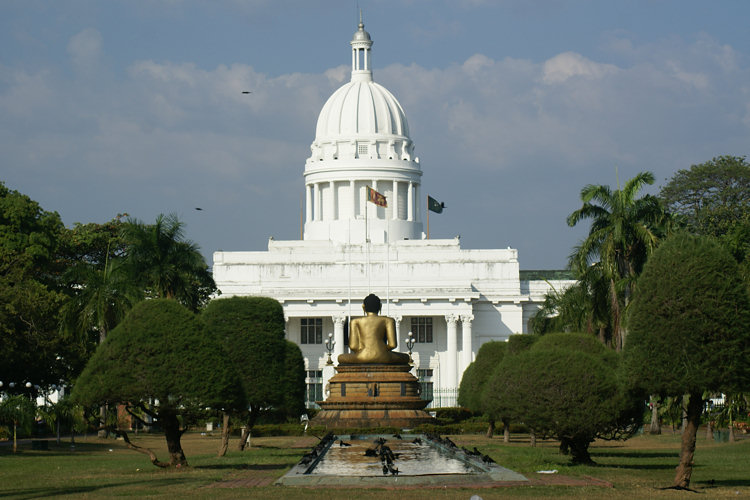 Colombo City Council Town Hall viewed from old Victoria Park with the Buddha Statue
Travel books