Colombo's Sima Malaka and Gangaramaya Temple
South of Colombo fort there is a small lake that contains a children's playground on an island and an unusual Buddhist temple positioned on the water. This temple is called Sima Malaka (Seema Malakaya).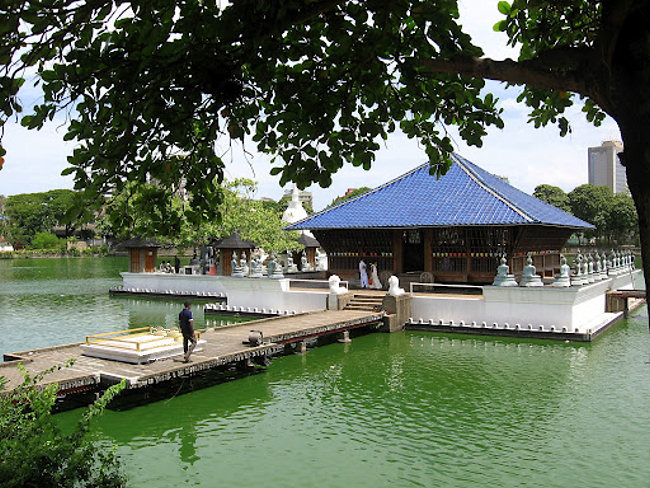 Colombo Buddhist Gangaramaya Temple in Sri Lanka
Nearby is another interesting temple called Gangaramaya. Hire a Tuk-tuk to take you to a road called Sir James Pieris Mawatha and get out at the junction with Muttiah Road. You will be able to see the water temple from that location.
This attractive temple is built on an artificial man made island by the tree lined lake edge. You can gain access to the religious complex by walking over a pontoon boardwalk. It is part of the Gangaramaya Temple and is a centre for meditation. On the top of the enclosure boundary wall are numerous statues of Buddha sitting in different poses. There is a model of the foot of the Buddha sculptured in marble. On your visit stop walking and sit down. Enjoy the calm of being on the water. The hustle and bustle of the city, although nearby, seems to lesson.
The original floating temple started to sink. It needed replacing so in 1979 local Sri Lankan Architect Geoffrey Bawa submitted designs for its replacement. It did not follow traditional Buddhist temple layouts. There is no large bell shaped Dagoba. Even more unusual is that some of the finance raised to build the temple came from a local Muslim merchant. Many of the statues have been donated by Buddhists in Thailand. You will not find an overload of vivid colours inside the temple. Everything is toned down to provide a tranquil location in which to sit and meditate.
Colombo Buddhist Gangaramaya Temple in Sri Lanka
Gangaramaya Temple
The Sima Malaka Meditation Island was built in conjunction with the nearby main Gangaramaya Temple. It is tucked away in a lane called Hunupitiya Lake Road off the Sri Jinaratana Road which is opposite the Sima Malaka temple. It is famous for its stepped wall of Buddhist statues that can be seen on lots of Colombo tourist post cards. It is one of the more impressive Buddhist temples in Colombo. Not only are there hundreds of stone carvings but you can inspect many Buddhist paintings depicting stories from the life of Buddha. Unlike other Sri Lankan Buddhist temples the Gangaramaya Temple has a small museum in which it displays items it has been given as gifts. Surprisingly this includes a few classic cars. If the Museum is locked just ask and it will be opened for you.
Between 5pm and 6.30pm medication classes are held every Friday and Tuesday. All are welcome. The temples is also a place of learning as well as worship. I found the monks very friendly and willing to show you around. They welcomed questions about their religion and the life of Buddha. Ask them about what the different poses depicted on the Buddha statues mean and you will have a fascinating answer. o Buddhists the most sacred Bodhi tree of all is the the Sri Maha in Anuradhapura. A sapling was taken from this tree and planted within the grounds of the Gangaramaya. This Bodhi tree is now over 100 years old.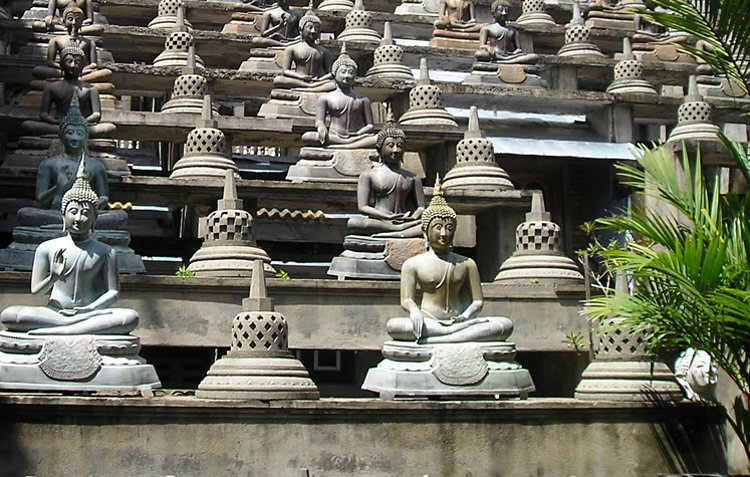 Colombo Buddhist Gangaramaya Temple in Sri Lanka
Travel books