Singapore Sri Veeramakaliamman Hindu Temple
The Sri Veeramakaliamman Hindu Temple should be visited by all tourists exploring the area known as Little India in Singapore. You will find it on the southern end of the Serangoon Road near the junction with Veerasamy Road.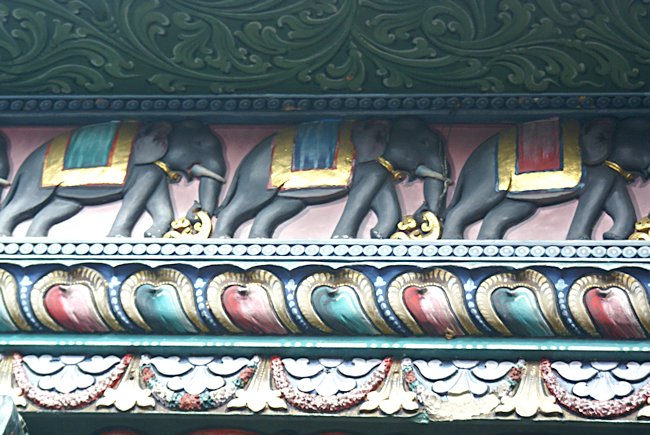 Entrance is free so long as you take your shoes off. You cannot miss it. Just look out for the building with all the brightly coloured statues stuck to its roof and walls.
This Hindu temple is dedicated to the goddess Kaliamman. She is the ferocious incarnation of the Lord Siva's wife, Menachi. The Sri Veeramakaliamman Hindu Temple is the first Temple in Singapore to venerate her. Construction date for this temple is believed about 1855. The building work was done by Hindu Tamil labourers who were employed at the nearby lime kilns in the mid to late 19th century. It was originally called the Temple at the village of lime.
In 1908, the local workers took over the management of the Temple, and constructed the main hall and shrine. They installed statues of all the major Hindu deities and imported the statue of Kali from India. When war broke out in Singapore with the Japanese in 1942, the Temple served as a refuge as well as a place of worship.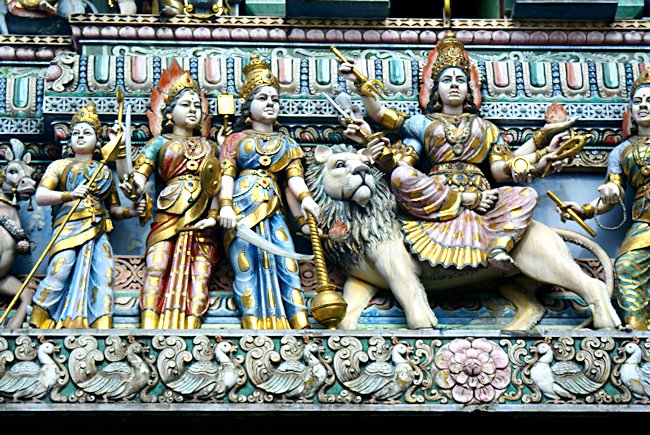 During Japanese bombing raids the faithful, believing in Kali's protection, took shelter within the temple walls from the destruction that was raining down all around them from the skies. They were lucky, the temple and all the statues emerged from this troubled times unscathed.
During the period of the British Empire, many Tamil workers from southern India were put onto boats and sent to places like Sri Lanka and Singapore, where they became cheap labourers. They did the work the local communities did not want to do. They brought their southern Indian religion and architectural styles with them. This is very evident in the look of this Hindu temple.
Travel books