Where is Raffles Hotel in Singapore?
Many tourists when they first see the outside of Raffles hotel are a little bit disappointed. Some were expecting to see a grand multistorey hotel. Others are large colonial style building sets amongst a tropical manicured garden.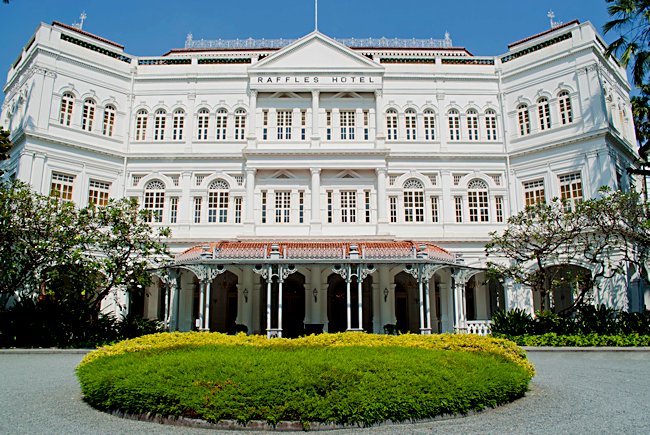 When the hotel was built it was one of the most opulent buildings in Singapore. Today it is surrounded by buildings that are taller and wider. These make Raffles hotel look small. This should not put off the visitor because inside there are wonders to see. As soon as you step through the threshold you are transported back to colonial times.
It is confusing, as there are many different entrances into the hotel. The main entrance to Raffles hotel is in Bras Basah Road near the junction with North Bridge Road. This is the entrance, where guests are greeted by a tall Sikh wearing a white uniform and turban. When he's not busy dealing with arriving guests and their vehicles, he will normally pose for photographs with tourists.
So who was Sir Stamford Raffles? I have not found a local Singaporean who will say a bad word against him. He seems to be their hero, the man that founded Singapore. He was born in 1781. In 1818 Raffles was the lieutenant-governor of Java. He realised that the British needed to secure a trading station between British India and China. He was given permission to negotiate a treaty with the Sultan of Johor to obtain land on which to build a port for use by the East India Company.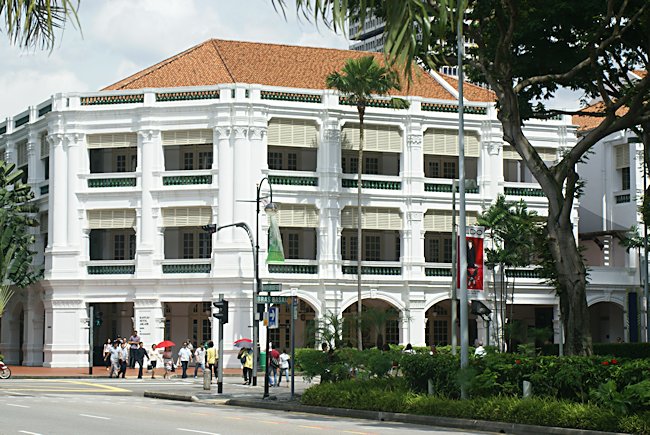 Raffles landed in Singapore in 1819. The old Sultan had just died. He helped the rightful heir succeed to the throne. As a reward, he was allowed to set up an estate on the Singapore River for a modest annual rent. In 1824, with a cash buyout the ownership of Singapore transferred to Britain's East India Company.
Raffles time in Singapore was brief but he left a vision on what Singapore should become. He believed in Britain's right to rule, but was a supporter of making Singapore a freeport with religious freedom. He opposed slavery. He initiated a town plan which included a new commercial district, now Raffles Place, government buildings , including Fort Canning and accommodation for the workforce.
The plan conformed with the colonial practice of governing the population in separate administration districts according to racial groupings. This is why today there is a large, Chinatown, Little India and Arab quarter in modern Singapore. He encouraged the immigration of different Asian ethnic groups as this assisted in the importation of raw materials and cash crops from surrounding countries.
Travel books