Singapore Kwan Im Thong Hood Che Chinese Temple
After you have explored the many stalls in the new Bugis Street indoor Market head for the northern exit and head towards Waterloo Street. Here you will find an attractive example of a large Chinese Buddhist temple.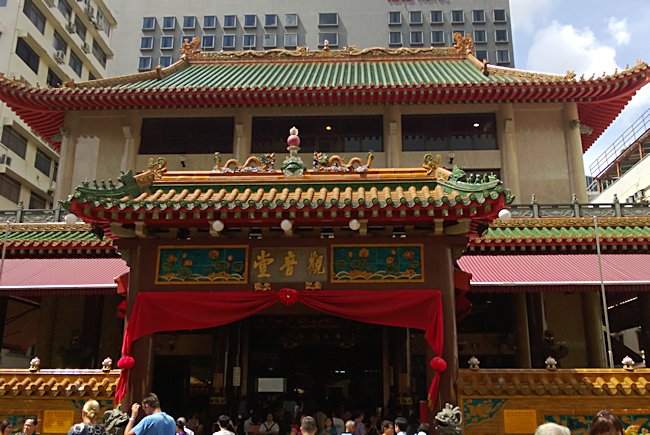 The Kwan Im Thong Hood Che Temple is situated at 178 Waterloo St in the section of the road that is a pedestrian only zone. It is dedicated to the Goddess of Mercy Kuan Yin. The faithful believe that if you are worthy, she will make your wishes come true. This could explain why the temple always busy.
Worshippers enter the temple courtyard light but joss stick and pray. They then shake a container full of bamboo sticks until one falls out. The sticks have words written on them. They take them at face value, or go to one of the soothsayers to obtain an explanation.
Visitors are allowed to go into the temple. It is free but donations are welcome. Access to the centre of the temple is gained by crossing a large sheltered courtyard through an ornamental gateway. The main hall of the temple contains three altars.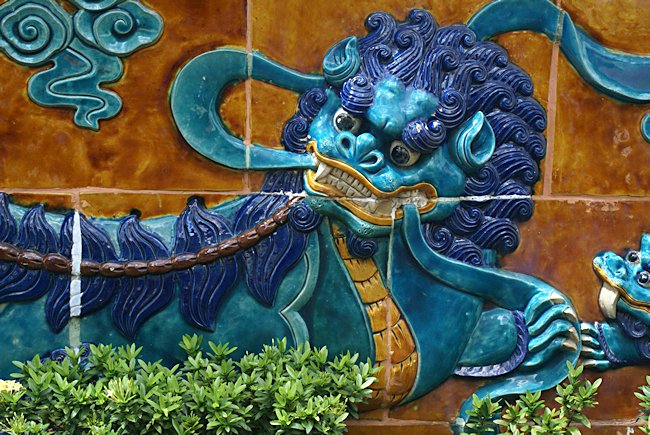 The main central one is for the Goddess Kuan Yin. The other is for the founder of Zen Buddhism Bodhidharma and the last is for Hua Tuo the Chinese patron saint for healing and medicine. There are a number of statues of the border inside the temple.
The area surrounding the temple was severely damaged by Japanese bombing in World War II. Local people sheltered inside the temple courtyard. This was a good decision as the temple was spared serious damage. It became a place of refuge for the newly made homeless who had lost their houses due to bombing, the sick and wounded. Some tourists are confused at seeing the swastika placed as decorations on the ornamental roof rafters. It is an ancient symbol of auspiciousness, of the aim to be and do good. This is one of the reasons that the Nazi party hijacked the simple for its emblem.
The temple was rebuilt twice, once in 1895 and then again in 1982, so that capacity could be increased. The busiest time at the temple is the eve of the Chinese New Year. The temple is kept open all night on the street is packed with the faithful praying to the Goddess for an auspicious start to the New Year. On a normal day. The temple is open at 6 AM and closes just after 6 PM.
The exterior walls of the temple compound have some magnificent decorative tiles stuck to the outside but one to the left of the gate way is a blue Dragon and the one to the right is a Phoenix. There are always street stalls set up outside the temple to cater for the needs of the worshippers. These range from incense stockiest, fortune tellers, food and drink providers to flower sellers.
Travel books