Bugis Street Market in Singapore
In many Singapore guidebooks and maps that highlight points of interest, Bugis Street market is always highlighted. It is a large street market that has been placed under a roof to give it protection from the tropical sun and the monsoon rains. It runs the whole length of what used to be Bugis Street.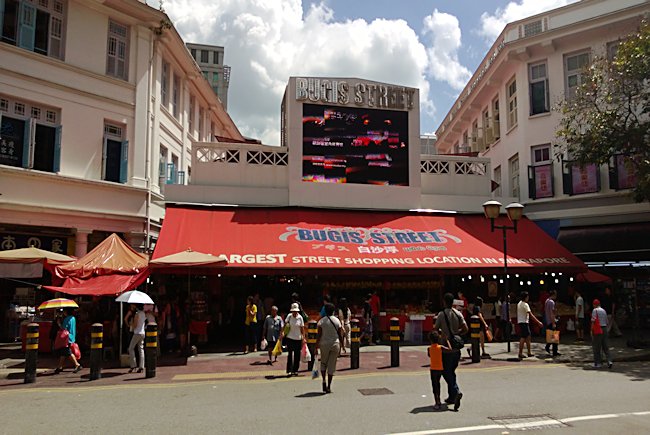 The entrance way is marked at both ends of the street with a huge red canopy. You can spend hours browsing the various different stalls that sell everything from clothing, footwear, watches, leather goods to cheap souvenirs. Like all shopping locations in Singapore, there are many food and drink stalls to choose from as well.
It is advertised as 'the largest street shopping location in Singapore'. If you are on holiday with teenage daughters they will love this place and you will probably have to physically drag them out. It is a teenager's heaven as many of the stalls cater for their age group.
One of the more unusual items on sale are a large quantity of plastic shoes in very fashionable styles that would normally be made in leather. Because of the frequent rain storms in tropical Singapore leather shoes get ruined rather quickly because of water damage.
Young women who still want to be seen as fashionable have demanded functional shoes for use in the tropics, which still look good in the office, after having had to walk through the wet city streets after a monsoon downpour.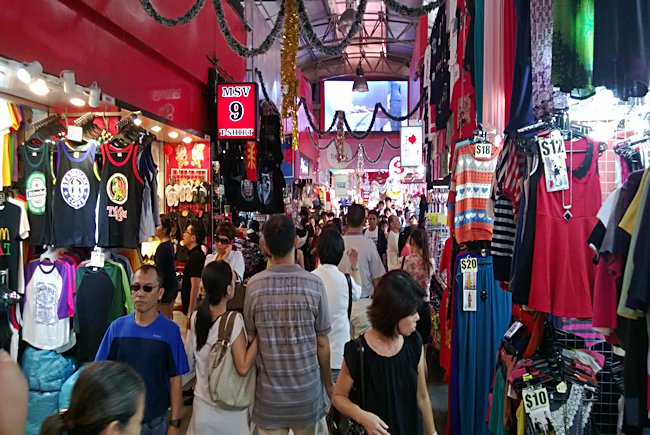 The Bugis Street market is just south of the Arab Street area. It used to be a notorious nighttime no-go zone for respectable tourists as it was full prostitutes and Lady boys. This all changed in 1985 when the underground station was constructed. The area was totally redeveloped and the new covered market was built
This is now a very family friendly place to go shopping. It is visited by many local Singaporeans. When you have finished exploring the market walk over to the nearby Kwan Im Temple that has been built in a classic Chinese Architectural style.
The Bugis are an ethnic group of people from the South Sulawesi area of Indonesia who settled in Singapore as traders before the arrival of the British East India Company. They were a seafaring nation and some were notorious pirates. Most Bugis are Muslim. In recognition of their contribution to the foundation of Singapore the street was named after them as it was near where they first settled.
Travel books