Flower Dome at Singapore's Gardens by the Bay
What I found very strange when visiting Singapore's Gardens by the Bay was that the two giant greenhouses were designed to keep the plants inside them cool, not hot.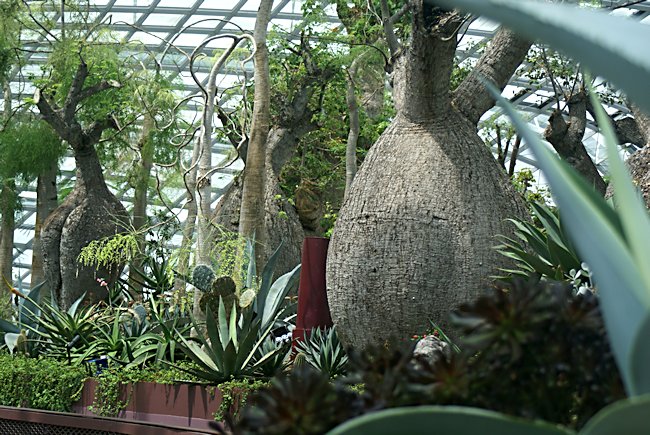 Every single botanical garden, that I have been to uses its greenhouses to generate a warm climate to be able to show visiting public hot tropical plants. In Singapore, the reverse is true. They use the two large glass domes to keep the exhibits in either a cooler climate or a dryer less humid environment.
The European section of the flower dome does not seem that spectacular to visitors that live in more northerly parts of the world. There are displays of flowers like tulips and daffodils along with other plants that do not like hot tropical humid weather.
To the Singapore locals, it is amazing. The first time they are able to see these flowers growing naturally. I love the Mediterranean garden section of the flower dome. They have 100-year-old olive trees on display that they have transported from places like Italy and southern France. How they did this without killing them, I have no idea. There is a little tearoom in this section of the flower dome we can just sit down and admire the view.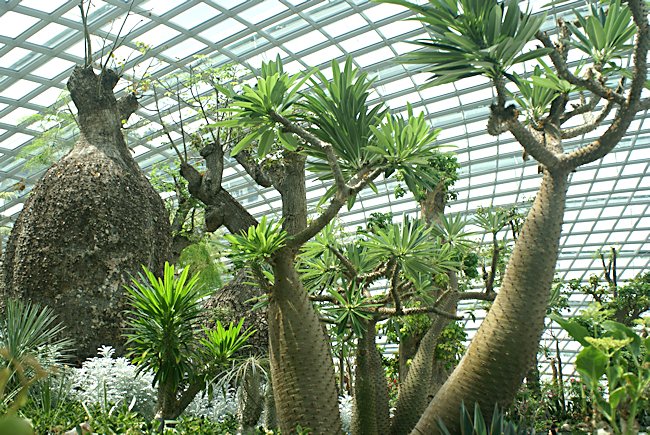 Although entrance to the gardens by the Bay is free, you have to pay for a ticket to get into the two greenhouse domes. Just seeing the Giants baobab trees in the arid section of the exhibits is worth every Singapore sent. These monstrously tall, deformed trees look like a scene from a science fiction movie.
Their bulbous trunks have adapted to collect moisture, so that tree can survive in times of drought. Around their base are many exhibits of larger cactuses. Again, I marvel the skills of the gardeners being able to transport these wonderful exhibits from their natural habitat and transplant them, inside this glass dome successfully.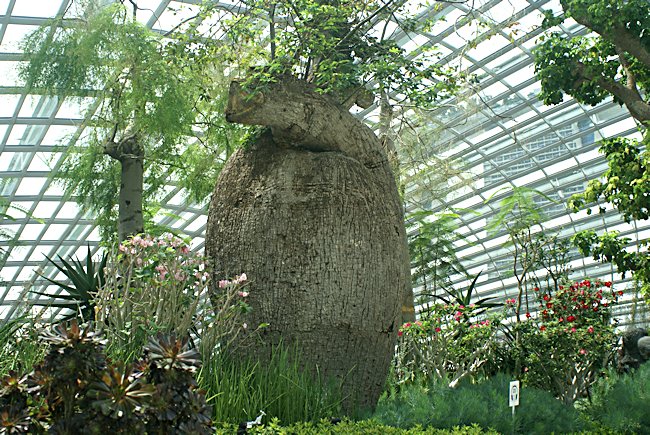 Travel books