Clarke Quay Restaurants Bars and Shops
Like Boat Quay, Clarke Quay is one of those places that you must visit twice. Once, during daylight preferably in the afternoon and later at night time.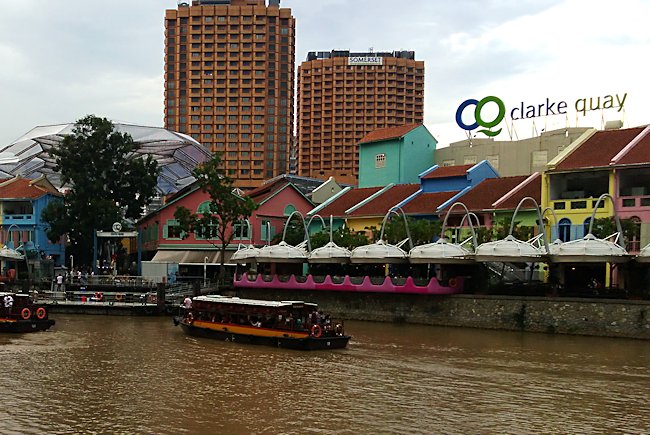 Over one hundred and fifty years ago, Sir Stamford Raffles setup four Quays along the Singapore River to handle trade from ocean going ships. Clarke Quay is on the northern bank of the Singapore River. It runs between new Bridge Road and Clemenceau Avenue, just south of Fort Canning Park. The word 'Quay' is pronounced 'key' and not 'Qway'.
The old shop house warehouses that lined the riverbank have been restored to their former glory. They used to handle goods from around the world. The merchants would have a shop front on the bottom floor. The entrance was sheltered from the monsoon rains and the hot tropical sun by a roof supported on columns. As the merchant's business became more profitable, he expanded his property.
First he would build above the shop and the roof rooms for his family. He would also extend backwards for storage space. As he became more successful he would add more floors to his building. By looking at the height of these old shop houses you can tell which merchants were the most successful.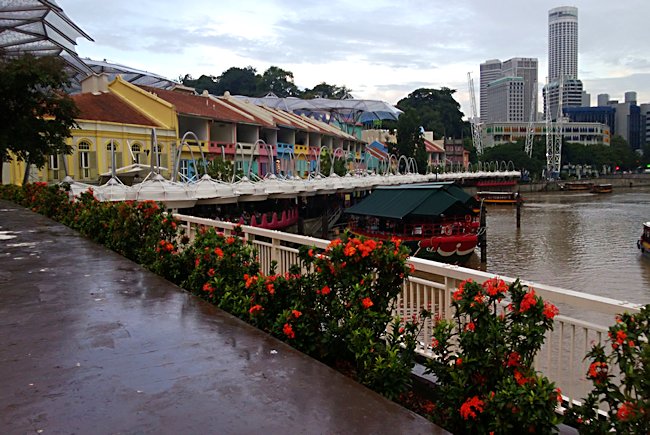 As ships became larger, they moved away from the Singapore River and therefore this area went into decline. Between 1980 and 1990, the area was restored and renovated. The old warehouses and shop houses have now been turned into restaurants, nightclubs and retail shops. To make them attractive they have been painted in bright contrast in colours.
This is also the area where you can catch a Singapore River tour boat. If you have already walked around Clarke Quay, Boat Quay and Marina Bay. I can't really see the point of going on one of these riverboat tours. They do not go very far and you would have already seen all the sites. I suppose the only advantage is to see them again from the perspective of being on the water and also listening to some of the commentary.
Large giant artificial trees had been constructed to act like giant umbrellas in the shopping area. It is an ideal location to head to during the wet season, if you are trying to avoid the afternoon downpour of rain. There are lots of places to sit and have a meal or just a drink. You can while away an hour or so just people watching. There are restaurants on the River bank that offer good views of all the Singapore River boat traffic whilst you eat.
Travel books