Singapore's Botanical Gardens
The founder of Singapore is a Stamford Raffles was a keen naturalist. He established the first botanical Gardens at Fort Canning hill in 1822. The primary reason for opening the gardens was for financial gain. He and other colonialists needed to find out what cash crops could be grown in Singapore and Malaysia successfully.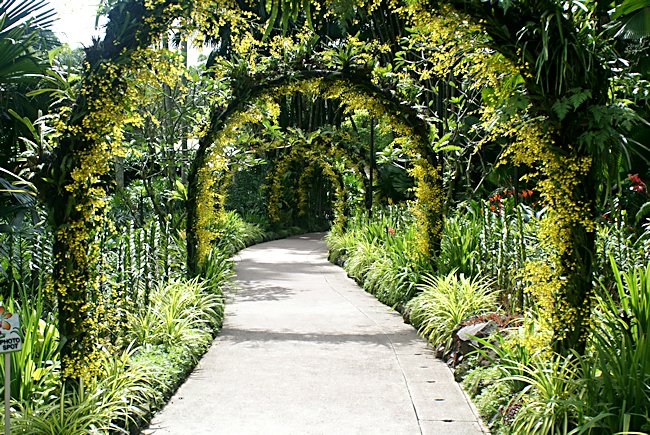 The project was not successfully funded and close in 1829. The gardens were opened at its present location in 1859, this time with better funding and Kew Gardens trained horticulturalists and botanists. For the first time there was a large emphasis on developing an ornamental park as well as a more practical agricultural research Gardens.
Cultivation of rubber became a big project at the botanical Gardens. Different species of rubber trees were grown. Ways of extracting the most latex rubber from the trees without harming them were tried out. Rubber tree seeds were collected.
This was good forward planning as the Malaysians Coffee plantations were hit by a devastating disease. It came at a time of high demand for rubber so many of the planters purchased the seeds from the botanical garden and started planting forests of rubber tree. Many fortunes were made.
With the income generated from the development of cash crop seeds and technology botanical Gardens in Singapore were able to grow. The staff were able to assist the Singapore government to enhance the urban environment by producing a selection of tropical plants and trees for planting along the sides of roads, public spaces and within the grounds of them municipal buildings.
This approach has been very successful. You are conscious of how many lush tropical plants surround you when you walk around Singapore. The city is not a concrete jungle like so many others. Prime example is Beech Road where there are tall trees planted either side of the road and in the central island, providing rich shade in the hot tropical sun and the beautiful vista.
How to get to the Singapore Botanical Gardens
Singapore's Botanical Gardens are just outside the city centre to the North West of the Singapore River. They are set within a long, thin stretch of parkland that runs north to south between Bukit Timah Road and Holland Road.
Catch and MRT train to station number CC19 Botanic Gardens on the Circle Line or take a taxi to the French embassy in Cluny Park Road. The parks northern entrance is opposite the embassy. Most taxi drivers know where that is. But we found it difficult to explain to them that we wanted the northern gate of the botanical Gardens. If you start at the top of the park and work your way down to the bottom you will then be in a good position to go shopping in Orchard Road later.
Travel books